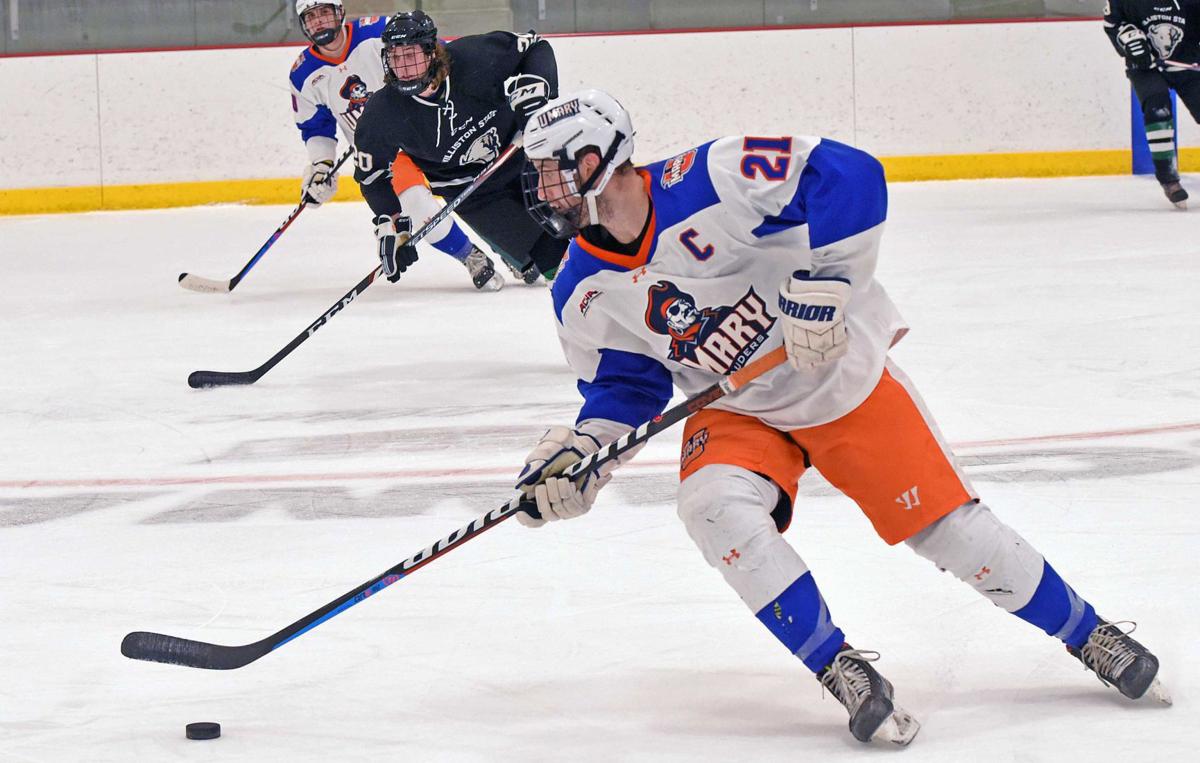 Experience — in spades — has helped the University of Mary hockey team navigate an uncertain season.
The Marauders not only have seasoned players, in some cases they have adults. With the challenges presented by COVID-19 during the 2020-2021 season, Dan Huntley's team has been able to take things in stride.
"The nice thing is that really from the start of the program we've had great leadership," U-Mary coach Dan Huntley said. "We have an older bunch. We have men. We have two 26 year-olds and a bunch of 24 year-olds. They're pretty good at taking things as they come. They've been through the ringer."
The season started off fairly normally for the Marauders. They played 12 games in October, without a loss, before virus-related issues hit both the U-Mary roster and some of their opponents. Since Oct. 31, the Marauders have played just six games.
"Going in we knew there were going to be some bumps in the road," Huntley said. "We were always going to be thankful for whatever we got this season. Our players have been very diligent about adhering to the safety protocols and being mindful of not only their health, but everyone around them."
When the Marauders (14-1-2-1) return to game action Wednesday at Williston State College, they will be back to full strength. In fact, they will have a couple new players. Defenseman David Ruiz and winger Derek Dropik are the newcomers. Ruiz played last season for the Marauders. Dropik has NA3HL experience. Both players are from Minnesota.
Breaking into the loaded Marauders lineup will not be  easy, but you can never have enough good players.
"We're fully healthy. Everybody is off the athletic training list," Huntley said. "We're very happy with how things have progressed and now it's a matter of building on what we've been able to do so far."
In the first semester, the Marauders scored 81 goals and allowed 36. Fourteen players have scored two or more goals with second-year sniper Seth Cushing setting a sizzling pace with 17 goals in 18 games. His first-line mate Alex Flicek has nine goals and 12 assists.
"They're prolific," Huntley said of the Marauders' top line.
There is no drop off from there. Zach Garrett, one of the Marauders' 26-year-olds, leads a line that has scored 20 goals. Garrett has eight, while Andy Huber and Jaren Hugelen have six each. Huber's six goals came in 13 games, five fewer than everyone else, due to National Guard duty.
Kyler Moore, the other 26-year-old on the team, has 15 points (6 goals, 9 assists) centering the Marauders' top line.
Marshall Tschida is tied for the team lead in assists with 15 from his D-man spot. The versatile and speedy Johnny Witzke (17 points) has played in the front and back. Cyril Nagurski, another of the Marauders' deep blue-line crew, is having his best season.
Goalies Kyle Hayden and Conan Hayton have been stellar in goal. Both have save percentages of better than 93 percent.
As usual, there is little to nitpick at for Huntley, who continues to crank out high-level teams in the program's third season.
"I'd love to cut the goals-against average down a little bit. That's how you win when you start getting into games against the top teams in the nation," he said. "You're not generally going to be able to outscore the best teams. You need to be able to hold teams to two goals or less. That takes some of the pressure off your offense."
The Marauders remain on track to play in their first national tournament. Last year's tournament was canceled, but there is hope this season's event will be played.
Work remains to be done between then and now. The Marauders have 22 regular-season games, plus the Mountain West Conference tournament in Utah March 4-6. Then comes the ACHA Division II West Regional slated for late March.
Nationals are scheduled to begin April 16. Originally scheduled to be played in Massachusetts, the national tournament will be moved to a different location with details expected later this month.
"We have a lot of things to look forward to," Huntley said. "We have to continue to stay on top of the COVID situation, but we're pretty excited to see what unfolds here over the next couple of months."