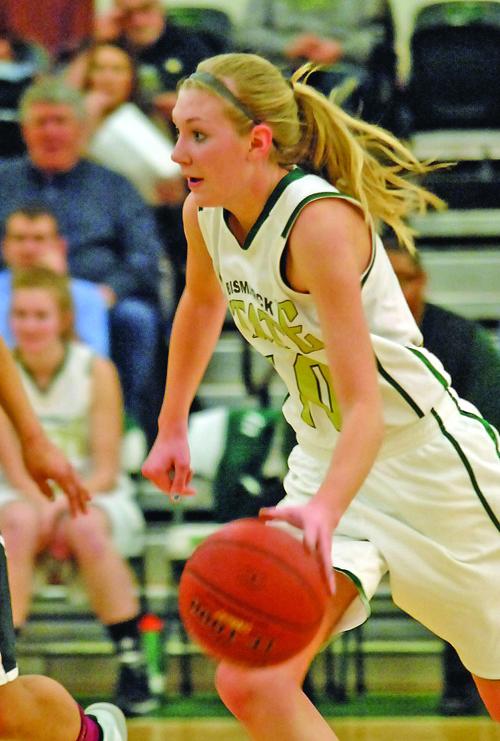 Emily Kautzman prefers to look at the areas where the good Lord blessed her and not focus on her shortcomings.
She's been given the ability to excel in athletics. Kautzman is set to begin her second season with the Bismarck State women's basketball team.
Each day on the court is a blessing for Kautzman and that is reflected by the way she plays the game.
"She will always be one of the hardest working kids on the court," Bismarck State coach Jason Harris said. "She's that blue collar person. If you can get one, two or three of them, you're going to be pretty successful. Teams that don't have them are the teams in trouble."
The Mystics are set to open their season on Friday against Northwest College. They will play at Miles on Saturday.
You can bet that Kautzman will carry over what she did last year. She will play hard-nosed defense and make the hustle plays. It's a given that nobody will outwork Kautzman.
"It's always been part of my character to work hard at everything I do to give all the glory to God," said Kautzman, a 5-foot-9 guard-forward from Colstrip, Mont. "He has provided me with all the skills I've needed to be successful with basketball. I want to try to use what He has given me to give Him glory."
Kautzman did a lot of everything last season for the 12-13 Mystics. She averaged 11.2 points a game while snagging 8.4 rebounds a contest.
Kautzman also handed out 2.3 assists and collected 2.4 steals a game.
"Her game never has been one to go out and get you 25 or 30 points," Harris said. "She will go out and get you 10 points and have eight or nine rebounds. She will have four or five assists and a couple steals. She's more of that stat filler-type girl."
With a talented class of freshman recruits, the Mystics will field more depth. Kautzman's role will change a little bit. Instead of playing in the post area, she will move out to the perimeter more. She won't be depended on to help bring the ball up the floor as much. She won't need to play 35 to 40 minutes a game.
"It's reassuring to know we aren't going to be expected to put in 35 to 40 minutes every game," said Kautzman, who plans to apply to get into the athletic training program at the University of Mary for next school year. "No matter who we have in, we should be able to score the ball and play solid defense. I'm not necessarily happy I won't get to play as much, but it's nice to know we have a deep bench we can look to."
Harris is looking for that same blue-collar production and will be leaning on Kautzman's defensive skills more.
"I'm going to ask her to match up with some of the better offensive girls in the league," he said. "She won't have as much stuff on her shoulders. She will get to play the game she was more suited for."
The Mystics return several players from last season's team. Including Kautzman, incumbents are center Leslie Beaudoin, guard Courtney Goetz, guard MacKayla Feeney, forward Delrae Latendresse and center MiKaela Forster.
"We have a chance to be a really good team when it is all said and done," Harris said. "We have a lot of experience coming back and have added some freshmen who can play. We have a girl or two in each position, which was something we didn't have last year."
Kautzman believes the Mystics can go far this season.
"I think God has given us a great team to use this year, and He has provided us with a lot of diverse girls that can put a lot out there," she said. "I'm very grateful for that."