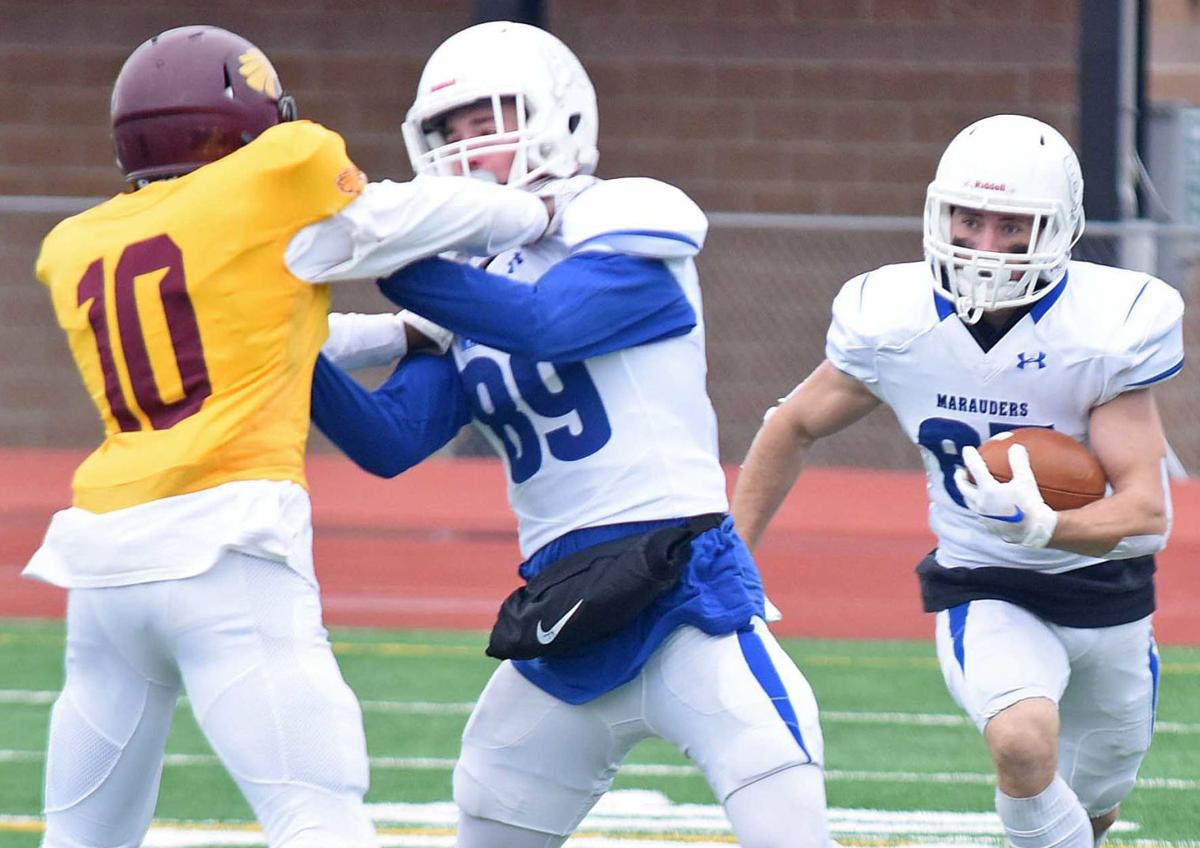 Spring ball will start in the winter for the University of Mary football team.
The Marauders will get an early jump on spring activities later this month -- Tuesday, Feb. 23 to be exact -- and extend it all the way into April.
After going a year and a half without a game, the Marauders will get something close to that in the coming months. U-Mary will participate in three NFL-style joint practices. One each with Bemidji State – likely held at UND or NDSU -- and MSU-Moorhead, tentatively planned to be held in Bismarck. A third, against either the University of Jamestown or Northern State, also is planned. The final details are being ironed out, but provides some light after a very long and dark tunnel.
"For most of our guys, myself included, this is the first year we didn't play a game since fourth grade. It was weird," said Marauders head coach Craig Bagnell. "A lot of kids across the country probably found out over the last year if they truly love college football. Because if you don't love the process of lifting weights, training, developing as a player, then this would be the year you decide this isn't for me."
That has not been the case for the Marauders. Including the newly inked recruiting class, the Marauders' roster stands at 122 players. Almost everyone expected to return, will. One of the few notable exceptions is wide receiver Leo Vecchi, who after earning his degree at U-Mary, was accepted into the MBA program at UC-Irvine. Vecchi caught 22 passes for 348 yards and a pair of touchdowns in 2019.
"He's a 4.0 (GPA). Very intelligent. It was very hard for him to tell me," Bagnell said. "You can't blame the kid. He's moving on for the right reasons. He's the type of person we want in our program."
If the Marauders have a position where they can withstand a loss, it's probably wide receiver. Luke Little and Danny Kittner form one of the top receiving duos in the Northern Sun.
"It's my job to get them the ball. You can't tell me Ohio State didn't know all about DeVonta Smith, of course they did, but he still got 12 touches in the first half," Bagnell said of Alabama's Heisman Trophy winning wide receiver in the national championship game. "Players win games, man. We gotta get our best players the ball."
The Marauders will slowly ramp up when practices start later this month. The main area of emphasis in 2020 was getting stronger, lifting weights and lots of them.
"We want to get as strong as we possibly can across the board," Bagnell said. "We're going be lifting weights through the spring practices and then right into the summer."
Practices will become steadier in March -- Tuesdays, Thursdays, Fridays and Sundays. The first joint practice will be held at the end of the March. The final two joint practices will be in April.
The Marauders won multiple games in 2019 for the first time since 2014, and were close in a handful of others. Bagnell takes little solace in that.
"Lot of beating my head against the wall, lot of transition time. Everybody wants it right away. Everybody wants to win. I get it, that's the world we live in," he said. "We want to win. That's the expectation we have for ourselves. We have a lot of guys that can play. We feel good about the guys we have in the program."