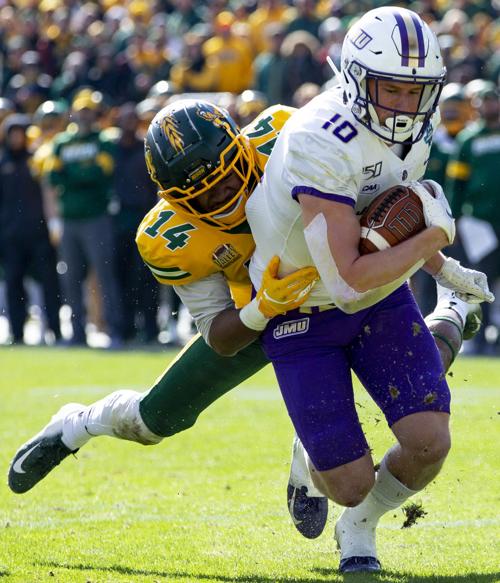 The hits just keep coming for the spring FCS football season.
On Monday, the South Dakota State-South Dakota game scheduled for Saturday was canceled for COVID-related reasons. Also Monday, Wofford College (South Carolina) became the latest to pull the plug on its season entirely.
Both North Dakota Schools -- NDSU and UND -- have been hit hard. The two last played March 20, against each other. The Bison are scheduled, for now, to play at Northern Iowa on Saturday at 4 p.m. UNI's last game was also canceled.
UND (4-1) will go nearly a month between games, if it plays as scheduled April 17 at Youngstown State.
Matt Entz, NDSU football coach, was asked Monday during his weekly news conference if the FCS could be dinged by the spring season's instability.
"I hope it doesn't hurt our brand of football moving forward," Entz said. "The last two weeks (in the Missouri Valley Football Conference), only 30 percent of the games have gone on.
"All I can worry about is the Bison right now. That's what I'm trying to keep my mind on. If you start allowing yourself to think about how it's impacting everything, you can get real negative real quick."
Entz said the Bison are taking a different tact early in the week. Their last scheduled game -- March 27 against South Dakota -- was canceled just hours before kickoff due to positive tests within the NDSU program.
"We don't need to blow the roof off the Fargodome with enthusiasm early in the week," Entz said. "It's more about staying sharp mentally."
NDSU had no positive coronavirus tests on Monday and will test again Wednesday.
LOOKAHEAD
Northern Iowa is 3-3. Its last outing, a 34-20 win over Western Illinois, was on March 27. The Panthers lost narrowly to Southern Illinois -- 17-16 on March 13. Southern Illinois is the only team to beat the Bison --38-14 on Feb 27.
"Northern Iowa is an excellent football team," said Entz, a former UNI assistant coach. "They still have plenty of talent on their roster. They're very physical. They're line-of-scrimmage orientated."
STARTING CB LEAVES
Josh Hayes has left the team and plans to transfer to an FBS school.
Hayes, a starting defensive back, played in 52 games in his career for the Bison with two interceptions.
Hayes will graduate in May and also has family considerations. He has a 2-year-old daughter back in his home state of Florida. Entz mentioned the path former NDSU linebacker Jabril Cox took. Cox was at NDSU for three years, transferred to LSU for the 2020 FBS season, and is now considered a likely second- or third-round NFL draft pick. The draft is April 29-May 1.
"Josh has done everything we ever asked him to do," Entz said. "I think he's the best corner in the league."