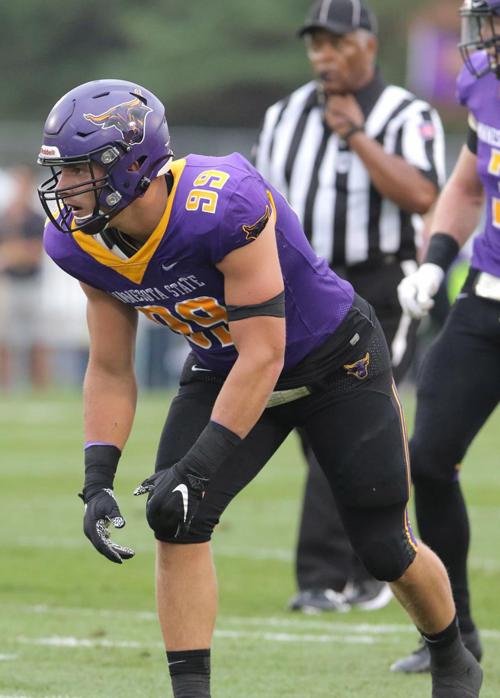 Brayden Thomas will finish his college football career closer to home.
The 2016 Bismarck High grad, who earned All-Northern Sun Intercollegiate Conference honors after racking up 11.5 sacks in 2019 for NCAA Division II runner-up Minnesota State-Mankato, is headed for North Dakota State.
"Being closer to home and closer to family is a big deal," he said, "and NDSU is a pretty special place."
Thomas entered his name into the NCAA transfer portal after it was announced all D-II fall sports were canceled due to the coronavirus pandemic. When FCS power NDSU came calling, it didn't take long to say yes.
"The whole process started mainly around October. When there was no season in D-II, it gave the option of exploring what was out there," Thomas said. "I had a buddy that went up there, a D-tackle (Michael Buetow), so I had that connection."
Thomas will be eligible to play immediately for the Bison during their spring season. NDSU's first game is scheduled for Sunday, Feb. 21 against Youngstown State at the Fargodome. Additionally, Thomas will be able to play next fall for the Bison, due to the NCAA's eligibility rules related to the canceled fall season.
"A huge part of it was getting to play in the spring and then having next fall too," Thomas said. "Getting to play more football and get more on film, it's a great opportunity."
It will be the third stop in Thomas' college career. It began at the University of Mary, but he transferred to Mankato after his freshman year.
"It's been a journey for sure," he said. "Mankato is a great program. I have a lot of respect for them. They did a lot for me."
Thomas has already graduated from Mankato with a degree in business management and human resources. He plans to tack on another minor at NDSU when he heads for Fargo after the holiday break.
"Right now it's just training and working out," said Thomas, who goes 6-foot-4, 255 pounds. "In January, we basically start out in football camp getting ready for the season."
At NDSU, he'll be on the same campus as his sister Whitney, a former three-sport standout at Legacy High School.
"We have a really good relationship," said Brayden. "We always wanted to go to the same university, so that's another cool thing."
Thomas, a defensive end, hopes to compete for playing time right away, but knows competition will be fierce as the Bison chase their ninth FCS championship in the last 10 years. NDSU will play eight Missouri Valley Football Conference games before the 16-team playoffs begin April 21.
"Obviously, I'm going into a great program that has a ton of talent," Thomas said. "My goal is to play, but I know I have to earn my spot."