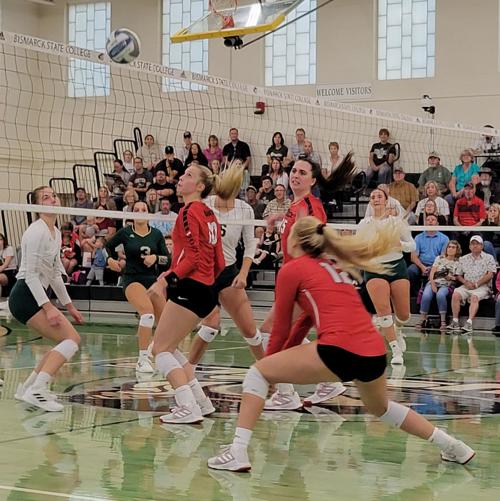 NDSCS had BSC's number last year.
Monday night, the Mystics turned the tables.
Bismarck State College rallied to win the opening set before finishing off the Wildcats in four, 25-21, 26-24, 24-26, 25-13 at the Armory.
North Dakota State College of Science won all four meetings over the Mystics last season, but Kyle Kuether did not believe there was any extra motivation for his squad.
"They swept us last year, but at two-year schools it's weird. You have a new team in a lot of ways ever year, so there isn't that carryover like you'd see in high school," BSC's head coach said. "We have a lot of new players and so do they. We just wanted to win. I don't think it necessarily matters what happened last season."
The Mystics, who improved to 7-2 overall and 4-1 in Mon-Dak Conference action, trailed 11-4 and 18-13 in the opening set, but stormed back to seize momentum with a 12-3 run.
Kills by Megan Klein and Reile Payne made it 24-21. A hitting error by the Wildcats made it 1-0 home team.
"(Sunday) in practice we focused big time on blocking and aggressive serving and we weren't really seeing that early. We started kind of slow," Kuether said. "I took a timeout at 4-11 and just kind of stressed what the focus was. Not sure if they needed to hear it again, but they really responded positively from there."
NDSCS went up 23-22 in the second set, but against BSC closed strong. Macy Wetsch connected for one of her 13 kills to set up match point and Klein closed it out on a back set from Cam Beasley, who dished out 46 assists in the triumph.
After NDSCS appeared to get back in it with a 26-24 third-set win, the Mystics started fast and never let up in the fourth. On match point, Wetsch sealed the victory with an ace.
Payne topped BSC with 15 kills. She also had 14 digs and a pair of aces.
"Reile and Macy had nights, but I thought it was a total team effort, really," Kuether said. "It's all kind of connected. We get a great effort on the block, that slows the ball down for Abbi (Kopp) and our other (defensive specialists). Then Cam (Beasley) can put up a good ball and she put up a lot of good balls. 
"I thought it was just a great team effort overall."
Jossi Meyer was a force at the net, totaling nine kills and 2.5 blocks, equaling NDSCS's entire total.
"We definitely had some things for Jossi to work on in practice," Kuether said. "The awesome thing about these girls is the work in practice comes through in the games."
Stellar Raser led the Wildcats with nine kills. Ashton Sagaser, a 2020 Legacy High grad, had six kills for NDSCS (5-5, 3-2). 
Monday's win over the Wildcats kicked off a busy six-match week for the Mystics. They head to Devils Lake to face Lake Region on Wednesday, followed by two games each Friday and Saturday at a tournament hosted by NDSCS in Wahpeton.
"I feel good about where we're at. We've been chugging along in a lot of our matches where we get out to a lead and then let the other team back in it," Kuether said. "Tonight, we put our foot on the gas and never let up. It was really fun to watch."