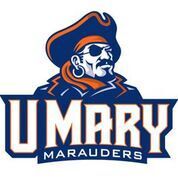 No. 1-ranked St. Cloud State won decisively on the scoreboard, but the University of Mary put up a respectable showing Thursday night.
In the Northern Sun wrestling opener for both teams, the Marauders had just one win against the premier D-II team in the land, but were competitive in several matches in a 31-3 loss at McDowell Activity Center.
Max Bruss, up two weight classes from his freshman season two years ago, defeated Devin Donovan 1-0 in the 174-pound match for the Marauders. Bruss, from DePere, Wisconsin, redshirted last season after a 25-win campaign in 2018-19.
The 10-match dual was pin-free. Just one tilt ended early. At 125 pounds, the Huskies got a technical fall from Paxton Creese early in the third period.
Braydon Huber, Matt Kaylor and Laken Boese all had narrow losses.
At 165, Devin Fitzpatrick edged Huber 6-3. Huber was ranked fifth in the national preseason poll at 157.
Kaylor, a redshirt freshman from Legacy, went toe-to-toe with Noah Ryan at 197 before falling 6-3.
Laken Boese, a Bismarck High sophomore, lost 5-2 at 133 to Sam Spencer.
St. Cloud State, winners of four the last five NCAA Division II national titles including the last two, picked up extra points with majors at 149 and heavyweight.
The Marauders are back in action Thursday, Jan. 14, traveling to Marshall, Minnesota to face Southwest Minnesota State at 7 p.m.