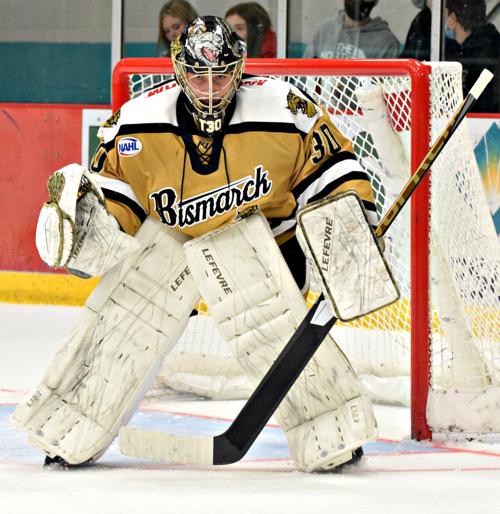 Nobody's been able to slow down Aberdeen this season. That was until Tommy Aitken's gem in goal Saturday night.
The Bismarck Bobcats' first-year goalie held the unbeaten Wings to one goal in 65 minutes Saturday night, a feat no other North American Hockey League netminder had come close to this season. Aberdeen averages 5.25 goals per game and has not scored fewer than three goals in any of its 14 wins.
Aberdeen won the game in a shootout, but it was a big improvement for the Bobcats who lost 7-0 the night before.
"Obviously, we wanted to win the game, but it felt good to rally and bounce back after not having our best showing the night before," Aitken said. "Aberdeen is a great team. They've been showing that all season, but we feel really good about the players we have and I think we showed we could play at that level."
The Bobcats (4-7-0-1) were the first team to take points from the Wings. Aberdeen owns an off-the-charts goal differential of plus 54 on the season (73-19). No other team is better than plus 18.
"It gives us a lot of confidence to play well like that," Aitken said. "It was a total team effort. The defensemen played great and our forwards were putting pressure on them. We wanted the win, but it was a good night for us."
It's been a choppy start to the season for the young Bobcats, of which the 18-year-old Aitken is one. Nearly a month between games from late October to late November was challenging for a team with many new players in key positions.
Aitken has proven he's capable of making big adjustments. Originally from Massachusetts, he moved to Mendota Heights, Minnesota, last season with his father to play hockey at St. Thomas Academy. There, he met Bobcats Director of Scouting Niko Kapetanovic.
"Niko introduced me to Layne (Sedevie) and we just thought this would be the best fit for me," Aitken said. "It's been a pretty easy transition -- great organization, great coaches, great teammates. I'm really happy to be here."
Aitken has split goaltending duties with Noah Altman so far. Both get to learn under Sedevie, the Bobcats' head coach and general manager, and also a former NAHL goalie.
"It's great to be able to talk about things with your head coach knowing how knowledgeable he is," Aitken said. "I'm just trying to learn as much as I can and keep improving every day."
Aitken lives with Maria and John Dwyer and has adjusted well outside the rink.
"It's been really good. Getting this opportunity to play in the NAHL in Bismarck, it's been really challenging. It's super high-paced and the skill level of the players this year is higher than ever because so many players had to drop down from other leagues," Aitken said. "The competition is really high, but you definitely feel like you're getting tested and you just have to work hard and get better."
The Bobcats are back in action this weekend, hosting Austin (Minnesota) on Friday and Saturday at 7:15 p.m.
Like all players, Aitken has dreams of playing behind the NAHL, but much work remains.
"There's always things to get better at," he said. "Just with making some technical tweaks and the mental part of it … just going out there and dominate."