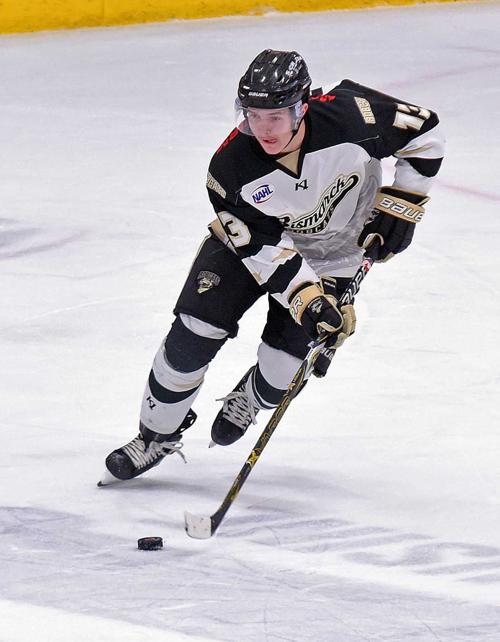 It took a blizzard to put the brakes on a red-hot start to the season for the Bismarck Bobcats.
Owners of a 6-1-0-1 record and third-best goal differential in the NAHL (plus 16), the Bobcats' game against the St. Cloud Blizzard last Saturday was postponed when Interstate 94 was shut down due to hazardous road conditions.
"I was trying to think, in the last 10 or 11 years we've probably had three games cancelled," Bobcats head coach and general manager Layne Sedevie said. "It's something that has been pretty rare."
The Bobcats, who last played Oct. 5, didn't just lie around all weekend.
"The rink (VFW Sports Center) opened the doors for us, which was nice, so we were able to skate and get some work in and stay fresh," Sedevie said.
With temperatures expected to be in the 50s, maybe 60s, this weekend, weather will not be an issue. The Bobcats get back to work with a home series against the Austin Bruins (5-3-0-2) tonight and Saturday.
The Bobcats, along with Minot and Aberdeen, have played the fewest games in the league (8). The game against St. Cloud will be made up, but no date has been set.
Despite playing three fewer games than the Central Division-leading Minnesota Wilderness, the Bobcats are just one point out of the top spot, 14-13. Through eight games, Bismarck has scored 30 goals and allowed 14.
"We had high expectations for this group, based on the number of guys we had coming back, 14 or 15 this year compared to six last year, and how they played in the second half last year," Sedevie said. "When you combine that with the pieces we added, we have a nice hockey team. With that come expectations and so far we've done well."
Entering the series against Austin, the Bobcats have two of the top 11 scorers in the league.
Newcomer from Norway Lars Christian Rodne ranks No. 1 in the NAHL in points per game at 2.0. Rodne has five goals and three assists in four games.
You have free articles remaining.
"He's been a great addition," Sedevie said of Rodne.
Will Hillman of Blaine, Minn., is tied for the league lead in goals, netting nine in just eight games.
"He's been on a goal-scoring tear lately," Sedevie said of Hillman.
Grant Johnson, who played for the Bobcats two years ago, has piled up 10 points in eight games. Johnson and Austin Jouppi each have seven assists.
Eleven Bobcats have scored goals. Seven have more than one.
"It's got to be by committee," Sedevie said of the Bobcats' balance. "You don't necessarily want to be counting on just one or two guys. With our team, we have a number of guys who have already shown they're capable of scoring goals."
The Bobcats' play in the defensive zone, and in goal, has been just as strong. 
Goalies Ryan Ullan (4-0, 1.33 GAA) and Andrew Miller (2-0-0-1, 0.97 GAA) rank in the top six in goals-against-average.
"Ryan and Andrew have been a great tandem so far," Sedevie said. "Ryan played for us two years ago and did a nice job, so we knew what to expect. And Andrew has come in and played great."
Carl Fish, Nicolas Appendino, Dawson Klein and Jack Olsen lead a deep group of blue-liners.
The Bobcats have not played a true road game yet. They're 4-0 in Bismarck with two on tap.
"So far we've been able to take care of business at home and that's really important in our league," Sedevie said. "Obviously, it's really early. You never want to get too high or too low, but it has been a nice start for us and hopefully we can continue to build on that this weekend."