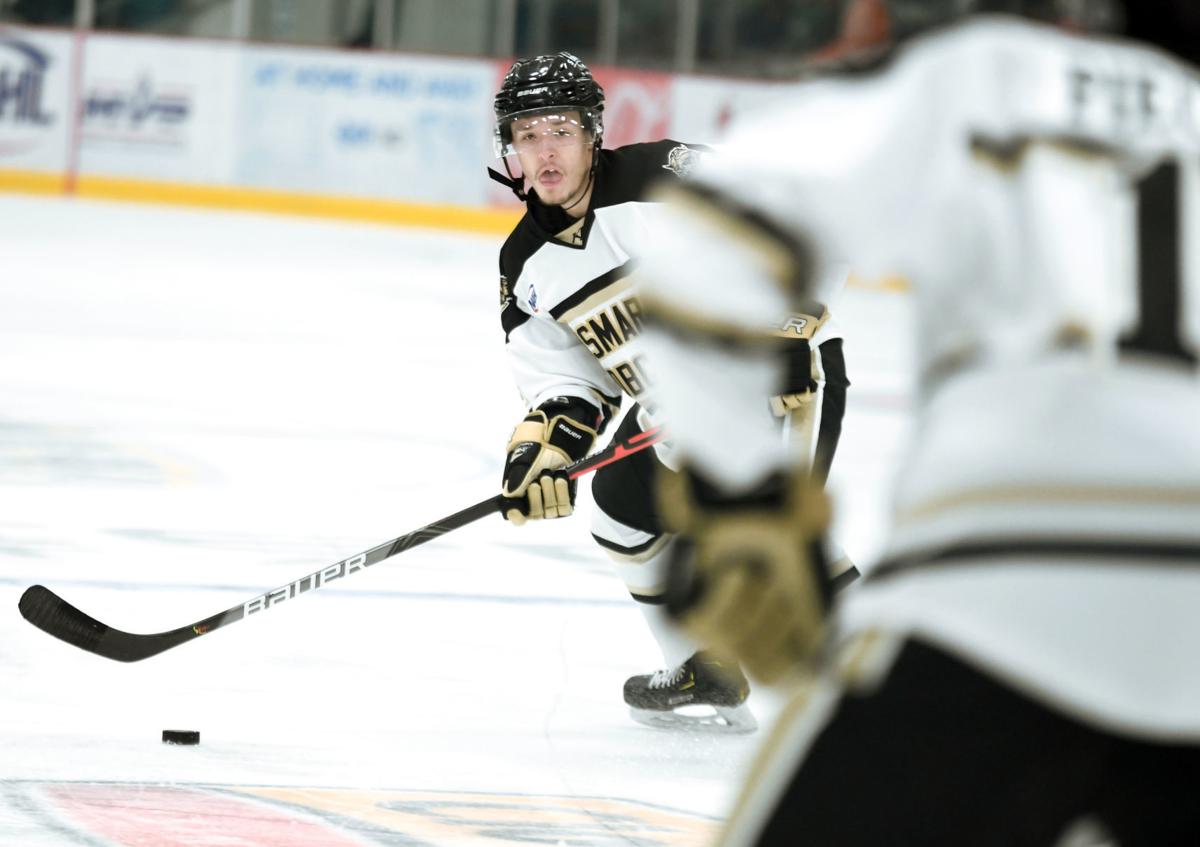 Lars Rodne and Will Hillman got the Bismarck Bobcats on track.
Each scored a goal in the second period on Saturday night, helping the Bobcats to a 4-1 victory over the Minnesota Wilderness at the VFW Sports Center. The win gave Bismarck a sweep of their NAHL weekend series.
Rodne – a Stavenger, Norway, product – followed a hat trick in his Bobcat debut on Friday night with another goal, giving him four for his opening weekend in Bismarck – including the goal that put the Bobcats in front for good.
Hillman – a Blaine, Minn., native – added two more goals, giving him seven in six games this season for the Bobcats, helping Bismarck put the Wilderness away.
"They're two pretty pure goal scorers," said Bobcats coach and general manager Layne Sedevie. "They get pucks and somehow they find a way to put them in the back of the net. It's nice to have that. When you need a big goal, those guys seem to always find a way to step up."
After the teams battled to a 1-1 draw in the opening period, it didn't take the Bobcats long to regain the lead.
Rodne skated in on Wilderness goaltender Kaleb Johnson and blasted a laser into the net just 2:27 into the second period to snap a 1-1 deadlock and give Bismarck back the lead.
Just 7:22 later, Bismarck struck again. Hillman lit the lamp for the sixth time this season on a stinging shot from his knee near the left circle, making it 3-1.
The Bobcats hit their stride in the middle stanza after struggling a bit early.
"I didn't like our first period tonight," Sedevie said. "I thought we were pretty sloppy. I thought after the first we kind of settled in, started moving our feet, started working again. We started getting our chances back, created some separation there. The last 40 was pretty good. The first 20 was not very good."
Grant Johnson picked up the assist on Hillman's first goal, giving him a point in his familial showdown with his brother. Grant, a Northern Michigan commit, was denied on a couple of shots early on by his brother Kaleb, a North Dakota commit.
You have free articles remaining.
Hillman added another insurance goal early in the third period. With the teams skating 4-on-4, Hillman skated in on Kaleb Johnson and buried the puck 27 seconds into the period, making it a three-goal cushion for the Bobcats.
"When we're working, we let the puck do the work," Sedevie said "I just thought we were trying to do too much. You can't turn pucks over. You can't do that. It will end up in the back of your net so fast you won't know what hit you.
"We managed the puck way better in the second and third period."
Dawson Klein gave the Bobcats an early lead, notching his second goal of the season at 5:54, making it 1-0 Bismarck.
"It was surprising that we scored first," Sedevie said. "We've only done that in two games so far and we haven't been a very good starting team. We've gotten behind in almost every game."
The Wilderness evened it up late in the period. With Jacob Marti in the box for head contact, the Wilderness got a power-play tally from Tyler Watkins. Watkins' third goal of the season came on a one-timer from the left circle.
Andrew Miller picked up his first victory in goal for Bismarck. While he wasn't called upon to handle a barrage of shots, he was sharp when he needed to be. Miller stopped 18 of the 19 shots he faced.
"He's been good so far. I thought he was good," Sedevie said. "I thought we let him get a feel for the game, which was really nice. He made some big saves late to kind of bail us out there. I thought our coverage was a little loose on some of the PKs but overall a really solid effort in net."
Kaleb Johnson finished with 26 saves for the Wilderness (3-3-0).
The Bobcats scored 12 goals in posting the weekend sweep. The opening weekend provided plenty of positives to build on, but there's still a long way to go.
"It's game 6," Sedevie said. "There's a lot to work on and we'll get our rest and refocus for St. Cloud next weekend."
The Bobcats are at home next weekend, hosting the St. Cloud Blizzard on Oct. 4-5.