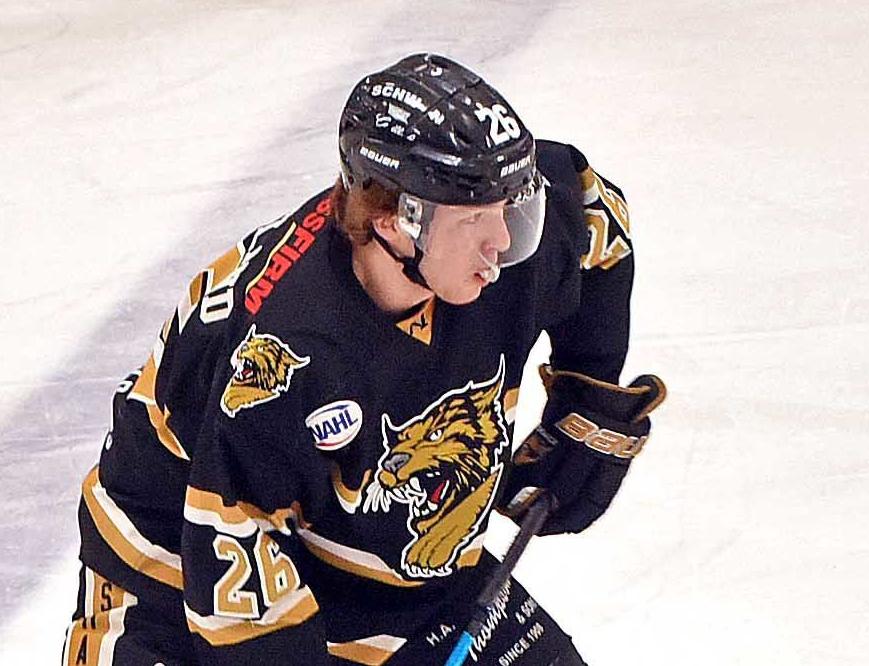 Minnesota plays some of the top high school hockey in the country.
Tommy Bergsland saw it first-hand during his prep career at Wayzata, one of the many powerhouse programs in Minnesota. But when the Bismarck Bobcats' ace defenseman made the move to junior hockey last year in the USHL for the Fargo Force, his eyes were opened, he said.
It has continued this season for the Bobcats, where Bergsland has established himself as one of the top defensemen in the NAHL.
"There were some similarities, but the speed and the skill of the players took a noticeable step up. It was pretty eye-opening," Bergsland said. "With the speed that's on the ice, you have to make your decisions that much faster. There's a lot of great players out there. It tests you, for sure."
In this particular test, Bergsland has come straight A's, literally. In his first, and only season with the Bobcats, he was named as an alternate captain on Wednesday. It's a rare feat for a first-year player to earn the distinction, but very well deserved, said Bobcats head coach and general manger Layne Sedevie.
"He's one of the top kids I've had in this program and we've had some good ones come through here," said Sedevie, in his 11th season running the Bobcats. "His on-ice production is as good as any player in the NAHL, if not junior hockey. The type of guy he is off the ice is what makes him the total package."
Bergsland and captain Austin Schwartz are the lone Bobcats to play in all 41 of the team's games heading into Friday night's 7:15 p.m. tilt against Austin at the VFW Sports Center. 
Few defensemen, four in fact in the 23-team NAHL, have been more productive coming forward than Bergsland. The 6-foot-1, 194-pounder has 26 points, including 23 assists. 
Jumping into play in the offensive zone is a relatively new addition to his game.
"Growing up, I was more of a stay-at-home defenseman. I wasn't the fastest kid, so I just wanted to stay back there and do my job," he said. "My senior year I really started to focus more on offense and make myself more of a two-day defenseman."
He made in-roads in that area playing for the Fargo Force last season, but was looking for an expanded role and found it Bismarck. He has flourished.
"A big part of it is confidence. He's developed and improved and he's logged a ton of minutes for us," Sedevie said. "He's talented, no question. He's got good stick-skills, he gets the puck through the D-man. He's probably one of our top penalty-kill guys, and at the end of games, he's on the ice."
Bergsland's play caught plenty of eyes outside of Bismarck. In December, the 20-year-old was offered a scholarship by NCAA Division I Colgate, which plays in the ECAC with the likes of Cornell, Harvard, Princeton, Union and Yale, among others. Bergsland will join the Hamilton, New York-based program next season.
"It'll be totally different than anything I've experienced before. It will be fun to kind of branch out and have a new experience not just in terms of hockey, but having the chance to go to school and live somewhere new will be pretty cool," Bergsland said.
Before that, he hopes to make a long run in Bismarck. The Bobcats are having another strong season with the playoffs approaching next month, despite the herky-jerky nature of the pandemic-altered 2020-21 campaign.
"It's definitely been an uphill battle. We've had shut-downs and pauses and it wears on you mentally, especially at the beginning of the year," Bergsland said. "We have a great group of guys, so fun to play with. We've hung in there together and I think that's been reflected in how we've played this season."
Bergsland lives with the Bree and Dave Walth family and says he'll always remember his time in Bismarck.
"(The Walths) have been great to me. They took me in without even meeting me and gave me a room in their basement. Just great people. We've become close," he said. "This year has been a great experience. Playing for Layne and the Bobcats, it's been awesome. I just hope we can keep it going as long as possible."