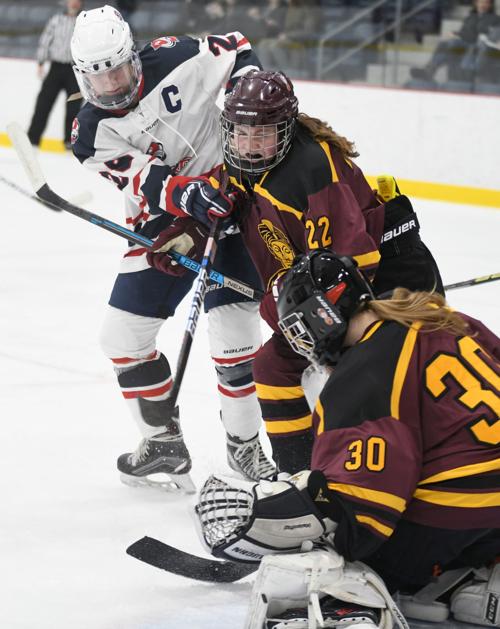 The reigning state champion Bismarck Blizzard set out some warning flags in their season-opening girls hockey game on Tuesday night.
 First, don't put the Blizzard on the power play. Bismarck scored three times with the Majettes a player short in a 6-0 victory at the Capital Ice Complex.
 Second, the Blizzard can score quickly. It took only 3:08 for Eva Churchill to get Bismarck on the scoreboard. She scored on a close-in shot from near the right post on the first power play of the night.
 In the third period, Bismarck closed out the evening's scoring with two power play goals in 72 seconds.
 Riley Ball redirected Anna German's slapshot from just inside the blue line with just 47 elapsed in the period, and Churchill followed suit jut 25 seconds later.
 The two-goal flurry to start the third period was set up by a pair of Majette penalties in the final half-minute of the middle session. Goalie Amber Borkhuis was whistled for tripping with 27 seconds to play, and Kinsey Fjeld drew a tripping call with :03 on the clock.
 Bismarck's other goals were scored by Ball, Paige Hanson and Cameron Schmidt.
 Ball darted down the slot and faked Borkhuis to her knees to make it 2-0.
Hanson was the beneficiary of a steal by Noelle Martin deep in the Minot zone early in the second period. Martin slid the pucl to Hanson, who scored from low in the left circle.
 Schmidt made it 4-0 late in the second period, scoring on a rebound in the wake of a Borkhuis save on a shot by Madison Brown.
You have free articles remaining.
 Churchill, a senior, liked scoring the first Blizzard goal of the season.
 "It's fun ... but credit to my teammates. They were able to get the puck around in the zone and make things happen," she said.
 Borkhuis, one of the state's top goalkeepers, was brilliant in Bismarck's 1-0 win over Minot in the quarterfinals of the state tournament in February.  Churchill said the setting was different on Tuesday, though.
 "At tournament time it's a different game," she observed. "Tonight we came out with a fast start."
 Churchill said it's different heading into a new season as a senior.
 "We (seniors) have to play a leadership role to incorporate the new players into the culture of the team. ... We preach to the younger girls about communication and having fun. I think we succeeded in that tonight," she said.
  Blizzard coach Tim Meyer said there's a long way to go, but said Tuesday's performance was an impressive first step.
 "I liked our net presence. We were getting a lot of second opportunities," he noted. "It was a good first game, but we'll take it with a grain of salt."
 A 22-save shutout by senior goalie Lauren Watkins caught Meyer's attention, too.
 "Not bad for a first start, huh?" Meyer noted. "I was impressed with her composure. ... When we needed her, she was there, and that's her job."
 The Blizzard, who are beginning pursuit of a sixth straight state championship, play again on Saturday, meeting Fargo Davies in Fargo. Minot, ranked sixth in the statewide preseason coaches' poll, visits Devils Lake on Friday.