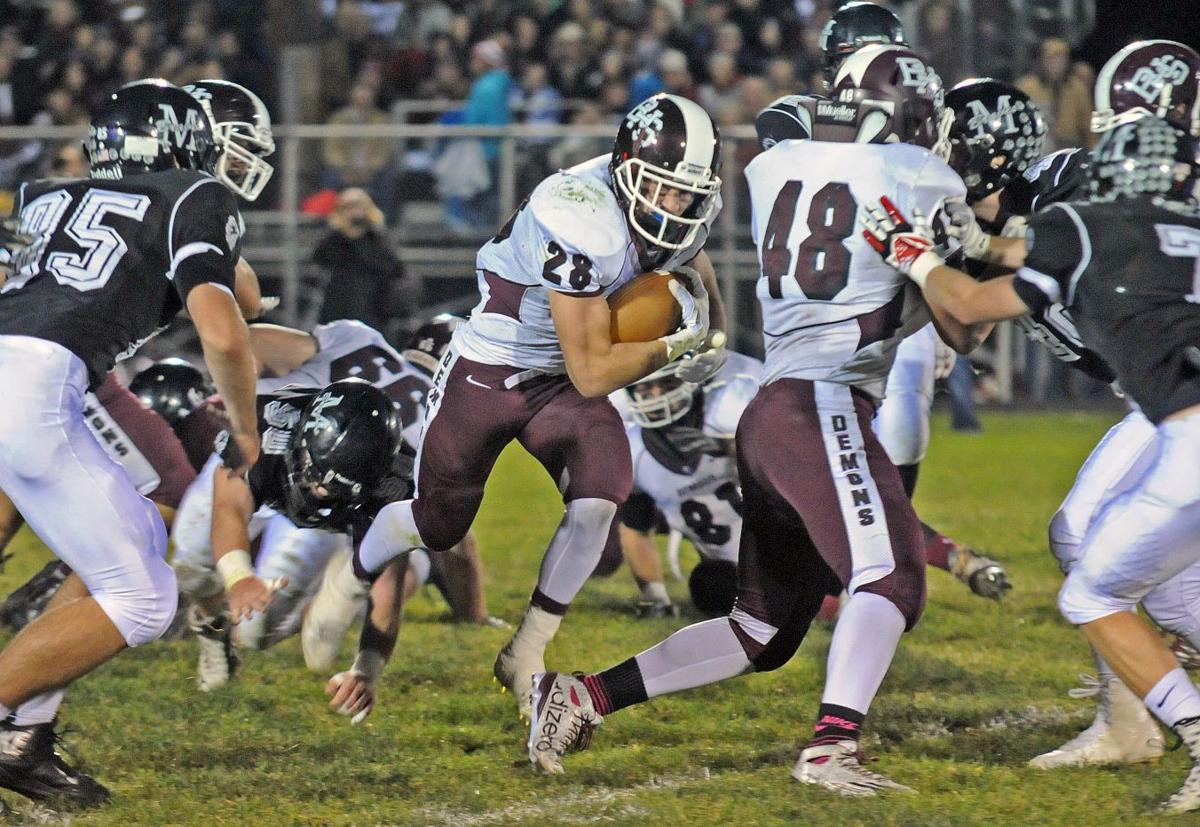 Bismarck and Mandan combined forces for 101 points, 957 yards total offense and 37 first downs Wednesday night at Faris Field.
But all those numbers were just so much noise to BHS coach Mark Gibson in the wake of the Bismarck Demons' 62-39 victory over Mandan. To him it all boiled down to one victory. And that one win put Bismarck in the playoffs.
"We've got a lot of things to shore up, but at least we're in (the playoffs), that's the big thing," Gibson said.
Bismarck's quarterfinal opponent in the AAA playoffs will be the East Region's top seed, West Fargo, on the last weekend of October.
The offenses were in complete command on Wednesday. Bismarck piled up 561 total yards, 360 of them by 5-foot-11, 170-pound tailback Jaxon Ford, who rushed 40 times and scored five touchdowns. He also caught 25-yard scoring pass to round out a terrifically busy night.
Ford said he's never been in the 40-carry realm before, but he said he was ready and willing for No. 41.
"Oh, yeah. I did not want to come out of the game . My mindset was to go to the buzzer," Ford said.
Mandan quarterback Jake Carlson, the West Region leader in total offense, lived up to his billing, rushing for 143 yards and three touchdowns and throwing for 196 yards and three more scores. Three interceptions marred his performance.
Ford said there was no quit in Mandan.
"They're a great team. They've won some big games and we knew it was not going to be an easy game here on their turf," Ford said.
Gibson said Ford, among others was amazing.
"A lot of credit goes to this guy standing next to me (Ford) and a lot of credit goes to the offensive line, too," Gibson said.
Both offenses were explosive. Only one scoring drive took more than six plays, and that one required only seven.
Bismarck took a 14-0 lead on a seven-yard run by Ford and a 25-yard gallop by Lucas Butts. Mandan replied with a 53-yard scoring pass, Carlson to Gabe Meschke, and a 31-yard run by Carlson.
Bismarck went ahead 27-12 at halftime as Ford scored on runs of four and 10 yards.
The two teams traded three scores to start the second half. Mandan hit paydirt on an 86-yard Carlson-to-Meschke strike and runs of 36 and 55 yards by Carlson. Bismarck countered with TDs by Ford on a four-yard run, Jake Sanders on a 22-yard run and Ford on a two-yard run to pull ahead 48-32.
When BHS added a 25-yard Jordan Mann-to-Ford scoring strike with 3:01 to play and a 20-yard dash by Butts with 1:31, the outcome was sealed at 62-32.
Carlson threw a 15-yard TD pass to Jesse Bruner to close the scoring with :44 to play.
Mandan coach Todd Sheldon had nothing but praise for his team, Wednesday's painful end to the season notwithstanding.
Sheldon knew the Faris Field scoreboard would get a good workout.
"We know they're a potent offensive team and we know we can score. We knew they were a little bit susceptible to some of the things we do, and Carlson makes good decisions," Sheldon noted.
Sheldon admitted the Braves defense has taken some injury hits during the season, the most recent last week when senior running back and defensive end Nick Miller was sidelined with three cracked ribs.
"We're still making strides forward," Sheldon said. "... There's a lot of stuff to look forward to. We have a nice nucleus of juniors who got a lot of playing time."