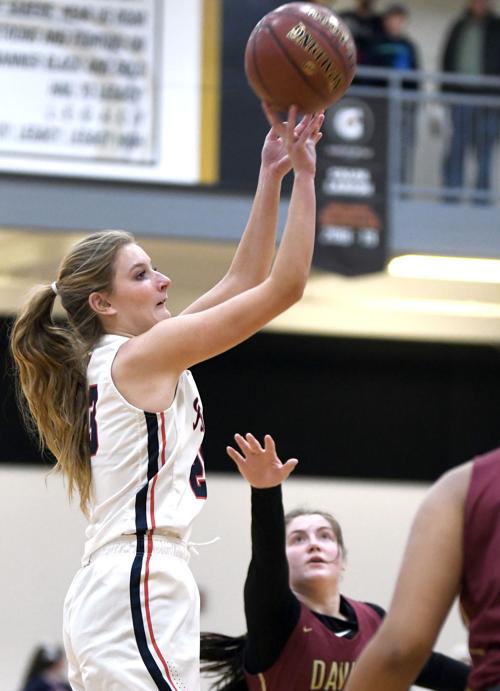 Century's slow start proved to be no problem for the Patriots.
Down 10-2 five minutes into Saturday afternoon's season opener played at Legacy High, Century scored 21 of the next 25 points and never looked back, rolling to a 69-34 win over Fargo Davies.
The 1-0 Patriots, allowed just 10 points total in the second half.
"We were struggling a little bit at the beginning. We were communicating very well. We were playing a little out of control," said Century junior Ashton Kinnebrew. "At halftime, coach (Metz) told us to pick it up a little bit and we came out stronger on both ends of the floor."
Century, the two-time defending state champion, but featuring a different look with star senior Lauren Ware (knee) out for the season, were relentless defensively and on the offensive boards. The Patriots forced Davies into 26 turnovers.
"We struggled early in the game. We looked like we hadn't played or practiced for two weeks," Century coach Ron Metz said. "But that happens sometimes in the first game.
"Once we calmed down in the middle of the first half, and quit giving up layups, we were able to settle into the game a little better."
The Patriots got 32 points from their bench players, including a trio of 3-pointers from 5-foot-10 freshman Logan Nissley, helping erase the early eight-point deficit. Nissley, who suffered an ankle injury in the second half, finished with 11 points.
"We know she can bring that to our team," Metz said of Nissley. "She has a lot of natural ability. Hopefully her ankle will be OK."
You have free articles remaining.
Megan Klein, a 5-11 junior post, and Gabrielle Rush, a 5-4 guard, combined for 17 more bench points with 9 and 8, respectively. Century sank 10 3-pointers, two by Rush.
"Our bench came in and gave us a really nice lift," Metz said. "For this team to be successful, we're going to need those types of contributions from all of our girls."
Kinnebrew led the Patriots with 12 points. She, along with senior Ella Fridley, wreaked havoc on the backboards and in the passing lanes. Julia Fitterer also had 12 points.
Kinnebrew, a 5-8 junior, knows the Patriots are counting on her to fill a larger role.
"I've been told that a few times," she said. "We lost a lot of height from last year with Lauren being hurt. I'll do whatever the team needs me to do. Everyone on our team has that same mindset."
Metz is looking for gang rebounding from his team, which is without a 6-footer on the squad.
"We don't have the bulk we've had in the past. We have to play position, play aggressive and be smart when it comes to rebounding," the head coach said. "Davies is a big team. I was really proud of how the girls rebounded today. That was really encouraging."
Davies was led by 10 points from junior Ryleigh Wacha.
Century kicks off West Region play on Tuesday at Dickinson.
"You always learn a lot from the first game," Metz said. "There are things we need to work on, but the effort was there from our girls today. They played hard."