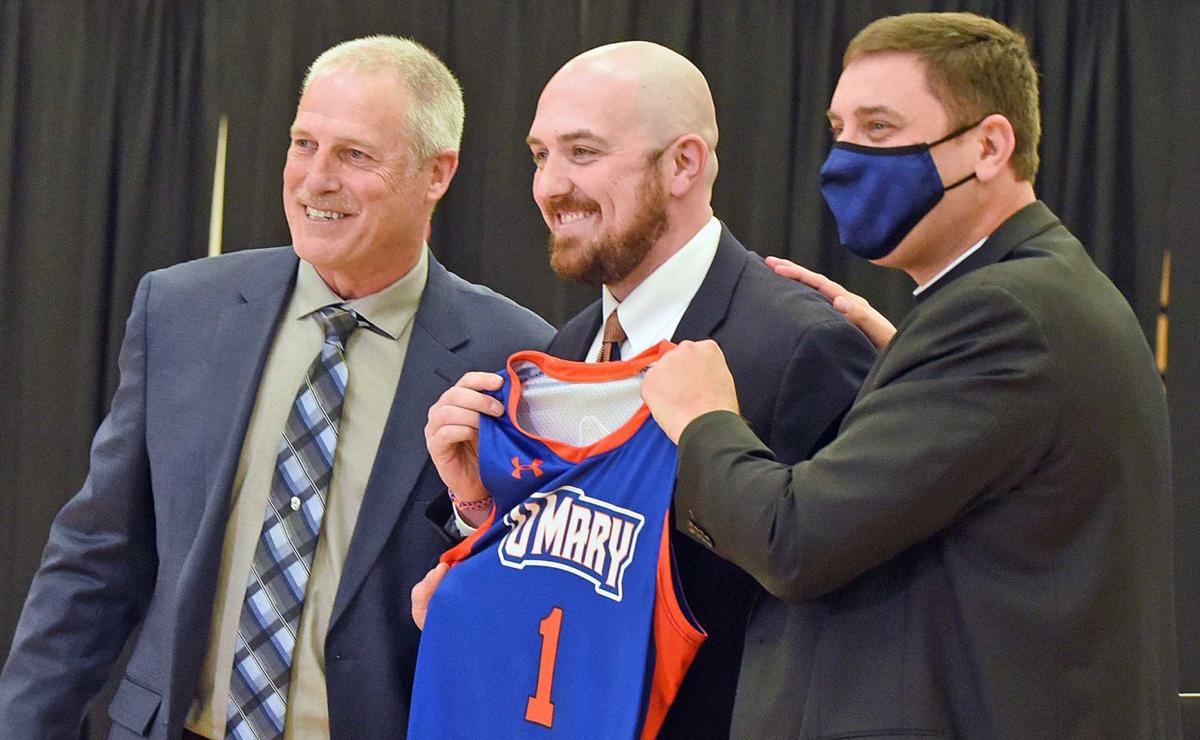 The last time Dale Lennon dipped into the University of Sioux Falls to hire a coach it turned up aces.
Lennon, University of Mary athletic director, is hoping the second time proves successful as well.
Jack Nelson, associate head coach for the Sioux Falls men's basketball team the past three years, was unveiled as the Marauders' new head coach on Thursday. The 37-year-old native of Dillon, Colorado, is the ninth head coach in U-Mary men's basketball history.
"It's been a goal of mine to become a D-II head coach and to get that opportunity here, I'm really excited," Nelson said. "I've had a lot of great mentors and I've always tried to do the best job I could in the job I had and if you did that, you'd have an opportunity to get the next job. For that next job to be as the head coach at the University of Mary, I'm really thankful and excited to get to work."
Lennon joked with his new hire that his first foray into Sioux Falls went quite well. When Lennon was the head football coach at Southern Illinois of the FCS, he hired Kalen DeBoer, Sioux Falls' head coach at the time, to be his offensive coordinator with the Salukis. Since then, DeBoer has steadily risen in the college football ranks and is currently the head coach at Fresno State.
"I told him, no pressure, but the first time I did this, it worked out pretty well," Lennon said. "With Jack, we got the right fit for U-Mary. Maybe not for the current team, but the type of team we want to have in the future. He's very familiar with the private-school setting, the Northern Sun and with his connections with the Summit League, he has the type of background we were looking for."
Lennon, and the search committee formed to help in the hire, had plenty of applicants to sift through.
When the job closed two weeks ago, Lennon had 116 applicants. Nearly 80 more flowed in after that. From 116, they pared it down to nine candidates with Zoom interviews, then cut it to five with another round of online interviews before two finalists were brought on campus. The final decision was made on Good Friday.
Nelson replaces Joe Kittell, who stepped down last month after six seasons. Kittell took a job within the admissions department at U-Mary.
"The process was really good, really smooth. Not stressful at all. That's not always the case with some of these things," Nelson said. "I enjoyed getting to know the search committee members. There were so many former basketball players on the committee that care deeply about this program and want to see it do well.
"The whole process played out quickly and that gave me an opportunity to have some time with the current players and to do some recruiting, which is a huge advantage."
Nelson is very familiar with the NSIC. On top of the last three years at Sioux Falls, he also spent four years at Minot State under current head coach Matt Murken.
"I loved my time in Minot, but they're the rivals now," he said.
Nelson has head coaching experience. He went 41-21 at Central Wyoming College from 2016-18 before returning to Sioux Falls. Nelson, who also was an assistant at Bellevue, Neb. (NAIA), started his career as an assistant at Sioux Falls from 2008-2011.
Lennon said Nelson's experience at Sioux Falls, among the top programs in the NSIC, was a feather in his cap.
"Sioux Falls has had a lot of success in their transition. He's going to bring us a lot of valuable information. There's a blueprint in place," Lennon said. "We can use that to our advantage."
There was more to it, however.
"Checking references, and talking to a lot of coaches, quite a few who actually weren't at Sioux Falls, and he was probably the top assistant coach in the Northern Sun," Lennon said. "Jack has a very good reputation in the league, very highly thought of."
Nelson's job will be elevating the Marauders in the difficult NSIC. U-Mary has been generally competitive since moving to the NCAA Division II level in 2006-07, but has just three winning seasons.
Nelson said he's looking to build on what's in place.
"The toughness and grittiness Joe (Kittell) instilled will serve us well," Nelson said. "What I think will help us reach the next level is getting a little bigger across the board -- guard, forward and center -- adding length and athleticism. In our league, there's a lot of teams with size and athleticism, and, of course, a lot of talent. For us, it's really important to address those areas through recruiting."