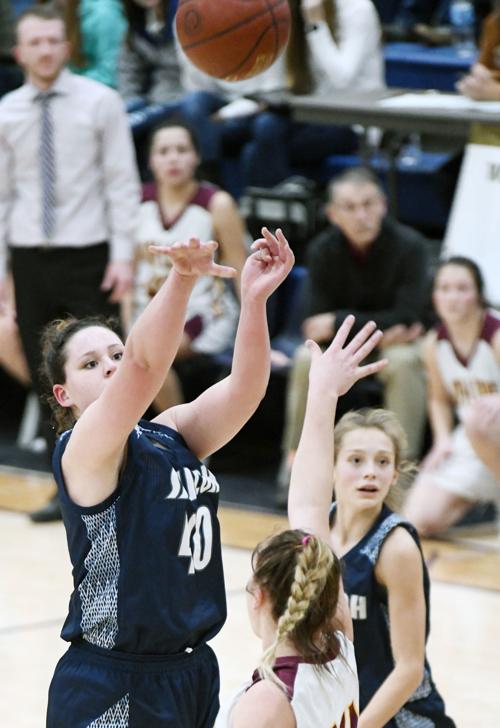 Grace Kelly scored the first basket of the game for Shiloh Christian on Saturday, then reemerged when it mattered most to help the Skyhawks hand Linton-Hazelton-Moffit-Braddock its first loss of the season, 48-44, at the Shiloh New Year's Invitational.
 Early foul trouble sent the Skyhawks' 5-foot-11 sophomore forward to the bench until just 2:18 remained in a game that Shiloh led 42-37. Kelly scored the last six of her eight points in the final 2:18 of the game.
 The Skyhawks beat fourth-ranked Linton-HMB at its own game to improve to 6-3.
 "We pretty much knew what kind of strengths they have," Shiloh coach Daryl Bearstail said. "They're a fast-breaking, pressure team. They fast break and shoot well together."
 But the Skyhawks were up to the task.
 The Lions led for all of 13 seconds in the game after Jaycee Richter's 3-pointer put them on top with 5:20 to play. Shiloh's Jacie Hall tied it with a free throw with 4:27 left and Aliya Schock's putback was part of a 9-0 run that restored order.
 "They made some runs at us and we made some mistakes here and there," Bearstail noted. "But the girls were resilient and kept making big plays for us. That's a good team over there."
You have free articles remaining.
 The Skyhawk youngsters got it done. During most of Saturday's game, Shiloh's five players on the floor consisted on an eighth-grader, two freshmen and at least one sophomore and junior, sometimes two juniors. Guard Kelsey Mischel was the only senior with considerable playing time. She finished with five points.
 "It's a young team," Bearstail said. "We have a young group but they're all leaders in their own ways. They stay positive and stay upbeat. The unity of our team is big for us."
 That unity makes it easy for Bearstail to calm things down when their opponent makes a run like the Lions did in the second half.
 "The things I saw are like any coach, just trying to keep them calm and focused and staying organized on both ends of the court," Bearstail said.
Hall led all scorers with 20 points. She had the team's first four points of the second quarter. Freshman Hannah Westin accounted for the last seven of the quarter as the Skyhawks upped their lead to 27-17. Westin had nine points in the game.
 It was still 36-28 after three quarters before the Lions made one last push.
 Linton-HMB's own sophomore -- 5-5 guard Teagan Scheer -- led her team with 15 points. Her 3-pointer just 14 seconds into the fourth quarter launched a 9-0 run. Richter's 3-pointer from the top of the key gave Linton-HMB a 38-37 lead. But it soon evaporated beneath the Skyhawks' 9-0 run.
 Scheer's breakaway layup with 13 seconds left cut the LHMB deficit to 47-44. Kelly's free throw with eight seconds to play was the game's final point.
 Juniors Erica Umber and Precious Vetter scored 10 points apiece for the Lions.