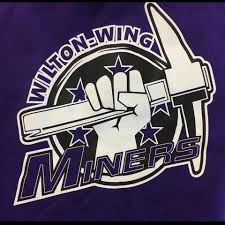 Lisa Jenkins had a front-row seat to watch one of her school records fall.
On Tuesday night in Max, the Wilton-Wing Miners coach watched as her standout sophomore Hailey Quam poured in a school-record 45 points in an 85-27 victory over the Cossacks.
Quam, who has posted some eye-popping numbers early on in her high school career, eclipsed the single-game record of 42 points, held by her coach.
"I thought about trying to go block her at the end but I thought she'd probably dunk it on me or something," joked Jenkins, who played collegiately at Texas A&M after graduating from Wilton High School.
"It's great to be able to coach her and to be there for that."
Quam, a 5-foot-10 sophomore, got off to a flying start to the season, scoring 98 points over the Miners' first three games. She's averaging 29.8 points and 14 rebounds per game as Wilton-Wing has opened the season at 9-0, breaking into the North Dakota Class B poll at No. 8 this week.
Quam's record-breaking night has her on the verge of a big milestone. She's just four points shy of hitting the 1,000 mark in her high school career -- nine games into her sophomore season.
"She's athletic, she works hard," Jenkins said. "The girls did a good job of finding her last night. We passed the ball well, played with a lot of energy again, which we hadn't done in a couple of games so that was good to see.
"Hailey's as good a person as she is an athlete. She's a fun kid to coach."
Quam has displayed an all-around game, coming close to a triple-double on several occasions with seven or eight steals.
"It's not just scoring -- she gives us something in every aspect of the game," Jenkins said.
As a freshman, Quam averaged 21 points, 13 rebounds and two assists while helping the Miners (16-7) to a berth in the regional tournament. A lot of hard work in the offseason, and a two-inch growth spurt, have helped her elevate her game again.
"Every year, she works on every aspect of her game," Jenkins said. "Sometimes I try to get her to take a break. Between volleyball and basketball, she never stops. It's a good problem to have.
"She's very calm. She plays with a lot of energy, but her biggest fault is she's hardest on herself. She tries to be perfect, and you can't be perfect. You have to have some amnesia, take the last play and move on."
Quam spent a lot of time in the offseason working on free throw shooting, which has improved, as well as her perimeter shooting.
"She's worked on her ball-handling, pull-up jumpers, understanding you can't get to the basket every time, being a little more patient," Jenkins said. "She needs to get better with perimeter shooting, and she has, but she's so used to playing around the basket. She can play guard or forward.
"She's going to start drawing more attention. She's a hard kid to chase because she works so hard around the basket. She's learning how to work when you don't have the ball in your hands, how to set the defense up to get open, creating shots one or two passes away. That comes with maturity."
The Miners (9-0, 4-0 District 10) travel to Hebron on Saturday to square off with Glen Ullin-Hebron (5-2).
The 9-0 start isn't a one-player production. Senior Kiara Johnson has been playing with more confidence at point guard, senior Jordan Tooke is healthy again after suffering knee injuries the past two seasons, junior center Kesley Backman has played well and junior Kalyssa Schock is getting healthy and still hasn't reached her peak yet, according to Jenkins.
"As a team we've played good defense," Jenkins said. "We're trying to limit our unforced turnovers. We can get sloppy at times."
The Miners are scoring 59.6 points per game and allowing only 36.1 per contest.
"We have to understand we have to come to play every night," Jenkins said. "Teams are going to bring their 'A' game against us.
"We're taking it one game at a time. We're not even thinking about the postseason. We still have to get better offensively. Even though we're 9-0, at times we're not playing well offensively. When you start playing the Lintons and teams like that, you have to play almost a perfect game. We just want to get better every game."