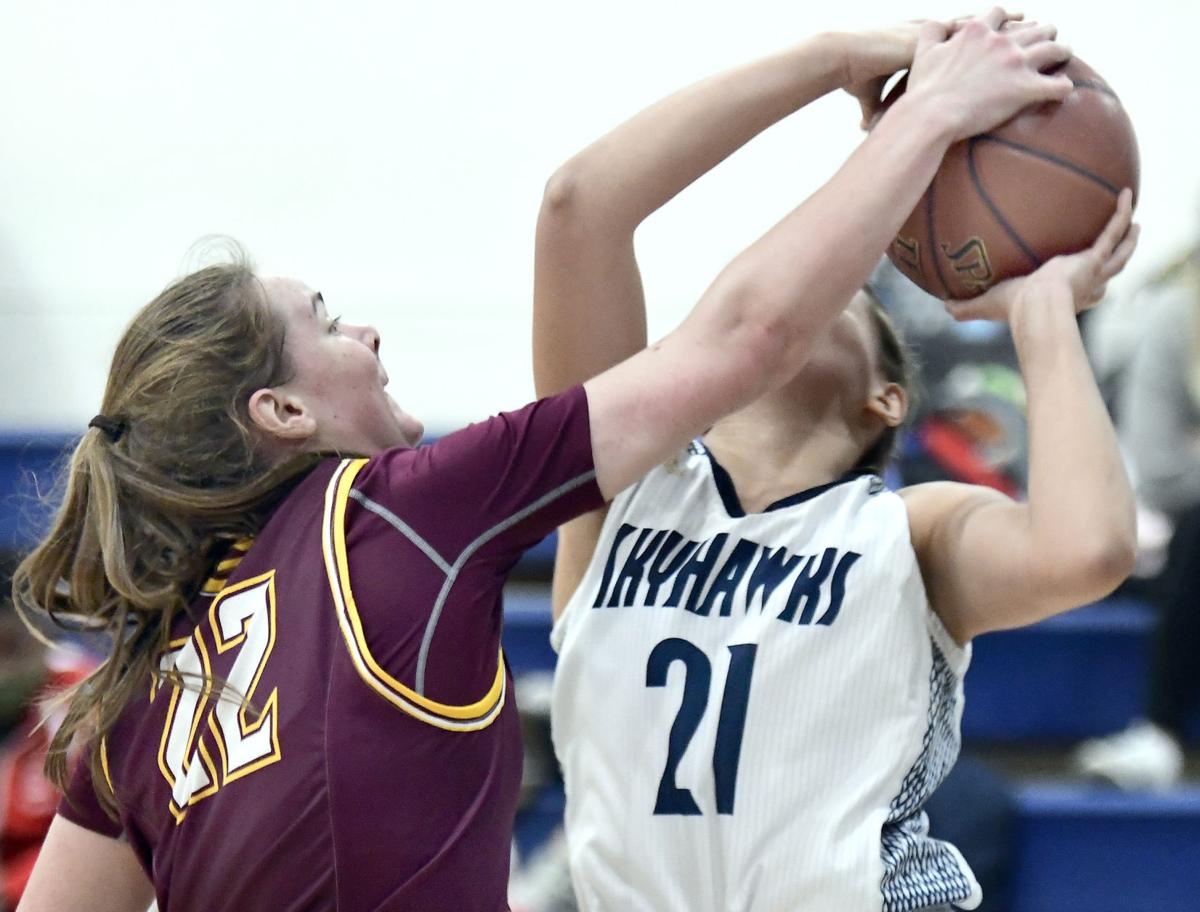 Spoiler alert … the Grafton girls' basketball team is good.
The third-ranked Spoilers gave the west a glimpse of just how good they are on Saturday with a 76-39 defeat of the Skyhawks at Shiloh Christian School in Bismarck.
Second-team all-state senior Carlee Sieben poured in 23 of her game-high 27 points in the first half as Grafton extended its winning streak to eight games. She did it all in a span of 22 minutes.
"We were looking forward to this, whenever you can go on the road like this," Grafton head coach Laurie Sieben said. "We were just excited to have a game like this."
Actually, it was another game like this. The Spoilers haven't lost since dropping a two-point game to top-ranked Central Cass to open the season. Their average margin of victory is 43 points.
Sieben said that's not important to her.
"I don't dwell on that," she said. "I feel like they're a group on a mission: one, they get to have a season; and two, their experience where they left off last year motivates them."
Coach Sieben's twin daughters combined for 37 points. Cassie, who has committed to Mayville State, had two of the Spoilers' seven 3-pointers and Carlee added three -- all in the first quarter.
Shiloh was led by Kennady Walth with 13 points and Jacie Hall with 10. Walth had all three of her team's 3-pointers.
Carlee's 15 first-quarter points came in the last three minutes and helped stake Grafton to a 25-8 lead. It never got better for the Skyhawks.
"We've got to obviously get tougher," Shiloh coach Dan Seifert said. "That's one thing we kind of lack. And confidence is low. We're going to work on that in practice."
If it wasn't, it would be by halftime.
With 4.3 seconds left, the Spoilers turned the ball over under the Skyhawks basket. Carlee stole the inbound and hit a layup in the last second for a 43-18 lead at the break.
"You look at their roster … and you know we have to do the little things right," Seifert said. "And when you have trouble against a team like this, it's the little things that turn into a big problem."
Cassie Erickson's late 3-pointer to close out the third quarter extended the Spoilers' lead to 66-36.
With 4:54 left, the last remaining regulars left the floor, leaving the rest of the night up to reserves. Laurie Sieben said regardless of the score, her team got something positive out of the long bus ride to Bismarck.
"There's a lot of goal-setting," Laurie said. "So that we stay true to good habits and it's an opportunity where we were able to try a defense we haven't had a lot of reps on. We try to work on things.
"There's a lot of season left. That was game number nine and we're hoping to have 12 more games to improve."
Seifert, meanwhile, said the Skyhawks won't dwell on this game.
"They're not in our district and they're not in our region," Seifert pointed out. "We look at it as a regular-season game and we have to learn from that and move on from that."