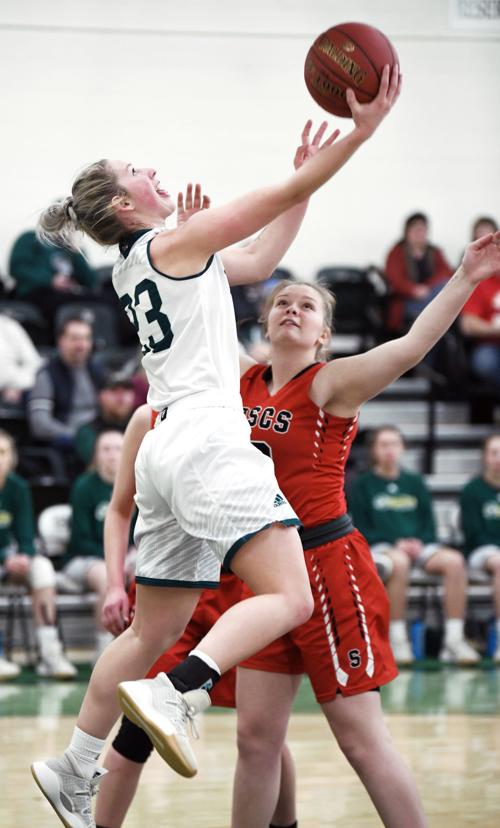 So, how do you survive 31 turnovers and win a basketball game?
 Well, the North Dakota State College of Science women found a way. The Wildcats shot 53 percent and forged a 43-30 rebounding advantage on Thursday night, defeating Bismarck State College 92-91 at the BSC Armory.
 Both teams showed plenty of moxie in a game that swung back and forth before Science's Zaraya March wrapped things up with a free throw with 3 seconds to play. March's free throw, on the back end of a two-shot foul, gave the Wildcats a bulletproof 92-88 lead.
 BSC's Emma Marion threw in a basket from almost half-court as time expired to make it a one-point verdict.
 "This game showed us we can play with grit the full 40 minutes and pull it out," said Wahpeton's Kate Carlson, a 6-foot-1 sophomore forward.
 "A game like this and our last win over Miles City (Community College) have helped to build our team's confidence. ... We believe we can do anything we put our minds to."
Both teams had their moments.
 BSC led most of the first half by slender margins until Science used an 18-8 spurt to claim a 46-38 halftime lead.
 The Wildcats came out of halftime flying, opening a 54-42 lead on Justyna Butler's chip shot in the first minute following intermission.
  BSC fought back, drawing even at 61-61 on a driving basket by Sydney Anderson. The Mystics took their only lead of the second half when Wahpeton's offense came up empty for almost two minutes to end the second half. Single free throws by Courtney Olson and Andersen put BSC on top 65-63 after three periods.
 Science regained the lead for keeps on a 3-pointer by Emma Nielsen that put the Wildcats ahead 68-65. 
 It looked like the visitors were in command when Kate Carlson scored from short range with 2:51 on the clock to make it 86-80. But a 6-2 BSC burst trimmed the deficit to 88-86 on Amber Stevahn's drive to the hoop with 1:14 remaining.
 From that point on, all the scoring was done at the free throw line.
 Two freebies by Butler and one by March made it 91-86, Science. Lauren Koski pitched in two free throws with 5 seconds to play to make it one-possession game.
 That set up March's decisive 1-for-2 free throw effort with 3 tics left on the clock.
  BSC stayed in the game with defense, forcing 31 turnovers.
 Wahpeton's victory was built on a 43-30 rebounding edge and 53 percent shooting. The Wildcats outscored BSC 76-70 from the field, connecting on 10 of 21 3-pointers. BSC swished 20 of 29 free throws.
You have free articles remaining.
 Science head coach Tom Dryburgh said 30-plus giveaways was certainly not typical of this team.
 "This is a tough place to play. They press you and they're very long and very athletic. They make it difficult to get the ball up the floor," he observed.
 Carlson scored a game-high 25 points for Wahpeton and yanked down 11 rebounds. Nineteen of her points came after intermission, 15 in the fourth quarter. 
 Four other Wildcats -- Emily-Kate Parker with 17, March with 14, Nielsen with 12 and Nikki Metcalfe with 11 -- reached double figures. Metcalfe, a 6-foot-2 sophomore post, added a dozen rebounds to her night's work.
 Andersen, a 5-10 sophomore guard, scored 23 points to lead the Mystics. Stevahn added 21 and Courtney Olson had 19. Trae Murray tallied 14 for BSC.
 Stevahn, a 6-foot sophomore who is BSC's main offensive weapon, scored 15 of her points after intermission.
 Dryburgh said Stevahn always figures in his defensive plans when he's about to face BSC.
 "You know what Amber can do. She's been playing well in this league for two years. She's one of the kids in this league who can go off with a big night. ... Today we played just straight man (defense)."
 Dryburgh said Metcalfe and Carlson had the primary responsibility for Stevahn.
 Although BSC entered the game with the Mon-Dak lead at 9-1 and Science was third at 7-3, Dryburgh said the league standings weren't the main issue for his team.
 "For us it was more a situation of playing well, keeping our confidence and trying to build," he said. 
 BSC head coach Marv Pedersen gave a verbal tip of the hat to the Wildcats.
 "Hats off to those guys. They played well. Some of their kids probably had the best game of their life," he said. "We've got a target on our back. We realize that."
 Pedersen said a victory was just a few seconds away.
 "We scored 91 points, and still lost by one. We had our opportunities at the end," he noted.
 "We'll use this as a building block," he added. "... We've got three games left, and then we start the postseason. We have to win out."
 With Thursday's games in the books, BSC and Miles City Community College have 9-2 Mon-Dak records. Wahpeton stands 8-3.
 BSC's final three regular-season games are at Lake Region State College on Sunday, at home against United Tribes next Thursday and at home against Dawson Community College on Feb. 23.