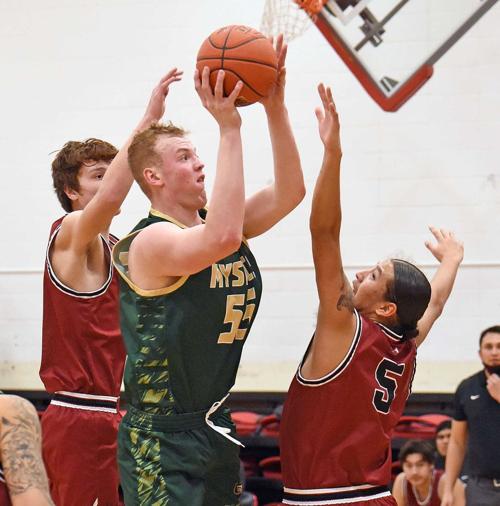 It wasn't your usual season opener.
Bismarck State College and United Tribes Technical College tipped off the coronavirus-delayed men's basketball season on Tuesday night with a Mon-Dak Conference contest in a nearly-empty UTTC gym with no fans allowed and the game broadcast on YouTube.
The Mystics used a couple of big runs in the first half to build an early 20-point lead en route to a 90-77 victory over the Thunderbirds.
"I thought that we looked a lot faster in practice," Mystics coach Jim Jeske said. "We looked like we were running around a little slow, but I think it's just the energy level and honestly, it's just great to be on the court, getting a chance to play, so we're pretty excited about that.
"Part of it is you have to make your own energy and you're traveling on the road a little bit and that's hard to do, but I thought our boys for the most part did a good job of staying focused and staying with it."
Both coaches saw some positives and some things to work on.
"First night out of the gates, I thought the first half was a struggle, kind of what I expected offensively," UTTC coach Pete Conway said. "Not a lot of rhythm there, defensively a little sloppy, not moving our feet. We sent them to the foul line a lot, a lot of reaching calls and trying to block shots.
"It's been a long wait for these guys to get out there and play. It was kind of in jeopardy the first semester, not knowing if we were going to get to play, so they were all champing at the bit to get out there and I'm excited for them to get a chance to get out and play this season."
Bismarck State reeled off 14 consecutive points early, turning an 11-8 lead into a 25-8 advantage.
A few minutes later, a 10-2 Mystics run pushed the lead to 35-15.
"I thought we did a pretty good job of inside-out," Jeske said. "I thought we hit a couple of 3-pointers but we also attacked the basket. We also scored some free throws and got a few post plays inside."
Jerrick Baines scored 14 of his game-high 17 points in the first half for BSC.
He led six players in double figures for the Mystics. Garrick Baines and Jamison Kramer each added 15, Macauley Young and Cole Begger had 12 apiece and Seth Nelson 10.
Nelson grabbed eight rebounds as BSC outboarded United Tribes 49-38.
Bismarck State led by 16 (49-33) at the intermission. The Mystics pushed the lead back to 20 three times in the second half before United Tribes rallied.
A 12-2 run by the Thunderbirds trimmed a 65-45 BSC lead in half, pulling UTTC within 67-57 with 6:51 remaining. A Demetrius Brown 3-pointer pulled UTTC within eight at 77-69 with 4:36 to go.
"In spurts, in the second half we played a little bit harder on defense and figured out for a while moving the ball around a little bit more instead of one pass and shooting it, so we got some better shots," Conway said.
"I thought that we played much better the first half with our whole overall game," Jeske said. "The second half we got a little sluggish."
Eleven different players scored for the Thunderbirds, with four in double figures -- Tate Bear (16), Brown (14), Tyree Whitcomb (12) and Luke Wells Jr. (10). Nick Valencia added nine.
"I think we played 14 guys tonight, so you know there's going to be not a lot of continuity at this point," Conway said. "We're trying to develop some of that continuity, kind of see what our rotations will look like and who plays well together and things like that."
The Mystics used an 11-5 run to pull away late.
Bismarck State shot 50.8 percent (31-for-61) from the field while United Tribes finished at 35.9 percent (28-for-78). The Mystics converted on 22 of 31 free throws.
BSC travels to Glendive, Mont., on Saturday to take on Dawson CC. United Tribes travels to Miles City, Mont., on Saturday to face Miles CC.