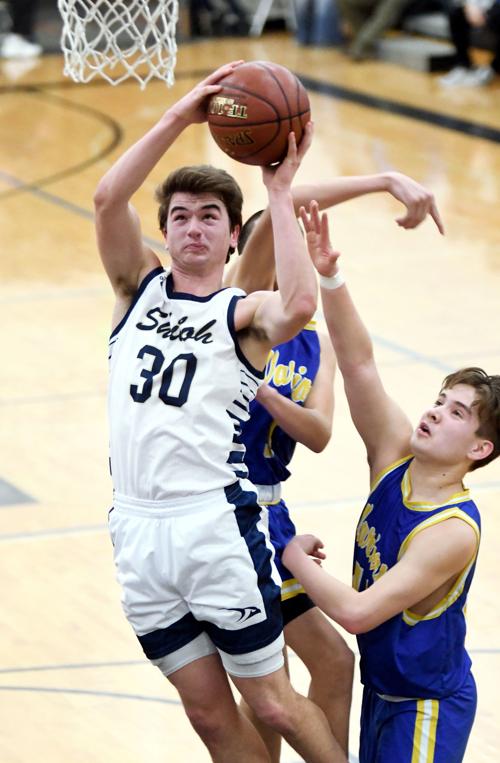 The talent pool was deep and thick. So there's no doubt about the abilities of the five boys who bubbled to the top during the North Dakota Class B boys basketball season.
 Carson Henningsgard, Cole Myers, Jaden Mitzel, Seth Nelson and Jaden Hamilton, all seniors, have been chosen as the pick of the 2019-2020 Class B basketball crop.
 Henningsgard, a 6-foot-2 senior from Hillsboro Central Valley was chosen unanimously. He was a first-team selection as a sophomore and junior, as well.
 Myers, a 6-3 senior from Richland, gets a first-team nod for the second straight season.
 Mitzel, a 6-2 senior from Shiloh Christian School, and Seth Nelson, a 6-4 senior from Carrington, earned second team recognition last season.
 Hamilton, a 6-7 senior from Rugby, achieves all-state status for the first time.
 Henningsgard, Myers, Mitzel and Hamilton were all members of state-qualifying teams. 
Heningsgard, a Mr. Basketball finalist, was named the senior athlete of the year in Region 2. He averaged 22.2 points per game with 4.5 rebounds, 6.5 assists and 3.0 steals.
Myers, the Region 1 senior athlete of the year, is also a Mr. Basketball finalist. He averaged 22.1 points per game and rebounded at an 8.4 pace. He averaged 1.8 steals.
Mitzel is Shiloh's first basketball player, boy or girl, to be accorded first-team all-state honors. He is a Mr. Basketball finalist and the Region 5 senior athlete of the year. He scored at a 25.0 pace and averaged 11 rebounds and 4 assists per game. 
Nelson was chosen the Region 3 senior athlete of the year on the strength of a 23.9 scoring average and an 11.3 rebounding average. He also contributed 2.5 assists and 3.1 blocks per game.
Hamilton carried a 20.3 scoring average to go with 7.7 rebounds, 3.0 assists and 2.3 steals. He was named the Region 6 senior athlete of the year.
Doug Yankton, a 6-4 senior from Four Winds-Minnewaukan, returns to the second team. He and Trey Brandt, a 6-0 sophomore from Beulah, both played for state-qualifying teams.
 Other members of the second team are Bo Belquist, a 6-0 senior from New Rockford-Sheyenne; Andy Freier, a 6-3 senior from Kindred; Rhett Hanson, a 6-6 senior from Stanley; Joe Hurlburt, a 6-10 sophomore from Enderlin; Lucas Schumacher, a 6-2 junior from Linton-HMB; Gage Swanson, a 6-2 senior from Beach; Avery Thorsgard, a 6-2 senior from Hatton-Northwood; Scott Wagner, a 6-7 sophomore from Ellendale, and Jesse White, a 5-11 junior from White Shield.
Results of the Mr. Basketball voting will be released on Friday.
 The all-state basketball teams and the Mr. and Miss Basketball awards are sponsored and chosen by members of the North Dakota Associated Press Sportscasters and Sportswriters Association.
Be the first to know
Get local news delivered to your inbox!