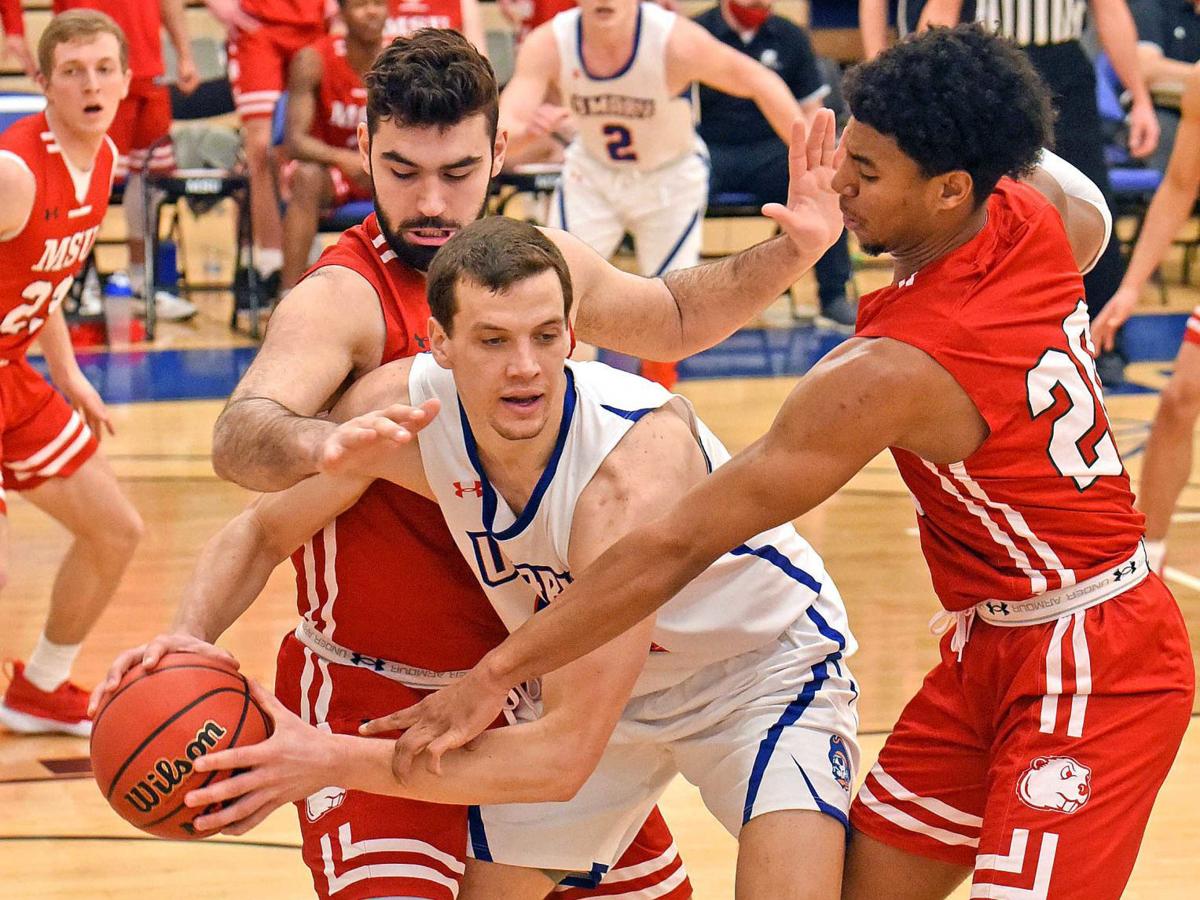 Minot State has been at home on the road this season.
For the University of Mary, home cooking has not tasted too good in 2021.
The Beavers, who have had four home games canceled this season for COVID-19 related reasons, clinched their spot in the Northern Sun tournament, fittingly, in Bismarck Friday night. 
Kody Dwyer poured in 24 points and Max Cody added 21 more as the Beavers outscored the Marauders 43-30 in the second half en route to a 76-69 NSIC North victory at the McDowell Activity Center.
It was the fifth loss in seven home games for the Marauders, who were eliminated from postseason play with the loss, their 11th of the season. Minot State, meanwhile, is 4-5 in games outside the MSU Dome, a big reason the Beavers will have a spot in the 8-team NSIC tournament in Sioux Falls next week.
"It's been a grind. It seems like we've been on the road the entire year," said Minot State head coach Matt Murken. "At this point, we're kind of used to it. I'm not sure that's a good thing, but I think it does speak to the resiliency of our guys to where we're down six at halftime against a good team and we're still able to fight through it and put ourselves in a position to win."
It was the sixth single-digit loss for the Marauders heading into today's season finale at 4 p.m.
Josh Sipes sank 3-pointers to end the first half and start the second half to give the Marauders a 42-33 lead.
The Beavers answered with an 11-2 run to tie it on a bucket in the paint by Cody at 44-all. It was back and forth from there. The game featured nine ties and five lead changes.
Dwyer, Cody and Melvin Newbern, all seniors, combined for 55 of the Beavers' 76 points.
"Our seniors played phenomenal," Murken said. "Kody, Max and Melvin, I thought played really, really well. It's hard to win on the road in this league, it really is. You need your older guys to come through. I was really proud of all our seniors."
Dwyer, a 6-foot-10 senior, pulled down a team-high eight rebounds to go with his 24 points. Cody, a 6-1 Australian, dished out seven assists on top of his 21 points.
Matthew Kreklow had a double double in defeat for the Marauders with 19 points and 11 rebounds. Trever Kaiser had 16 points and nine assists. Matthew Johnson finished with 11.
The Marauders had a chance to tie the game late. Down 70-67, Wyatt Carr had an open look from the top of the key, but was off the mark. After Newbern went 1 of 2 from the stripe, Carr again casted from deep, but a Minot State defender had a hand in his face and the shot was off. Newbern followed with two free throws to ice it.
"We wanted to earn more basketball and that's what we got tonight with this win," Murken said. "Going back to Day 1 we just told our guys, hey, let's just have fun that day because the next day isn't guaranteed and everything could get shut down. This season really has taken you back to your love of the game. It's been like an escape, to be out there playing basketball. Every day's been a blessing."