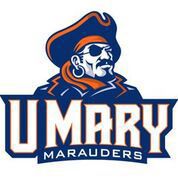 The University of Mary erased an 11-point deficit in the last seven minutes to beat Minot State 56-53 Saturday in the Northern Sun Intercollegiate Conference men's basketball opener at the Minot State Dome.
 Jaylan White's driving jumper with 8.8 seconds to play gave the Marauders (1-0 NSIC, 5-1 overall) a 54-53 lead. Minot State's desperate 3-pointer as time ran out was no good. White had missed his first nine shots of the game.
 "Obviously, it all starts with J," U-Mary coach Josh Kittell said. "I told him at halftime, 'We  believe in you, just keep shooting.' His missed a couple more then he was ready to take over. That's why he's all-conference."
 The Beavers (0-1 NSIC, 6-1) had a chance to win but Max Cody's 3-pointer with a second left bounced in and out and Matt Kreklow was fouled on the rebound. He made two free throws and the Beavers' Kyle Beisch's 3-pointer as time ran out was wide.
 White scored all 13 of his points in the last 6:43 of the second half to help the Marauders win for just the second time in Minot in the seven NCAA Division II games the teams have played there. Its only dome victory prior to Saturday was 78-66 on Nov. 28, 2015.
 Connor Hellebust led U-Mary with 15 points. Kreklow had 12 points, 10 rebounds and four of the Marauders' six blocked shots.
 U-Mary had trailed 49-38 with 7:07 left after a Kyle Beisch 3-pointer. The Minot State guard made 6 of 10 3-point attempts and finished with 22 points. Kody Dwyer was the only other Beaver in double figures with 11.
 U-Mary trailed 24-18 at half but the Marauders made a game of it, taking a 29-27 lead on Kreklow's jumper with 14:48 to play. Then it was all Minot State, which rode Beisch's hot hand to a 49-38 advantage with 7:07 to play.
  With 16.2 seconds to play, Dwyer got credit for a basket on Kreklow's goaltending call to make it 53-52. But White went coast to coast with the ball to give the Marauders the lead.
You have free articles remaining.
 The Marauders shot 39.6 percent,
 "I'm just proud our of guys and their resiliency and their fight. We were down 11," Kittell said. "Getting a road win in the NSIC is hard, really, really hard. Tonight's special and it's fun."
U-MARY 66, MINOT STATE 50
 University of Mary senior Cassie Askvig took over in the second half, scoring 17 of her 19 points after halftime as the Marauders pulled away to a 66-50 win over Minot State in the Northern Sun Intercollegiate Conference opener on Saturday at the Minot State Dome.
 It was U-Mary's third straight win over the Beavers (3-2, 0-1) and sixth in the last seven meetings between the two former NAIA rivals.
 Askvig, the conference's reigning offensive player of the year, had just two points in the first half and U-Mary trailed 25-19. But the Marauders (7-3 overall, 1-0 NSIC) shot 13-for-24 in the second half on the way to their sixth straight win.
 "That's what she had at half? Then she really did carry us in the second half," U-Mary coach Rick Neumann said. "We weren't as locked in defensively as we needed to be. It ended up being about one and a half adjustments on defense. Then we started shooting the ball better and looked like ourselves in the second half."
 Askvig also grabbed 10 rebounds and led U-Mary in blocked shots (2), while going 9-for-10 from the free throw line.
 Macy Williams, Coral Gillette and Lauren Rotunda chipped in 11 points apiece for the Marauders, who shot 43 percent as and 40 percent from 3-point range. Gillette made 3 of 6 3-point attempts.
 Minot State, which got a team-high 14 points from Mariah Payne, led 25-19 after a low-scoring first half. The Marauders shot just 30.4 percent in the first two quarters. Askvig sparked a 27-11 third quarter which ended with the Marauders up 46-36.
The Marauders are back on the road on Friday in NSIC play, traveling to St. Cloud to face the Huskies.