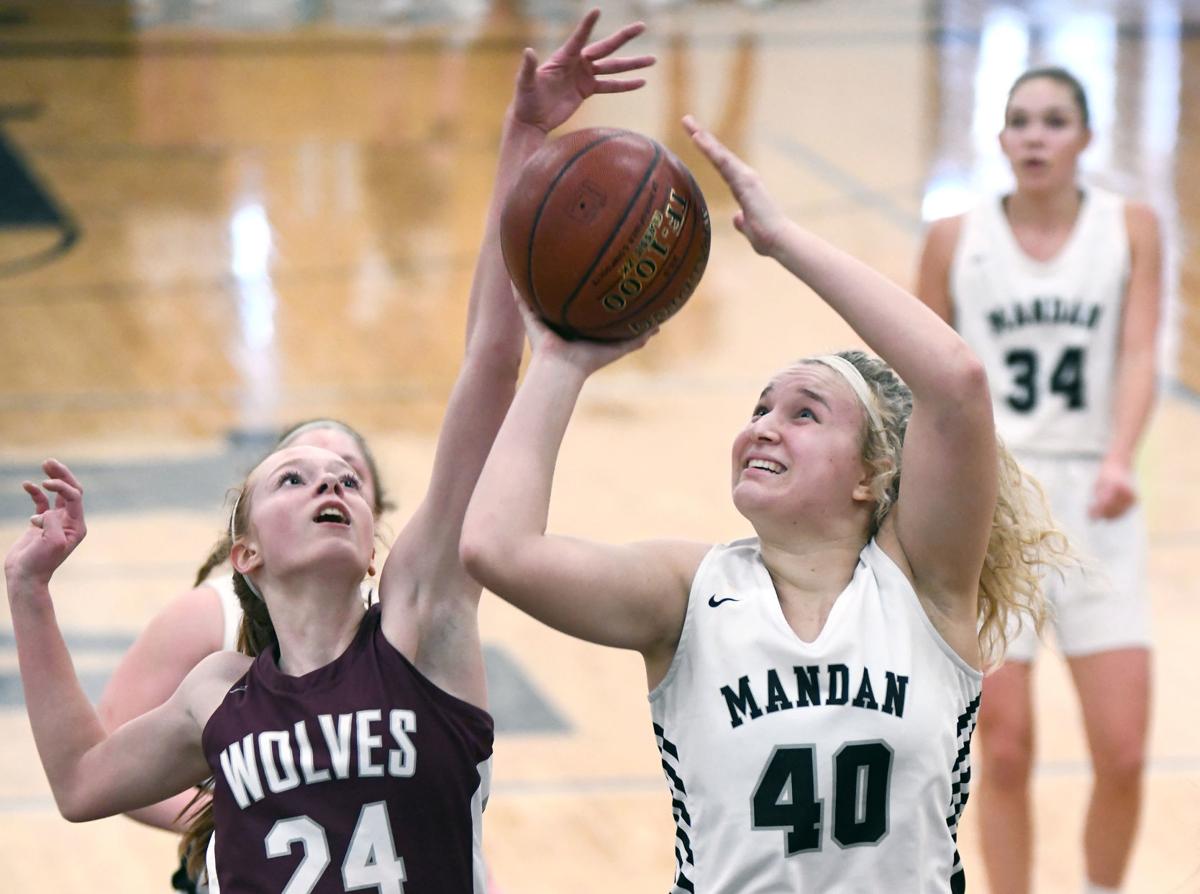 Mandan made 14 3-pointers Saturday afternoon. And, for good measure, the Braves threw in a 4-pointer.
Sydney Gustavsson poured in 26 points and Maria Moore converted a four-point play as the fifth-ranked Braves held off a scrappy effort from Watford City, 72-63.
"We put in a lot of time on shooting," said Gustavsson, who sank five of Mandan's 14 3-balls. "Coach (Abby Thomas) has confidence in us to shoot so we need to have confidence in ourselves to shoot when we're open."
Mandan's stellar long-range shooting Saturday was no fluke. It's the second time this season the Braves have made 14 3-pointers in a game. They've also made 11 once and average almost nine makes per game from deep.
"The girls love to shoot from behind the arc," Thomas said. "Sometimes if you live by the 3, you die by the 3. When we're making them, it looks pretty good, when we don't, we have to battle. But definitely, it's a big part of our offense this year."
Mandan won its third straight game to improve to 8-3 overall and 7-3 in the West Region.
It didn't come easy, though.
Despite falling behind by 15 points (61-46) midway through the second half, coach Thomas Dwyer's Wolves made a spirited comeback, cutting the deficit to 67-61 with 90 seconds left.
Watford City's 3-7 is misleading, more a reflection of the depth of the conference.
"It's frustrating because we feel like we're a good team," Dwyer said. "It seems like every game there's something we haven't done well that the othe team capitalizes on. Today, we didn't defend the three well enough and Mandan shot the lights out."
The Braves slowly took control in the second half. Their first double-figure lead came on a 4-point play from Moore.
"We're fortunate to have a number of good shooters. The majority of them have the green light," Thomas said.
You have free articles remaining.
Amaya Ramsey added three triples. Piper Harris added a pair. Both finished with nine points.
"We lost a lot of good players, but we had a lot of good players coming back," Gustavsson said. "We've had a great season so far. I don't think anybody's satisfied, though. We just need to keep it going."
Gustavsson has become an offensive force for the Braves in her junior season, averaging just a shade under 15 points per game.
"I think we all have a role on the team and I'm just trying to play mine, which is to put points on the board," Gustavsson said. "We have a lot of girls who can score. That makes us tougher to defend."
Ashley Holen poured in 24 points for the Wolves. Emma Mogen added 19 for Watford City, which does not have a single senior on the roster.
"Just being our second year in Class A I'm just really proud of the girls," Dwyer said. "When you're losing things can go awry and you can get frustrated, but our girls come to practice every day and work hard. They never give up."
"Watford City is very athletic, they play hard. You feel bad for them because they're a good team but they haven't won as many games for as well as they've played. It just shows how difficult the conference is this year," Mandan's head coach said. "Any win this year in the WDA is a good win."
MANDAN 99, WATFORD CITY 44
Mandan scored 53 first-half points and held winless Watford City to 22 points in both halves en route to a 99-44 win in the boys game.
Fourteen players scored for the Braves, who are 3-1 in their last four games.
Elijah Klein's 23 points and six rebounds were team-highs for Mandan (6-4 West Region, 6-5 overall). Tyler Thilmony and Jayce Lowman tallied 14 points each in the victory. Jaxton Wiest added eight points.
La-vores Monroe and Connor Cross had 10 points each for the Wolves.