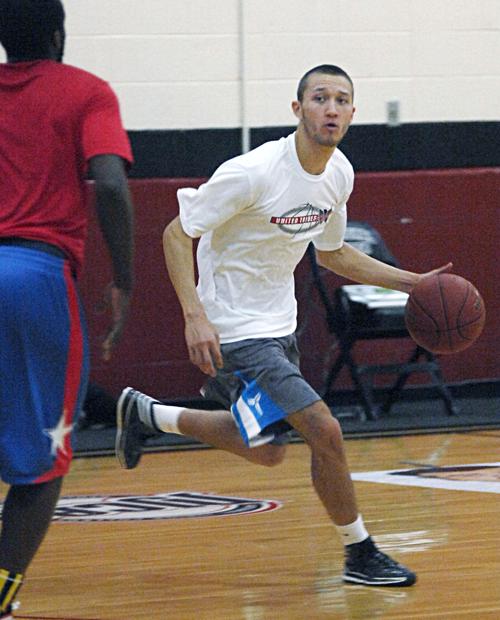 United Tribes athletic director Hunter Berg found himself in an interesting predicament.
He hired Robb Floco to head the men's basketball program after former coach Kevin Rice was let go after last season.
Things fell apart less than two weeks before the school year began. Berg, who used to coach at Williston State, was forced to step in to head the program.
With no returners, the cupboard was looking pretty bare for Berg.
Guard Brandon Kohler and power forward Josh Boone came to the rescue. Boone transferred to United Tribes from Bismarck State, where he averaged 12.0 points and 9.0 rebounds a game last season.
Kohler played at Mt. Hood Community College (Gresham, Ore.) two years ago, having sat out last season. The 6-foot point guard brings some much-needed experience to a young United Tribes team.
The Thunderbirds are set to open their 2014-15 season on Friday at Little Bighorn College in Crow Agency, Mont. United Tribes finished last season 9-20-1.
"Experience will be crucial," Berg said. "We have two guys that have that game experience and practice experience. They bring their best effort to practice, which has helped."
Having a player like Kohler is exactly what Berg wanted to bring into the program.
"He's a kid who wants to work hard and play hard," Berg said. "That's Brandon's strongest attributes. I don't have to question whether he will bring it each day. For us, that's crucial."
Kohler wanted a better experienced than what he endured at Mt. Hood.
"I was friends with the assistant coach and he advised me that I probably wouldn't get the looks I deserved," said Kohler, who is from Inchelium, Wash. "He advised me to take a year off and try to find somewhere else I could prosper. I went home and looked for a better opportunity."
Home for Kohler is on the Colville Confederated Tribes Reservation, which is located about 1½ hours north of Spokane. Twelve bands make up one big tribe.
Kohler played basketball on his reservation. He was discovered by the United Tribes staff at the National Indian Athletic Association national tournament in Sacramento, Calif.
He was more than ready to return to school and play basketball. Coming to a Native American school like United Tribes wasn't the only factor, but it was a good selling point.
"I felt like I would be more accepted," said Kohler, a nursing major. "I appreciate that they have dorms. I like being on campus. I like the environment. It feels like I'm on the reservation and it's basketball, basketball, basketball."
Playing for Berg turned out to be a hidden positive.
"His style of play is defense orientated and pushing the ball at a fast pace, which is what I grew up playing my entire life," Kohler said. "I couldn't be in a better program for the way I play. If I was going to prosper, this is where it would be."
While Kohler played hoops on his reservation during his year away from school, he also received additional experience. Kohler coached high school basketball at Omak in his home state.
"I couldn't describe a better job," he said. "If I could describe something I would want to do for my whole life, it would be coaching. You do get a better appreciation for the game. You see how hard it is from the coaching aspect. You have a lot more pressure than you think."
Coaching the game has make Kohler a better player.
"It helped my basketball IQ, and that's the number one thing your can't teach as a coach. You kind of have to have it. As you play, you gain more," he said.
Kohler is hoping his transfer to United Tribes lands him the recognition of a four-year school. If it doesn't, he has mapped out a back-up plan.
"If I don't go for basketball, I will return home and get my degree," Kohler said. "I will be a nurse for the hospital at my reservation."