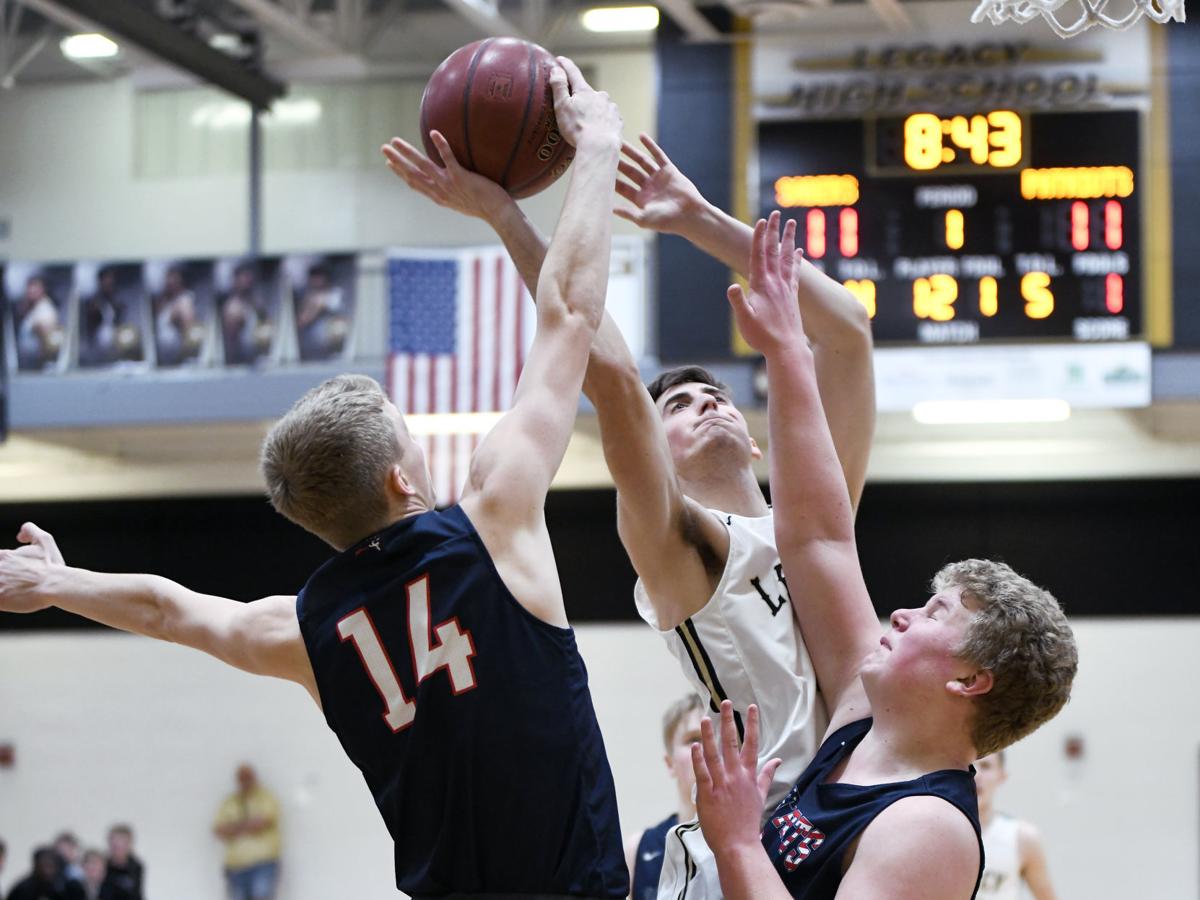 With the game on the line, the Century Patriots turned to Cade Feeney.
That's usually a good game plan.
The 6-foot senior guard powered the Patriots to a 64-58 West Region road win over crosstown rival Legacy on Thursday night. Feeney finished with a game-high 34 points -- including five in the final 68 seconds to stave off a late Sabers comeback bid.
After watching a 15-point lead with 4:22 remaining dwindle to a one-possession game (59-56) with 1:18 remaining, Feeney hit back-to-back jumpers and hit one of two free throws in the final 1:08 to ice the win.
"Just getting the ball out and going. They were in a 1-2-2 press and we just got our guy down the middle and I was on the side and the ball kind of came to me towards the end," Feeney said.
"He's been a three-year starter and obviously we look for him in crucial situations but we've got to do a better job as a team finishing," Century coach Darin Mattern said.
The Patriots took command early in the second half after leading 26-25 at the intermission.
An 8-0 spurt consisting of a pair of Cody Sorenson free throws, a layup by Sorenson, a layup in transition by Feeney off a turnover and a William Ware layup off an assist by Feeney early in the second half gave Century an eight-point lead at 35-27.
Jordan LeBeau and Feeney hit 3-pointers during an 11-3 run minutes later that gave Century a 46-32 lead, and they led the rest of the way, leading by as many as 16 points (51-35) with 8:12 remaining after a pair of Feeney free throws.
You have free articles remaining.
"We came out at halftime knowing we've got to start extending the lead ... We just came out really hard and we got a big lead but we didn't close out the way we should," Feeney said.
"When you have a 15-, 16-point lead, you know you have to execute the little things," Mattern said. "We put them on the foul line way too many times down the stretch and we had some breakdowns defensively with our communication. You know if we're going to take the next step as a team, we've got to clean some of that up."
The strong start to the second half gave Century the cushion it needed to weather the storm late.
"I thought we did a nice job sharing the ball. We had some kids make some plays," Mattern said. "We're playing some young kids and when you do that, you're going to have some inconsistency but I thought we had nice team balance. Cade made some tough shots at the end of the clock and that's what we expect from him as a three-year starter. But to build the lead, I thought we did a nice job defensively, getting stops and rebounds.
"That was the difference in the game. When they made their run late, we had some breakdowns. We didn't know who we were guarding and I thought they hurt us on the glass."
Century led 58-43 with 4:22 to go but Legacy went on a 13-1 run to pull within three. Ben Patton had seven points during the late spurt, and Patton and Keagen Woodbury hit 3-pointers in the burst.
Woodbury led Legacy (5-5, 4-5 West Region) with 15 points. Rhett Clements added 14, Patton 12 and Zander Albers 11 for the Sabers.
Feeney was the lone player in double figures for Century (6-4, 6-3 West Region) with 33. LeBeau added eight, Ian Ely six and Sorenson and Andrew Leingang each had five.
"It's such a balanced league this year. There's a lot of parity," Mattern said. "Varsity basketball comes down to maybe 2, 3 or 4 possessions every night in this league and fortunately we were able to make a few more plays than them tonight. Obviously they're going to come back to our place with some hunger and they'll have another opportunity to get us at our place. We're going to have to get better and try to build for the stretch run."
Both teams return to action on Tuesday, with Century hosting Minot and Legacy visiting Bismarck High.