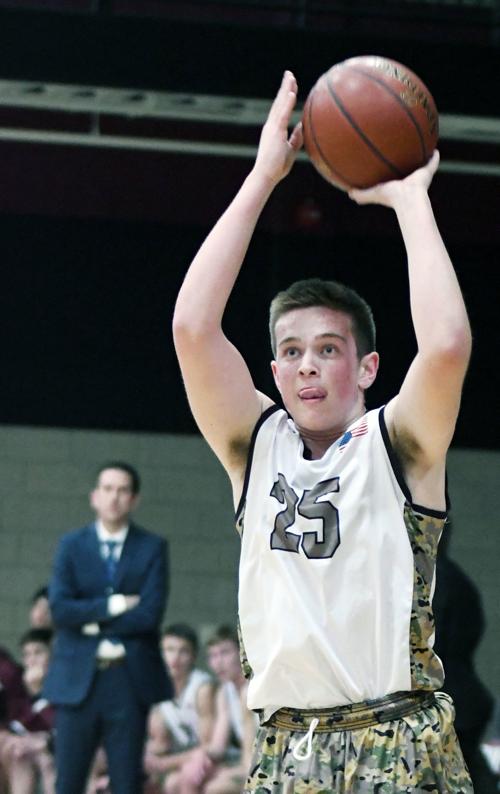 Three-pointers, layups, fast breaks, pull-ups. It didn't matter what was available, the Bismarck Demons took it on Friday. But mostly 3-pointers.
Bismarck sank 11 of its 18 3-pointers in the first half and raced off to a 96-80 West Region boys' basketball win over the Dickinson Midgets at BHS.
Logan Schaubert had six 3-pointers and 22 points to lead the Demons, who came within one 3-pointer of tying the school record it set in the first game of the season. Gunner Swanson added four 3-pointers and 22 points and Max Tschosik added two and 16 points.
 "I just don't want my guys ever thinking when they catch the basketball," Bismarck coach Jordan Wilhelm said. "If they're open and it's a good look in transition, I want them to shoot it. If it comes in bunches, it comes in bunches."
 "Our mentality is to play like were down 10 points all the time," Schaubert said. "It's insanity every single time, try to get stops, push the pace and get scores."
 Bismarck set the pace and style of play creating a series of big leads that allowed it to withstand a series of Dickinson runs that sliced a 25-point lead down to as few as 12 in the second half.
 "It shouldn't be hard to maintain that energy," Wilhelm said. "You can't look at the scoreboard. We have to play our basketball and trust the system. At times we started to peak up at the scoreboard a little bit, I still think we were resilient. We knew there was never a safe lead against them."
You have free articles remaining.
 Leading 4-2, the Demons' next four baskets ,and five out of six, were 3-pointers. Dickinson had an answer and stayed within 11 points until midway through the half. Evan Showalter's free throws with 8:52 to play cut the deficit to 31-20.
 But the Demons reeled off nine straight points to go up 40-20 and prompt Dickinson coach Dan Glasser to call timeout. Glasser's timely play relaxed the Midgets, who went on a 9-0 run of their own to close within 40-29.
 After the lull, Bismarck launched a barrage of 3-pointers from Swanson, Treysen Eaglestaff, Schaubert and Joey Mills in a 16-5 run that carried BHS to a 58-37 lead at half.
 The Demons had 19 second-chance points in the first half, but the Midgets got a handle on the boards in the second half. They also made 21 of 22 free throws with Kobe Krenz going 8-for-8 on his way to 22 points. Jaiden Wright had 13 of his 21 points before fouling out.
 Jayden Hocker's two free throws with 4:14 left pulled the Midgets within 12, capping an 8-0 run. Hocker finished with 16 points, but the Midgets lost the momentum by turning the ball over three of their next four possessions and missing a shot. In the meantime, the Demons extended the lead back to 17.
"There are going to be times when we're missing long and we're missing early," Wilhelm said. "But that's where we think our energy can wear teams out."
 Their depth certainly can. Eaglestaff had 12 points and Kade Rohlfs 10. Two other Demons scored nine points.
 Tallon Klatt had 11 points for Dickinson.