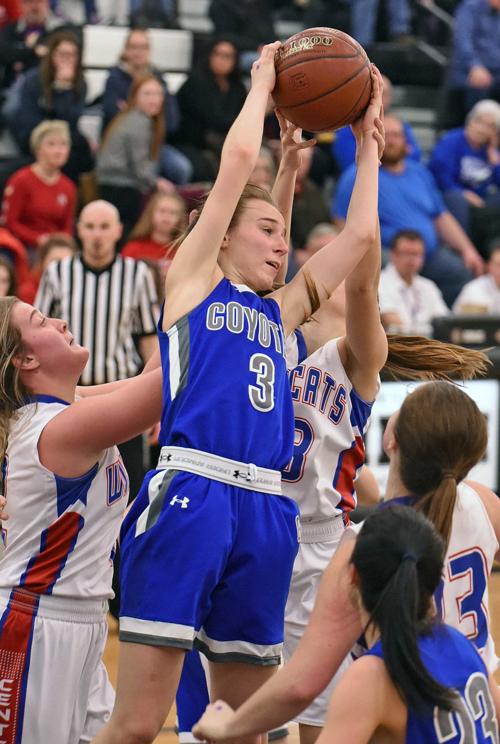 Seniors were ill-served on last year's state Class B girls basketball team, so it's not surprising that this year's team reads like a rerun.
 The 2020 North Dakota Associated Press Sportscasters and Sportswriters Association's Class B girls select team consists of four first-team returnees and a previous second-teamer.
 Heading the list is Abby Duchscherer, a 6-foot-1 sophomore from Kindred who earned first-team recognition for the third time.
 Earning first-team berths for a second time are Kaity Hove, a 5-7 senior from Trenton; Samantha Oase, a 6-0 junior from Hettinger-Scranton, and Callie Ronningen, a 5-11 senior from Langdon Area-Edmore-Munich.
 Mackenzie Hughes, a 5-5 junior from Thompson, jumped from the second team to the first team.
 All five first-team selections played for teams that reached the final 16 in the state playoffs. Ronningen led LA-E-M to the state championship. Hove was on Trenton's third-place team and Oase helped Hettinger-Scranton to an eighth-place finish. Duchscherer's Kindred team, defending state champions, fell to Central Cass in the Region 1 finals. Hughes and Thompson lost to Grafton in the Region 2 championship game.
You have free articles remaining.
 Duchsherer, named this year's North Dakota Gatorade basketball player of the year, averaged 20.2 points, 8.4 rebounds, 5.3 assists and 3.2 steals for Kindred, which finished the season 22-1.
 Hove averaged 17.4 points for Trenton with 9.1 rebounds, 8.5 assists and 4.3 steals per game. She finished her high school career with 1,715 points, 921 rebounds, 1,038 assists and 717 steals.
 Hughes led Thompson with a scoring average of 21 points. She averaged 4.8 rebounds, 3.2 assists and 4.3 steals.
 Oase averaged in double figures in scoring and rebounding. She was credited with 17.5 points and 11.6 rebounds per outing, to go with 2.3 steals and 2.6 blocks. She shot 54.1 percent from the floor.
Ronningen maintained an 18.1 scoring average for the champion Cardinals, running her career total to 2,115 points. She averaged 5.7 rebounds while pushing her career total to 1,142. She also contributed 3.6 steals and 3.8 assists per game.
 Five athletes return to the 10-girl second team. They are 5-7 senior Leah Feland of Mohall-Lansford-Sherwood; 5-4 senior Ellie Holen of LaMoure-Litchville-Montpelier; 5-11 junior Abbey Kubas of Dickinson Trinity; 5-9 sophomore Megan Roob of Richland, and 5-7 junior Carlee Sieben of Grafton. Madelyn Schmidt, a 5-5 junior from Kidder County, a first-team choice in 2019, is also on the second team.
 Others earning second-team status are 5-11 senior Coral Alt of Flasher; 5-9 junior Isabelle Boyer of Grant County; 6-2 sophomore Terryn Johnson of Kindred; 6-0 Daysha Serdahl of Mandaree, and 5-10 senior Taysha Snyder of Underwood.
Be the first to know
Get local news delivered to your inbox!