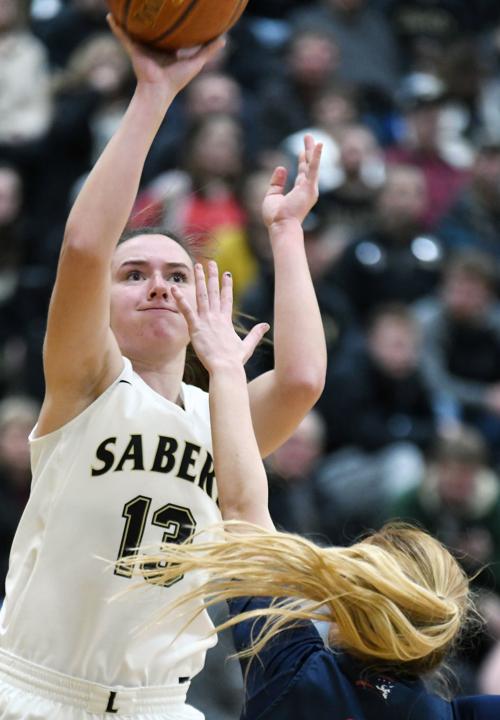 Century's 42-game winning streak came to an end Thursday night.
Legacy's stifling defense was the reason.
The third-ranked Sabers held the No. 1 Patriots to 20 second-half points in a 58-47 West Region victory in front of nearly a full house at Haussler Gymnasium.
It was the first loss for any Century girls basketball team since Feb. 20, 2018, a streak their opponents Thursday night marveled at.
"Century's a great team, a great program, to not lose for that long is pretty incredible," said Legacy senior Alexis Dressler. "It's a really good win for us, but it is just one game. We'll enjoy it tonight, but we have to get back to work tomorrow."
Legacy trailed 27-25 after a first-half slugfest with points hard to come by for either squad. The Sabers, with seven players in the score book, pulled away with a 33-20 second-half advantage.
"Give Century a lot of credit. It's really hard to keep winning year after year like they do," Legacy coach Jim Petrik said. "To be the best, you have to beat the best and Century is the standard. This is a big confidence boost for our team."
Giving his post-game talk following a loss is not something Ron Metz has done for nearly two years, but calm prevailed in the Patriots' camp.
"What's the date today, January 16th? It's just one game, win or lose, we'll learn from it and move on," Metz said. "We're just a little disappointed in how we executed offensively. We had too many turnovers in the first few possessions of the second half and they were able to take advantage of that.
"Give Legacy credit, they played well."
You have free articles remaining.
Back and forth for the first 5 minutes of the second half, the Sabers ran off a quick 9-0 run on two 3-pointers by Arianna Berryhill and a jumper from Dressler to surge to a 39-30 lead.
Century had a quick answer, getting a 3-point play from Logan Nissley and 3-point shot from Chloe Markovic on back-to-back possessions to slice the gap to 39-36.
But from there, Century went cold. Legacy scored the next nine points, the first three on a triple from the wing by Mac Boone. Jaiden Baker capped the 9-0 run with two straight transition baskets to give the Sabers their first double-digit lead (48-37) with 8:39 to go. The lead stayed over 10 the rest of the way.
"Coach (Petrik) was really harping on us at halftime that if we wanted to give ourselves a chance we couldn't keep getting beat in the halfcourt and we really picked that up," Dressler said.
Dressler and Berryhill had 14 points each to lead the Sabers. Baker added 12.
"We really pride ourselves on getting points across the board," Dressler said. "Just a great overall team effort for us tonight."
Ashton Kinnebrew's 13 points, including a 3-pointer at the horn, and Logan Nissley's 12 paced the Patriots. Century (8-1 West Region, 9-1 overall) plays at Minot on Tuesday.
"We knew it'd be a difficult game tonight just with how both teams play defense," Metz said. "We worked on some things we thought could help us, but we didn't execute well enough tonight.
"There are no easy games in the WDA this year. Everybody's getting better, so we have to get better and we will."
The Sabers (9-0, 10-0) have another tough game Tuesday, traveling across town to face Bismarck High.
"This is a big step for us. When you lose to the same team year after year, it's tough to kind of get over the hump," Petrik said. "But at the same time, this game doesn't mean anything if we go out and lay an egg on Tuesday.
"BHS is the most improved team in the conference since Christmas. Coach (Bill) Shetler has done a great job, so we have another really tough game coming up and we'll have to be ready."