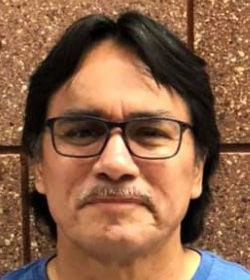 Daryl Bearstail has won big wherever he's been.
The state championship-winning coach at Shiloh Christian is ready for another big challenge.
Bearstail has been hired as the new men's basketball coach at Nueta Hidatsa Sahnish College. NHS is a two-year college in New Town.
Bearstail, who has 14 years of head coaching experience at Shiloh, United Tribes Technical College, Mandaree and White Shield, stepped down as the girls basketball coach at Shiloh after the 2019-20 season.
"It was a really tough decision to leave Shiloh. I went back and forth on it for a couple of months. I just felt like it was time to take a step back and let someone else take over the program," he said. "Shiloh is an awesome place to coach. They have some very good players coming back and some excellent talent at the junior high levels. They are in position to continue to have success in the future."
Bearstail goes from a team teed up for success to one which will need some time.
Last season, NHS coach and athletic director Kyle DeCoteau was having to pull kids out of the classroom just to fill out the squad. DeCoteau also was coaching the Storm's women's team.
"There's a lot of building to do there. It's a pretty new program so we're going in there kind of being able to build something from the ground up and that was appealing to me," Bearstail said. "I'm really excited for this opportunity."
The region is a fertile recruiting ground, but Bearstail's pitch will go beyond basketball.
"There's so much talent in the area we just need to be able to talk to those kids and let them know what we have to offer," Bearstail said. "We're going to show them that it's more than just basketball. I want to be able to help them prepare for the rest of their lives. We want to help them develop their character and build on what they've already learned from their families, from their schools and from church."
Bearstail coached women's college basketball at United Tribes and girls and boys teams in high school. This will be his first time as a head coach of a college men's program.
"This was something I really wanted to do and the timing of it ended up working out really well," he said. "The speed and intensity of the collegiate men's game will be something new for me and I'm looking forward to that aspect of it."
Bearstail, who lives and works in Bismarck, will have some logistical hoops to jump through. However, he's gotten used to working from home during the coronavirus pandemic. He also has family in New Town, which will help ease any winter travel concerns.
"All my kids are in college or working, so it seemed like a good time for something different," he said. "My wife supported me in doing this and told me I should do it if it makes me happy."
Bearstail led the Skyhawk girls basketball team to the state Class B title in 2016. Last season, Shiloh placed seventh at the state tournament. He also coached the Mandaree boys team to the state B tourney in 2002. At United Tribes, he led the Thunderbirds to a pair of region championship games.
He's back doing what he truly loves — coaching. Whether he gets to do so under the 2020 COVID cloud, remains to be seen.
"There are a lot of question marks as to whether we're going to have a season or not. What's important for us is to prepare like we will have a season," Bearstail said. "We're going to hope for the best and pray for the best and hopefully everything will work out."
Be the first to know
Get local news delivered to your inbox!