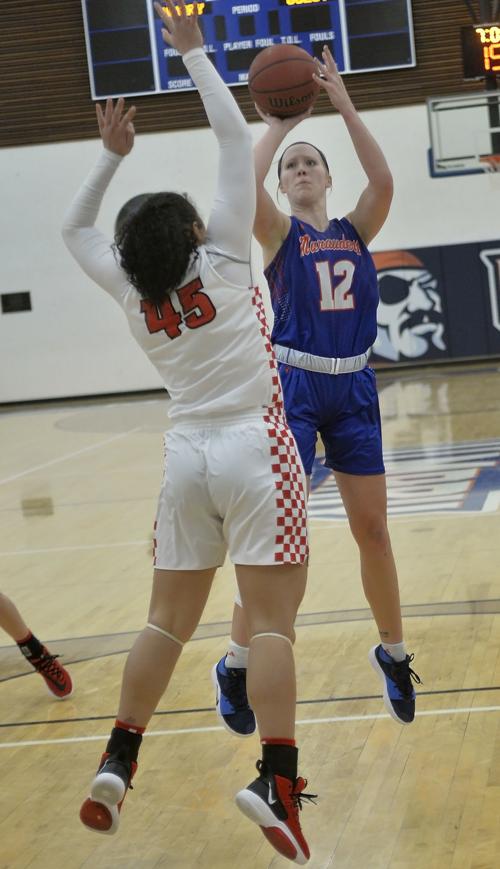 For all the individual awards, and there were a bunch of them, Cassie Askvig just wanted to win.
The University of Mary basketball standout, who capped her stellar career with a single-season program record of 692 points, added another milestone achievement on Wednesday. The versatile, 6-foot-2 Minot native was named an NCAA Division II All-American, becoming the first two-time All-American in the Marauders' D-II era and just the second ever. Rhonda Leinius earned the award twice in 1994 and 1995 when the school was competing at the NAIA level. The only other D-II All-American for the Marauders was Brittney Dietz in 2016.
"From the beginning all I wanted was team success. That was the driving force for me," Askvig said. "Individually, I wanted to be a successful player for the university, knowing that if I worked hard every day to improve, that would help the team."
Askvig, who finished her career with 1,777 points (fourth-most), 847 rebounds (fifth-most) and 228 assists, deflected any praise.
"None of that happens without great teammates and great coaches and that's what I had at the University of Mary with U-Mary women's basketball," Askvig said. "Honestly, I'm just grateful. I had so much fun playing with not only really good players, but just great people. It was just a terrific experience overall."
You have free articles remaining.
Askvig, who also earned All-American honors as a junior, spearheaded what some may have considered a surprise season for the Marauders. After injuries forced three key players to step away from the game in the summer, they set an NCAA single-season win mark for the program with 22.
"There were a lot of question marks at the beginning of the season for us. To see how far we came and how successful we were, I was just very proud of the season we had," she said.
Adept at posting up in the paint (50.2 % shooting), knocking down 3-pointers (34 season, 125 career) and bringing the ball up the floor, Askvig had the diverse skill set pro evaluators look for. However, the opportunity never arose and even if it had, she was ready to move on.
"I was never contacted by an agent or anyone specifically," she said. "Had that happened, I think you have to consider it, but at the end of the season I was ready to move on from the athlete-side of things. I'm ready to coach and see basketball from a different perspective."
Askvig, who will graduate this spring with a degree in exercise science, already has coaching on her résumé after doing so on the summer AAU circuit with ECI.
While her playing days may be over, don't be surprised to see her on a sideline soon.
"I'm very interested in coaching at any of the schools here in town," she said. "I'm looking forward to whatever comes next."
Be the first to know
Get local news delivered to your inbox!