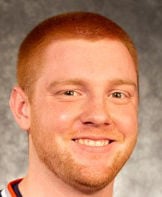 For Paxton Miller, putting on a Northwoods League jersey represents a great source of pride.
The 2019 Legacy High School graduate and current University of Mary pitcher will wear another Bismarck team across his chest this week -- the Bismarck Bull Moose -- as the three-team NWL season opens tonight at Municipal Ballpark.
"I'm really excited to have this opportunity," Miller said. "To grow up in Bismarck and play for Legacy, the Govs, Mary and now in the Northwoods League, having that name on my chest and to be able to represent myself, my family and the city of Bismarck means a lot to me."
Miller's first chance to pull on a Bull Moose jersey won't come until Wednesday. The Bismarck Larks and Mandan Flickertails will play tonight and Tuesday at 7:05 p.m. Due to the COVID-19 pandemic, the traditional Northwoods League was scuttled long ago. In its place pod setups are popping up. Bismarck's season will run through Sept. 4 and include 72 games.
Miller certainly earned his spot.
Despite the Marauders' season ending much sooner than anybody hoped, the hard-throwing right-handed pitcher flashed plenty of promise. In 6 1/3 innings, he surrendered just three hits, struck out five and did not allow a run.
"It was fun. Obviously, having the season cut short was unfortunate, but I was happy to contribute to our team in any way I could," he said.
Not only did Miller excel statistically, granted in small sample size, but his all-important metrics also improved.
His fastball, which was consistently clocked in the mid-80s in high school, ticked up near 90 in his first collegiate season.
"Getting in the weight room and lifting and throwing consistently for four months helped me so much," Miller said. "Just having that routine, really being able to focus on baseball certainly was beneficial."
In high school, Miller was busy around the calendar. As a three-sport performer for the Sabers, plenty of time also was designated for tennis and basketball.
"I loved being able to play all three. It kept me busy and being able to play all those different sports with your friends and teammates was awesome," he said. "I wouldn't do anything differently."
The focus is squarely on baseball now, though.
After a strong, albeit brief start to his career with the Marauders, U-Mary coach Tanner Spencer started to look for somewhere Miller could pitch this summer.
"Tanner reached out to the Larks guys and it kind of went from there," he said. "Will Flynt and Mitch Gallagher have been really supportive. It's been a fun process to go through."
In a typical Northwoods League season, pitchers often come to town with limits on how much they can throw. With such a small workload during the college season, that may not be the case this summer.
"The first couple of weeks I think we'll all get kind of eased back into it. I don't think you'll see anybody going seven or eight innings right away," Miller said. "I don't necessarily have a limit on how much I can pitch. I'm just looking forward to getting out there and helping the team."
Miller was well known in high school for welcoming any role. None of that has changed in college.
"For me personally, I would love to start, but I've always been a guy that will do whatever the coaches ask me to do," he said. "If that's start, middle relief, close, I'm up for anything."
He's taken that same attitude into what happens off the field. Unlike his teammates, Miller will be able to live at home with this "host" family during the summer. That opens up more time to serve as a chauffeur, of sorts.
"I can be pretty much be a tour guide for whatever the guys need," Miller said. "I'm happy to do it."
He's hoping it's the first of potentially a few summers spent pitching in his hometown.
"Growing up in Bismarck and now getting to play in the Northwoods League, it doesn't get much better than that," Miller said. "Obviously, I need to pitch well. Every game you're going to be facing really good hitters. I'm really looking forward to getting the season started."
Be the first to know
Get local news delivered to your inbox!