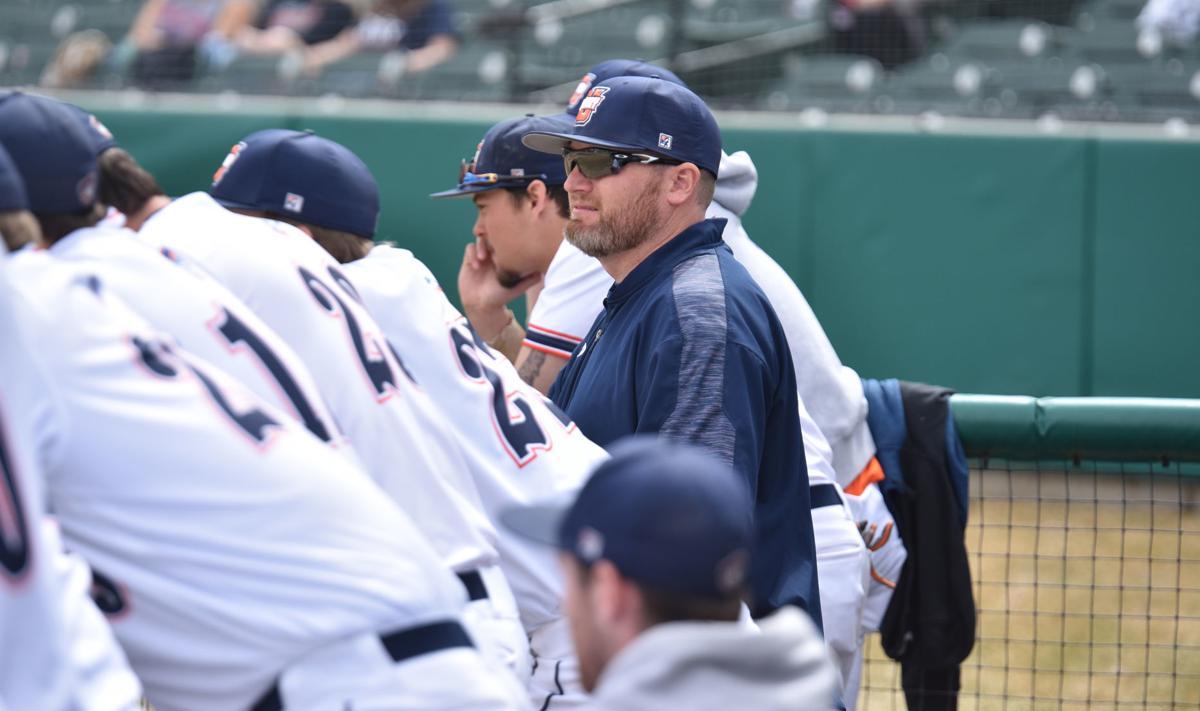 Mark Moriarty used to camp outside the Metrodome trying to score playoff tickets to watch the Minnesota Twins.
Soon, the former University of Mary baseball coach will be working for the team he grew up rooting for.
Moriarty heads for Fort Myers, Fla., later this month to begin his new job as a minor league pitching instructor with the Twins' Gulf Coast League team. He's currently still in Bismarck running the U-Mary baseball program while a new head coach is found.
Moriarty, known for his use of advanced technology when it comes to teaching the game, was not looking to leave. Fittingly, the Twins reached out to him in a sign of the times -- via Twitter.
"It's not something I was pursuing or even thinking about," he said. "I've really enjoyed my time in Bismarck and the University of Mary. I really like the players we have, the coaching staff, I feel like the program is moving in a very positive direction.
"The timing obviously isn't ideal. You just don't know if you're going to get another opportunity like this so you have to weigh all of those things."
In his one season, Moriarty engineered a major turnaround for the Marauders. After winning just five games in 2018, U-Mary jumped up to 17 victories last spring, including 12 wins in the Northern Sun. A big reason was a significant improvement in pitching, most notably a drop in earned run average by nearly two runs per game from 2018 to 2019.
Moriarty's focus on incorporating new technology into teaching and improving pitching is what helped the Marauders make large strides so quickly and what ultimately attracted interest from the Twins. Still, it wasn't a slam dunk decision to make the move.
"It took a while, at least a week, just to think through everything," said the cerebral and even-keeled Moriarty said. "You might think, well yeah, you got an offer from a professional team, that's kind of a no-brainer. It effects a lot of people, my wife, obviously, and then having to tell 45 players that I'm leaving in the middle of the season, that was really hard.
You have free articles remaining.
"We have a lot of talent here and a lot of really good guys. To be leaving them now, that part really sucks."
Traditionally, the professional coaching ranks have been reserved for former pro players. But a recent trend has seen a number of college coaches break into the big leagues, including all the way up to Major League staffs in certain cases. For example, current Minnesota Twins pitching coach Wes Johnson was hired directly from the University of Arkansas prior to the 2019 season.
"Until the last few years unless you played in the big leagues or the minor leagues you had zero shot at getting hired for positions like this," Moriarty said. "What typically happens is they collect a bunch of names, then they go through their process to see who kind of fits the mold. I certainly was not expecting it to happen. It wasn't in my long-term plans."
Through the hiring process, Moriarty worked with members of the Twins front office, primarily those who focus on pitching. Like many pro and college teams, the Twins have fully committed to the new ways of developing pitchers.
Immediately, it means Moriarty will be working with some of the Twins' newest, and youngest, prospects.
"The Twins are moving forward with the advanced stuff and really focusing on development and that aligns with what I've been doing," Moriarty said. "I just want to continue to learn and hopefully be able to pass those things along to guys and help them in their careers."
Moriarty, and his wife Rachel, already have a place to live in Fort Myers, with a big assist to Mark's parents, who live in Tampa, Fla.
"We found a place without seeing it first," he joked. "My parents were able to go and check it out."
He'll remain in Bismarck until the week before Christmas.
"I'm really thankful to have gotten the opportunity to coach here," Moriarty said. "The past year-and-a-half has been a lot of fun. I think the future is bright. There won't be a bigger Marauder baseball fan in Florida than me."