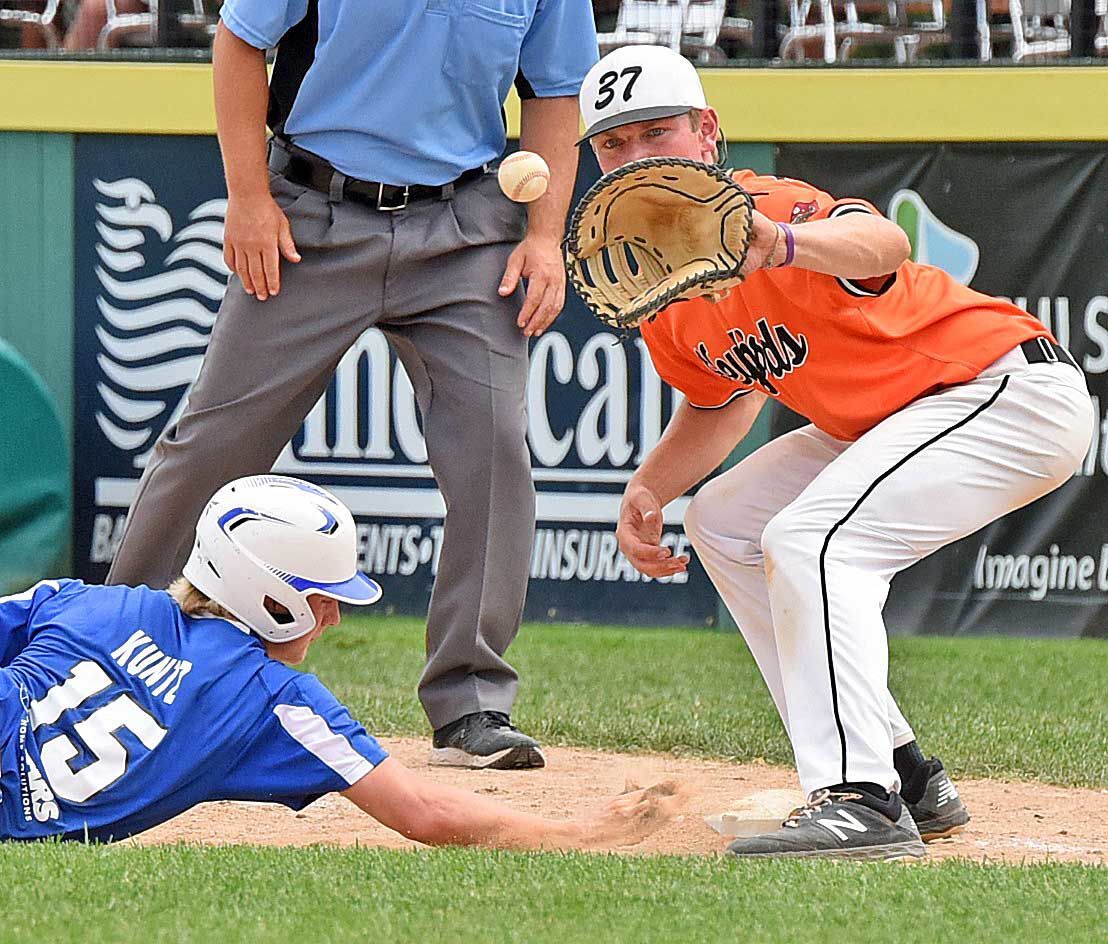 Cody Sorenson will be pitching at Minnesota-Crookston next season.
Williston's Garret Hill is headed to North Dakota State to play baseball.
Tuesday at Bismarck Municipal Ballpark, both performed like college ballplayers.
Sorenson was a little better, however, as Grand Forks earned a 2-0 opening-round win at the Senior Babe Ruth Class AA state tournament.
"One mistake can cost you in a game like that," Sorenson said. "Williston's a good hitting team. When we played up there, both teams hit the crap out of the ball. I think we combined for over 40 runs. It was a different kind of game today but it feels good to get the win."
One run would've been enough for Sorenson. Featuring a fastball which topped out at 84 miles per hour, the 6-foot-3 right-hander allowed just four hits and struck out 11, including two in the top of the seventh to seal the win.
"(Hill) was throwing great. I just tried to keep my composure. I knew my team had my back the whole way," Sorenson said. "I love pitching to my guy back there (catcher) Zach Carolin. We've been buddies about 10 years now."
Hill allowed only five hits, but one mistake proved costly.
After 9-hole batter Ross Meyer was plunked leading off the bottom of the fifth inning, Grand Forks leadoff batter Jackson Haagenson laid down a bunt to move Meyer to second. Hill's throw to first was off the mark, allowing Meyer to go to third.
After Haagenson stole second base, Dillon Kuntz singled into center field, scoring the game's only two runs.
Hill, who's expected to be an infielder for the Bison, enjoyed the duel with Sorenson.
"You gotta love games like that. There's nothing better than competing against a guy like that in a big game," Hill said. "Any little mistake can cost you the game. We had one rough inning and that was it."
Hill struck out five, walked one and hit two. He was the only Williston batter to solve Sorenson. He went 2-for-2 with a walk.
"I was expecting a low-scoring ballgame today," Hill said. "(Sorenson) is a very good pitcher. We tried to have good at bats but it wasn't easy.
"We're definitely going to stay positive. We know we can hit well and pitch well. We just need to be ready to bounce back tomorrow and we will."
Williston faces Fargo Post 400 at 10 a.m., in a loser-out game.
At 4 p.m., Grand Forks faces tournament favorite and defending state champion Fargo Post 2.
"Everybody wants to beat Post 2. They're the champs until someone knocks them off," Sorenson said. "They're a great team. We'll need to play our best tomorrow."
Fargo Post 2 10, Fargo Post 400 (5)
Fargo Post 2 needed just five innings to win the opening game of the tournament.
The defending American Legion World Series runners-up scored six runs in the bottom of the first inning, sending 12 batters to the plate. Andrew Lenn's sac fly to left field finished a three-run fifth and the game by the 10-run rule.
Pitcher Tommy Wellen tossed a four-hit shutout for Post 2, which improved to 43-6. Wellen allowed just four singles, did not walk a batter and struck out four.
Zach Sandy went 3-for-3 with a double and two RBIs for Post 2. Drew Sandy (2-3) and Cole Hage (2-4) added two hits each.
Ben Ostlie accounted for half of Post 400's hit total, finishing 2-for-2.