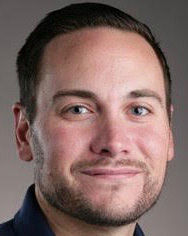 Sean Repay has zig-zagged the country coaching baseball.
The latest zag has him headed back north.
Repay, who managed the Bismarck Larks their first three seasons in the Northwoods League, has been hired as the head baseball coach of the Dawson Community College Buccaneers. Dawson plays in the Mon-Dak Conference, home of the Bismarck State College Mystics.
"I'm confident in my ability to go somewhere and win. I have plans to go win the Mon-Dak and that means we'll have to go through Bismarck State College," Repay joked. "It's funny how things work in life sometimes. Managing the Larks was an amazing experience. Personally, and my family, we're so fond of Bismarck, the community, the people. It's a great place. I guess to some degree things have come full circle."
Repay spent last season as a volunteer assistant coach at the University of Toledo (Ohio), an NCAA Division I school. The last game Toledo played was March 11 against defending national champion Vanderbilt. Repay's primary means of compensation at Toledo was running the program's baseball camps, with some individual coaching sessions on the side. However, when COVID-19 hit -- the city of Toledo has nearly 2,000 cases -- those revenue streams dried up quickly.
Repay's wife Hope is a nurse. They also have three young children. In the last three years Repay has made coaching stops in Bismarck, Wisconsin, Indiana, Louisiana and Ohio. Before that, he coached in California, Kentucky and New York.
"I've become a world traveler and so has my family," Repay said. "I say it all the time, my wife is the rock star of this operation. We've been a lot of places the last two-and-a-half, three years. It's time I provide some stability for my family."
The interview process at Dawson was lengthy. Repay ended up accepting the job last week sight unseen with a technological assist to DCC athletic director Joe Peterson. Toledo is nearly 1,300 miles from Glendive, Mont., where Dawson is located. When he's finally able to get to Glendive, Repay will have to quarantine for 14 days.
"Joe did a great job giving me a virtual tour of the entire campus, and the surrounding area really, on Facetime," Repay said. "We're so excited to get out there. I think it's a great opportunity just for where I'm at in my career and for my family to finally to have a place to settle down in."
Repay led the Larks to 100 victories in his three seasons, including a first half NWL division championship in 2018. He's coached at all three NCAA levels, the NAIA and junior college.
"I think (Dawson) is a place you can win. With the resources that are available, we're not going to settle for being mediocre," Repay said. "I'm already recruiting my butt off. We can't wait to get out there and start meeting people and building a winning baseball program."
Be the first to know
Get local news delivered to your inbox!