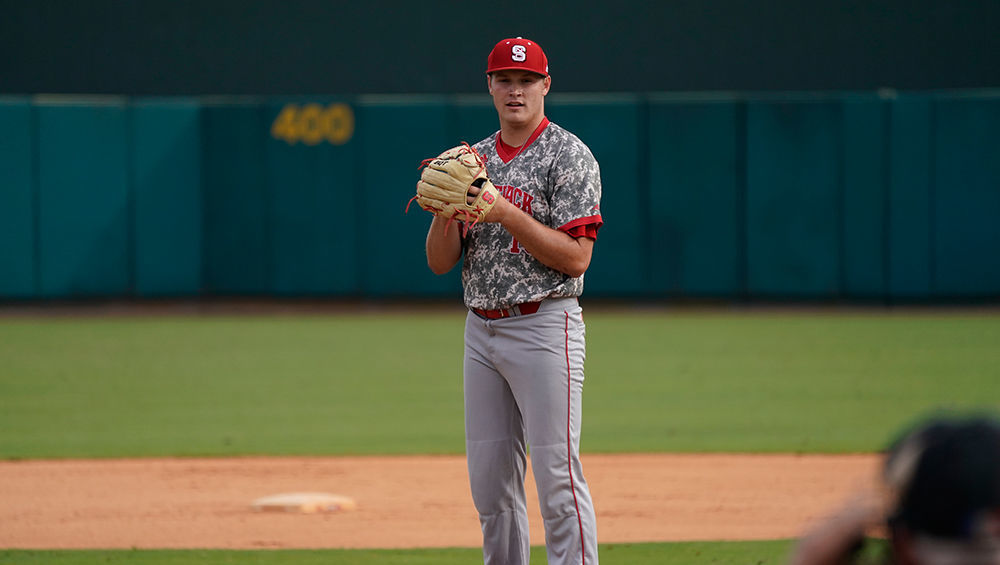 Be careful about leaping to conclusions. Especially so, if you're drawing conclusions about 6-foot-3 Dalton Feeney. That's a long leap.
 Yes, it's true Feeney had his college season wiped out by the coronavirus outbreak after pitching a mere 7 2/3 innings for North Carolina State. His hopes of getting summer innings also went down the tubes when the Cape Cod League canceled the season.
 And it's also a fact that Feeney's hometown of Bismarck may well be one of the nation's hot spots for summer collegiate baseball this year. A three-team pod of Northwoods League clubs will operate at Municipal Ballpark beginning June 15. Seventy-two games are scheduled.
 But if the Bismarck Larks, Flickertails or Mandan Bull Moose are in the market for bullpen help, they'll have to look elsewhere.
 While Feeney, a 217-pound right-hander, is intent on keeping his pitching arm in shape this summer, he doesn't have a green light from Wolfpack headquarters in Raleigh, N.C.
 Pitching coach Clint Chrysler isn't exactly in tune with the idea of turning his pitchers loose in the wake of a shutdown that has now reached 13 weeks.
 "Our pitching coach didn't feel comfortable with letting us go without his supervision. ... When you take a month off and then kick it back up you run the risk of injury," Feeney said. 
 So, while Bismarck looks forward to a baseball-happy summer, Feeney will be playing catch his brother, Cade, rather than facing menacing batters. Cade is a Bismarck Governors stalwart and North Dakota State baseball recruit.
 "In terms of competition, it looks like that," Feeney said. 
 Feeney has been trough an eventful four years since he graduated from Century in 2016 after winning the state Gatorade player of the year award in two sports.
 At the start of his senior year at Century, he had signed a letter of intent to attend the University of Missouri for baseball. Then Tigers head baseball coach Tim Jamieson retired, making Feeney, in effect, a free agent.
 Feeney transferred to North Carolina State and appeared in 14 games as a freshman, finishing with a 3-2 record and a 2.53 ERA in 21 1/3 innings.
 In fall ball that year, Feeney suffered a ruptured ulnar collateral ligament in his pitching elbow, the culmination of a problem dating back to the summer of 2015. Tommy John surgery followed within a fortnight, and Feeney missed the entire 2018 season as a medical redshirt while he recovered.
 He turned in a sparkling season upon his return as a redshirt sophomore in 2019, racking up a team-high seven saves while posting a 1-1 record and a 1.86 ERA in 29 innings over 23 appearances.
 The Wolfpack started the season 19-0 and finished 42-19 with four straight losses. They were bounced out of the Greenville, N.C., Regional in two games, ending their season.
 "We felt good about the regional going in ... but it's baseball. That weekend just wasn't a good weekend for us, 0-2 and out," he recalled.
 "That was such a heartbreak," he continued. "It left us with kind of a bad taste in our mouths, so in the off-season we worked our butts off. ... We got to play 17 games (14-3), but we just got shut down in the blink of an eye knowing this year could have been something special."
 This spring he'd pitched 7 2/3 innings in five games when the bell tolled on March 12. He was 2-0 with a 2.35 ERA.
 "We were halfway through practice when we heard the (Atlantic Coast Conference) basketball tournament had been canceled," Feeney recalled. "We figured we'd be next. ... I still had my hopes up of having a season, because I wasn't sure how this (virus) was going to spread."
 The NCAA shut down all sports within days, and then the Cape Cod League threw in the towel on the 2020 season, leaving a lot of ballplayers high and dry.
 That leaves Feeney, a redshirt junior, with two years of eligibility remaining.
 "I have a medical redshirt for the year I had Tommy John (surgery). And since we only played 17 games (this spring) the NCAA gave spring sports an extra season, kind of like a COVID redshirt," he observed.
 With the season canceled and the Raleigh campus shut down, head baseball coach Elliott Avent saw no purpose in keeping his players in town.
 "When this (virus) thing hit Raleigh, things got really bad. The University closed down and we couldn't assemble as players. The coach said 'if you want to go home I'm perfectly fine with that,'" Feeney said.
"I love Raleigh to death, but I'd rather be sheltered with my family and friends. Pretty much the whole team left."
 Feeney said his arm has responded as well as he'd hoped it would after surgery.
 "I'm pain-free. I would say my arm is as healthy as it's ever been. ... Throwing feels so good, rather that the old times when I had the partial tear. I would feel it the next day. Now I'm healthy and ready to go again," he noted.
 As unusual as this spring has been for athletes of every stripe, Feeney said he feels fortunate to be where he is.
 "We've gone down to Haaland (Field) to throw ... and we're lucky to have access to a weight room. Raleigh is still shut down. When I talk to my (Wolfpack baseball) buddies they say I'm so lucky that they want to move to Bismarck right now," he said.
Be the first to know
Get local news delivered to your inbox!