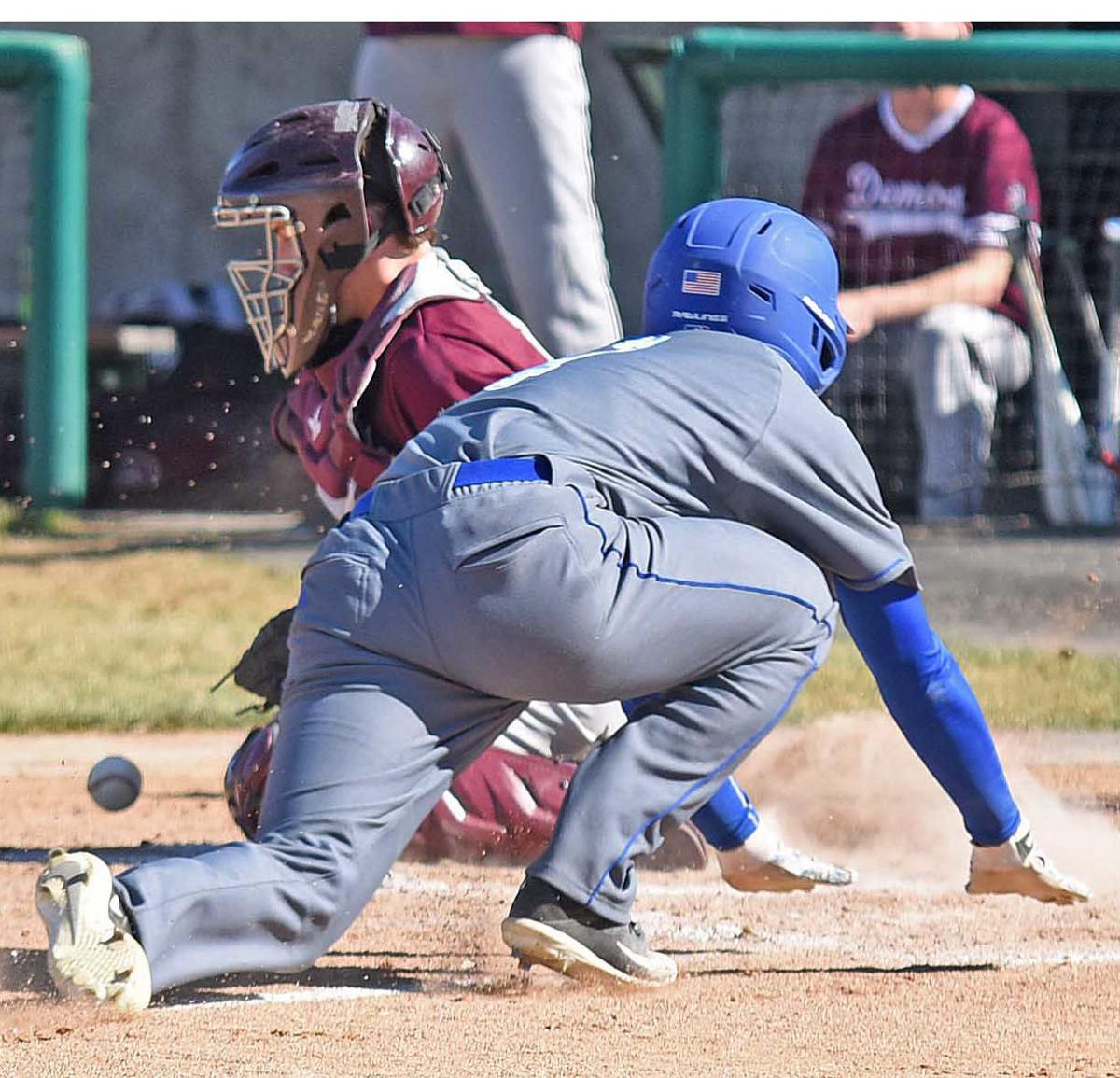 Bismarck High School senior Skyler Strand is a two-sport athlete. They turned out to be the wrong two sports.
 Concussions limited Strand, a forward, to three games during his final season of Demon hockey. Then coronavirus considerations wiped out the high school baseball season leaving, Strand, a catcher, high and dry.
 "This is not a senior year I would have expected at all. Growing up, this is not the way I expected it to end. ... I had a good junior season last year and I didn't play summer ball. Baseball season is always so fun in the spring," he observed.
 However, Strand, who coached 14-year-olds for the Bismarck Parks and Recreation Department last summer, was not about to let his hopes of playing baseball as a senior die. From that determination sprang the Sandlot Showdown.
 The Sandlot Showdown is exactly what the name implies. A bunch of kids, probably well over 100, getting up a game -- in this case a tournament -- on short notice.
 Action begins at noon today at Tatley Park.
 Strand emphasizes his event is in no way an effort to do an end-around on the North Dakota High School Activities Association's decision to shut down spring sports. He notes the Sandlot Showdown is a player-generated event with the emphasis on playing.
 "It's going to be a relaxed tournament, nothing serious. We've been sitting out for two months. This gives us a chance to get out and do something," Strand said. "We're following the (social distancing) guidelines and everything. ... We're just getting together to have some fun."
 Each of the nine teams will play four games. Three three-team pools will play today with games beginning at noon at Tatley Park and 2 p.m. at Haaland Field.
 Saturday's three-team pools will be based on today's results: A three-team pool of No. 1 teams, and so on. The winner of the No. 1 pool will emerge as the champion. Saturday's action begins at 10 a.m. on all three diamonds.
 "It may not be your typical championship game, but someone will become a champion," Strand said. 
 The nine-team field consists of four teams from Bismarck and one each from Mandan, Williston, Steele, Mohall and Carrington. Strand said the event grew from what he expected to be a cozy little Bismarck event into something much larger.
 "We thought it was going to be Bismarck kids, Mandan kids and some from the area. We'd get together for one day and play a few games," Strand said. "Now it's turned into a full tournament."
 Strand said the response was far beyond what he anticipated.
 "Oh, yeah, that's an understatement. It's much bigger than I thought it was going to be. ... We put a little flyer out there and it just took off," Strand recalled. "It was unbelievable ... and it just kept going. I think it kind of blew up on Twitter and it started going all over."
 Strand said informality will rule on the Tatley and Haaland Fields. For example, players from towns that couldn't form a team have been added to the rosters of teams already in the tournament. And if a team wants a batting order that includes everybody on the team, so be it.
 "Each team has a captain, and that's how they were formed -- with their friends. ... That's exactly what we're stressing. It's nothing competitive. ... We just want to get together and be on the diamond again," Strand observed.
 There has been no input from the schools, so school affiliations will be immaterial this week, Strand emphasized.
 "All the teams were organized on their own. We've got to watch what we say and how we conduct everything, because we don't want to get in trouble with the Activities Association," he noted.
 Strand said he doesn't expect many players to show up without some preparation. He notes that many of them will have practiced before the spring sport shutdown and others will likely have been preparing for summer baseball.
 While things got a little hectic in the days immediately before the Sandlot Showdown, Strand said watching the tournament grow has been a labor of love. Plus, it may be a peek into his future. His goal is to build a career in sports management.
 "This has kind of given me a taste of what I might be doing when I get older. ... It's getting a little stressful," he said. "I just want it to run smoothly. It will all be worth it in the end. On Saturday we'll be glad it happened, but sad that it's over."
 Strand said the strange twists and turns his senior year has taken have been instructive.
"Just take advantage of things when you have them and don't take them for granted, because you never know when they're going to be gone," Strand said. 
 He said he thinks the senior class of 2020 will benefit from the bumpy road that it's traveled.
 "We'll be stronger people as we go out," he noted.
Be the first to know
Get local news delivered to your inbox!