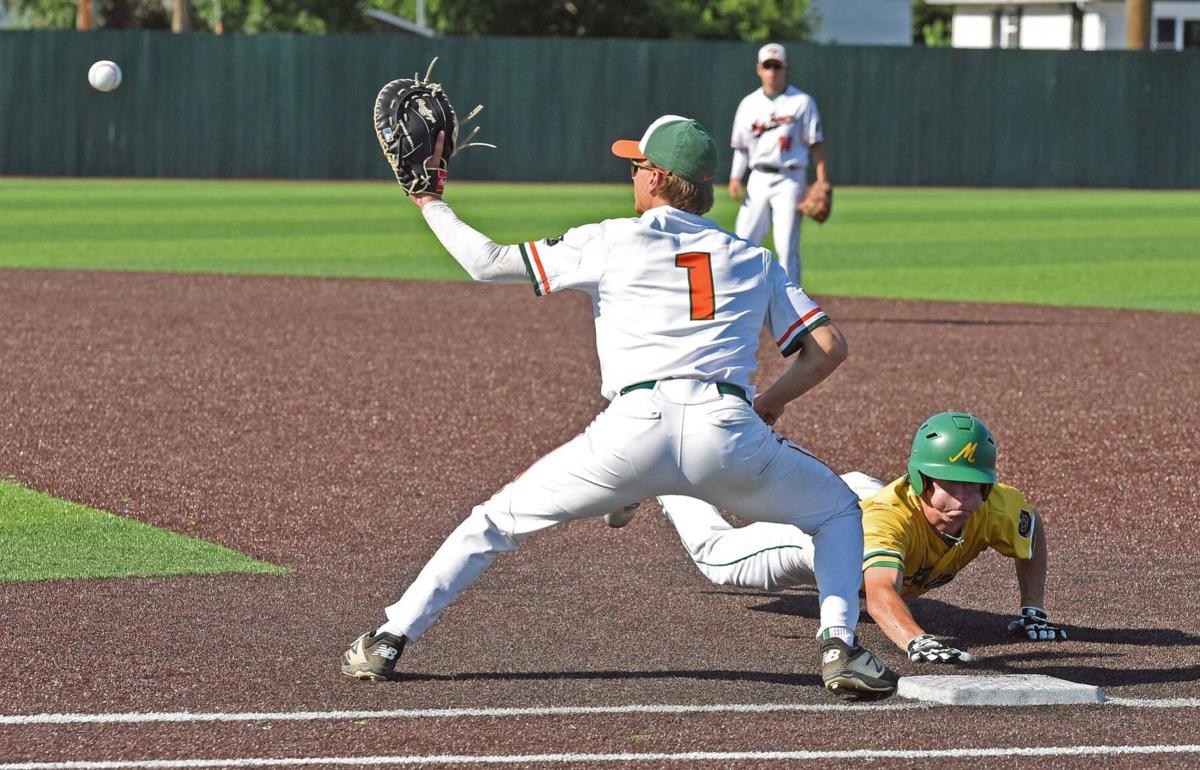 Mandan is hoping to find some host-team magic this week at the state Class AA American Legion baseball tournament at Memorial Ballpark.
The Chiefs' 17-24 record may be a little underwhelming, but a deeper look at the numbers shows a team that has been competitive all summer.
For the season, the Chiefs have scored 258 runs and allowed 247. In statewide games, which count toward seeding for this week's tournament, Mandan gives up 5.2 runs per game and allows 4.5.
"Win-loss-wise it's been a little frustrating. When you crunch the numbers, we've been competitive in a lot of the games we've lost," Mandan head coach Jake Kincaid said. "Our margin for error is really, really tight. We're hoping it all comes together for us this week."
The Chiefs are seeded eighth for the tournament and face top-seeded West Fargo in the fourth game Tuesday, scheduled for 7 p.m.
The state Legion tournament is back on the same turf field where the Class A high school crown was won by West Fargo Sheyenne in early June. Similar to that weekend, the temperatures will be sizzling. The forecast high for Tuesday is 104 degrees.
"We're hoping our shoes don't melt," Kincaid joked.
Play begins at 10 a.m. Tuesday with second-seeded Fargo Post 2 facing Fargo Post 400, the No. 7 seed. Third-seeded Minot and No. 6 seed Dickinson follow at 1 p.m., with Bismarck and Grand Forks in the 4 vs. 5 game at 4.
The Chiefs own an 8-1 win over second-seeded Fargo Post 2 on June 16. In that game, Mandan received a stellar pitching performance from Ben Kleinknecht, their top pitcher.
"In our two doubleheaders against West Fargo, we were pretty pleased with the way we competed against them. Whether it was West Fargo or Post 2, our kids haven't backed down at all," Kincaid said. "Anything can happen in baseball, that's just kind of the nature of the sport, and with it being on our field, we can get into that home-game routine a little bit."
The Chiefs have one of the best hitters in the state in Isaac Huettl. Kincaid has put Huettl in the leadoff spot to get the hard-hitting left-handed batter to the plate as much as possible.
In 43 games, Huettl has slugged five home runs to go with a .402 batting average and 35 RBIs. Of his 51 hits, 19 are for extra bases. Just as impressively, Huettl has walked 41 times and struck out just seven times. This week, Kincaid is hoping he'll be even more aggressive.
"If anything, we'd like him to swing a little more," Kincaid said. "He does a really good job being disciplined at the plate, but (this) week, we'd like him to bypass the walk and do more damage because he's capable of doing a lot of damage."
Stetson Kuntz (.378), Preston McElvaney (.373) and Avery Bogner (.353) are all hitting above .350. McElvaney "has been a nice surprise for us at first base," Kincaid said. Bogner started the season toward the bottom of the lineup but has forced his way into the top now.
Lucas Burgum has 28 RBIs, second on the team, and has had "a good summer," Kincaid said.
Seth Arenz and Brayden Bunnell each have batting averages over .300 in nearly 100 at bats and Kincaid said Blake Arenz (.244) "has done a really nice job in center field."
Kleinknecht has been good against everybody on the mound, including Post 2.
In 38 1/3 innings, he's posted an earned run average of 2.74 with a 3-3 record.
"Ben's been really competitive. He's done really well for us this summer," Kincaid said.
For the Chiefs, pitching is a team effort.
"One through eight or nine we've been pretty consistent," Kincaid said. "We have pretty good depth."
Nearly everyone on the roster has contributed innings. Burgum, Blake Arenz and Bogner each have logged more than 30 frames, while Kuntz, Seth Arenz and Bunnell are over 20. Bogner has a team-high four wins. Kleinknecht and Kuntz have three each.
Mandan has a history of bottling state Legion tournament magic on its home field. Kincaid recalled championship runs in 1990 and 2000, although both were long before any of his current players' time.
"That's probably more for me remembering back. Our players are busy on TikTok," he joked.