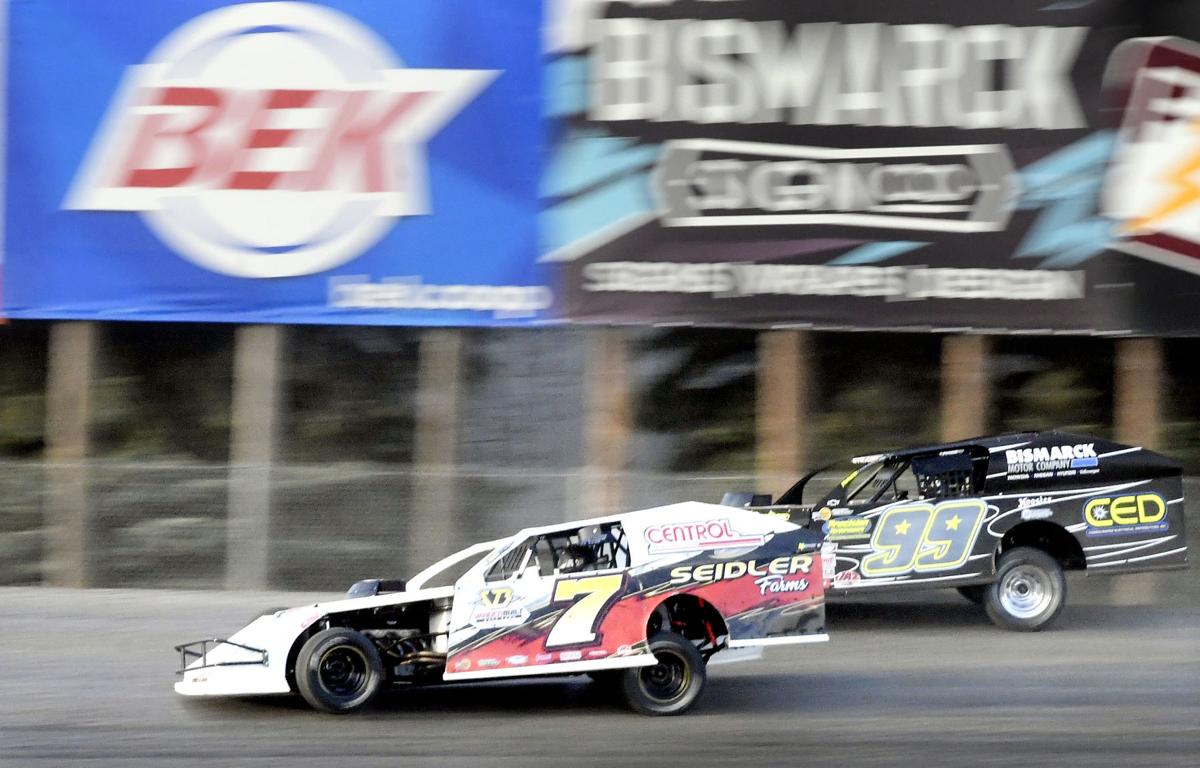 Mandan racer Hunter Domagala learned a lesson opening night about letting anyone get too close to him at Dacotah Speedway and he didn't let that happen again Friday night.
 The defending track Street Stock champion was in a class by himself in the feature race, beating the runner-up car of Jonny Carter and his dad, Tyler, by more than a full straightaway. The chilly night was perfect for the No. 97 car.
 "The only way it could get better is if it were a little warmer out," Domagala said. "The car was really good and the competition was even better. But I wouldn't have changed anything on that car. I was an absolute rocket."
 Carter, the 2019 streets national champion, beat Domagala in their head-to-head heat race. Domagala started the heat race in the eight spot. But due to his feature finish, or lack of it, opening night, he started Friday on the pole.
 He was actually running out front with Zach Frederick in the season's first feature when the two got tangled up and ended their chances.
 "In the feature, I led about six laps then had an accident that ended our night. It definitely helped starting out front," Domagala said.
 There were no cautions to let his chasers get back into the race. It was a different story in INEX Legend where reigning champ Donavin Wiest survived four cautions -- three before the cars reached the start/finish line on restarts -- and a red-flag all-stop after young driver Gus Jensen rolled on turn two with four laps left.
 "Every time there is a caution you worry about getting a good start," Wiest said. "Especially that late in the race, you worry about getting passed and not get it back."
 Pole-sitter Nate Keena agreed that multiple cautions can take a toll.
"It's tough. Sometimes you psych yourself out, but you just have to not get in your head and keep hitting your lines," he said.
 Wiest started in 11th place and took the lead with 10 laps left running the "Wiest Line" right up against the low guardrail. Keena took a very high line and they battled through each stoppage.
 "I love running down on the bottom and it handled perfect tonight," Wiest said. "Usually it's a line that not a lot of people race on."
 In between cautions, the racing was fierce with four to five cars running in a pack.
 Keena continued to press Wiest from the far side of the track. He got a run coming off turn four of the final lap and drove to a photo finish. Wiest won by .012 of a second.
 "Just a little more was all we needed," Keena said.
 Opening night feature winner Drew Papke started the feature 12th and finished third.
 The highlight of the night might have been the return of Marlyn Seidler, who wrecked all but the frame of his No. 7 IMCA Modified car in a scary rollover opening night. His team basically rebuilt the car in six days and Seidler drove it to a heat win and fourth-place finish in the feature.
 "Last week, that was a ride I don't wish on anybody," Seidler recalled. "We could have done without that. We destroyed about everything on this car. The frame stood up awesome."
 Seidler held off Shawn Strand to win their heat race, but the feature was different. After running with Mark Dahl up front early, Seidler began pulling away with Strand in pursuit. A caution with 21 laps left brought Seidler back to the pack. Soon, Strand was in front.
 "When Shawn came by on the top, I thought 'man, I didn't think we sucked that bad,'" Seidler said. "Everybody made enough laps up there and at the track took rubber and everybody is fast on that rubber. That killed us."
 Strand actually welcomed the race's last caution with three laps left.
 "I was a little nervous on the restart but I was better off getting out of the lapped traffic because they were clogged. I had to make the right decisions not to get into the back of them and worry about the guy behind me," Strand said. "When I got into that situation, I had to use my head and be patient and that's hard to do."
 Quentin Kinzley and Jeremy Keller, both of whom took second in their heats, finished third and fourth after starting 10th and 11th, respectively.
 Jeremy Engelhardt was a double winner in Hobby Stocks. His feature came after a series of cautions ended the race early with Engelhardt running out front. He started the feature seventh and took the lead after a restart with seven laps left.