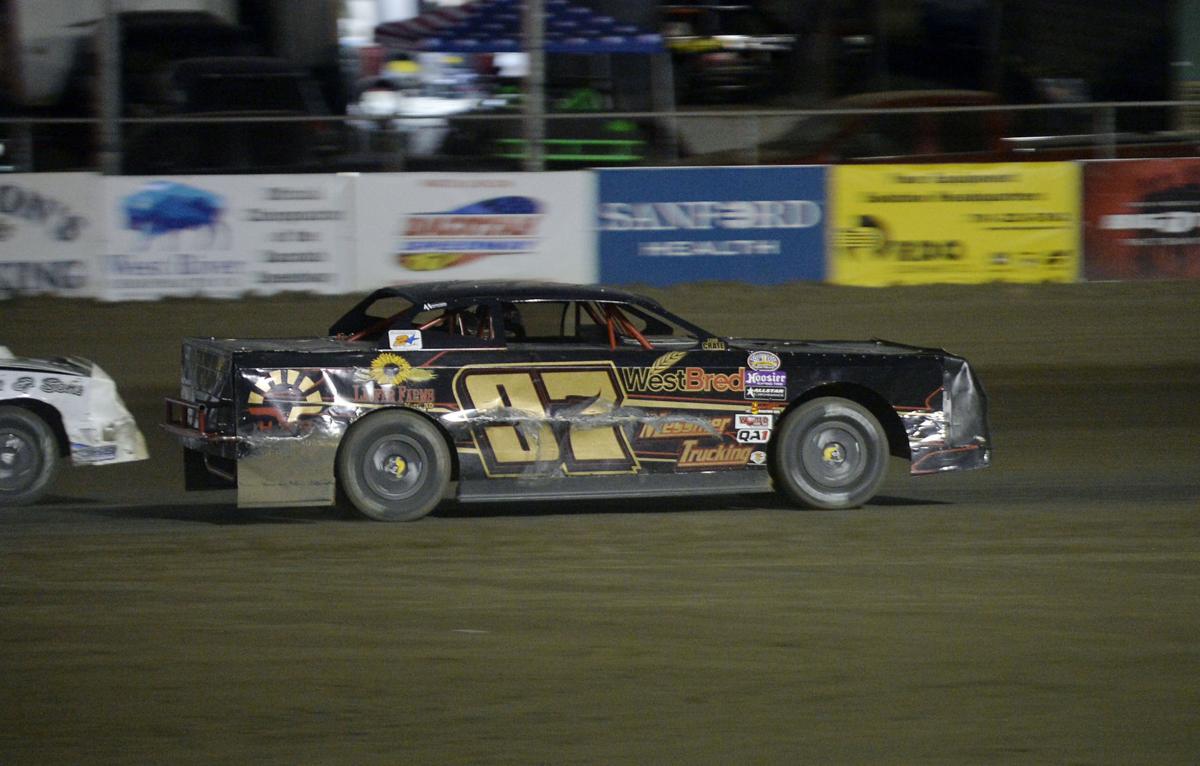 A weekend like this is enough to make auto racer Mark Dahl think twice about getting out of the game.
 The Bismarck driver was really good on Friday and even better on Saturday as he smoked a field that included former NASCAR driver Kenny Wallace to win the IMCA Modified points title at the annual Governors Cup.
 In his first night in a new car, Dahl won his heat and finished second in the Friday feature. On Saturday night, he added a heat win and finished with a dominating run in the feature event. Dahl held off Wallace and Friday feature winner Jason Wolla to win his first Governor's Cup since 2016 and his "fifth or sixth overall."
 "It's been about a year and a half since I won a race. I had a dry spell," Dahl said.
 For a driver as successful as Dahl, it was more like a drought. It got so bad, Dahl considered retiring.
 "I was dangerously close to quitting a few weeks ago," he said. "My wife said you can still do this you just have to get the right car underneath you again.
 "I was at the point where if I felt like I couldn't win the race I was in, I just don't want to do it anymore. I was at the point where I was sitting in my car and saying I don't have a chance of winning this race. My threshold of not doing well is high."
 With a new car under him, Dahl looked like the driver of old.
 On Saturday, he started on the pole and stayed there running a high line despite challenges by Hank Berry and "The Big Show" Wolla, who charged from 14th into second place. He was moved back to fourth, the position he was in the last lap before a caution brought the field together.
 Wolla had trouble on the restart and dropped back to 13th before racing his way back to fifth.
 "The car was really, really good. If I could get the car out front and get rolling, I just didn't know how they could go much better than this car," Dahl said. "It's one of those nights when the stars aligned."
 Wallace, meanwhile, went low as he had in Friday's B Main to challenge for the lead. No matter what he tried, he couldn't get close to Dahl.
 "The track is wide," Wallace said. "The guy that won the race was running high and I was running on the pole like a horse race, and you had some of the greats in the middle. So the race track was perfect."
 Marlyn Seidler was third and track points leader Travis Olheiser was fourth. With the win, Dahl moved to fifth in the points race.
 WISSOTA Street Stock driver Hunter Domagala did Dahl one better by winning all four of his races on the weekend and upping his season points lead with his fourth feature win at the track.
 "This is an unreal season. We're on win five in a row," Domagala said. "To come out here with this caliber of competition and do as well as we've been doing this year has been unreal."
 The feature was a family affair for much of the night. Domagala and his dad, Tracy, ran 1-2 for several laps while being chased by the uncle-nephew combination of Todd and reigning national points champion Todd Carter.
 With more than 160 cars for the second straight night, the program was divided in two with NOSA 410 Sprint Cars, IMCA Modifieds and WISSOTA Street Stocks running the late show.
 The night session ended with a bang when sprint car runner-up Nick Omdahl rolled through turn one after Cup and Saturday feature winner Bob Martin had taken the checkered flag. Omdahl was helped from his car and appeared OK.
 Martin, meanwhile, was pleased with his team's effort.
 "The people behind me do it all," Martin said. "I just try to get up on the wheel and drive it as hard as I can and if it's great, we're great."
 Earlier Saturday, the two Hobby Stock leaders were involved in a crash, opening the door for a first-timer to take home the Cup points title.
 In IMCA Sport Compacts, Stan Thompson chased a dozen cars to the finish line before winning the night by less than two-tenths of a second.
 And the only front-runners in the early session to fight it out were Friday feature winner Drew Papke and runner-up Donavin Wiest. On Saturday, they flip-flopped with Wiest winning after a caution on the final lap with him holding a three-car-length lead.
 Vetter was in good position to win a Cup title in Hobby Stocks until bad luck hit him hard with half the feature in the rear-view mirror.
 Race leader A.J. Davenport lost a wheel which hit Vetter, ripping a wheel off his car.  Michaelsohn took over and won the race and with it the Governor's Cup title for the first time. Michaelsohn was third in Friday's feature, one place behind Vetter
 "I was trying to pass on the outside … but it was getting pretty slick. I just let off the gas a little bit and my car hooked up going down the straightaway. It's great," Michaelsohn said. "It might be the end. I want to get ready for retirement and racing might not be in it. You never know. I'm just saying."
 Friday's feature winner, Chris Welk Jr., earned a start in Saturday's main event with a second-place finish in the B Main. By missing out on qualifying in the heat, he was buried back in the pack and couldn't make up enough ground to hold onto the lead. He finished seventh in the feature.
 In IMCA Sport Compacts, Paul Schuh and Braydee Hanson got out to a big lead and raced all alone in the feature, until Thompson jumped into the mix.
 Thompson started 13th and started eating up cars ahead of him. On the final turn of the race, Thompson went low on Schuh and finished 18/1000ths of second ahead of Schuh at the line.
 "The last few laps I didn't think I had anything," Thompson said. "I was in third place and all of a sudden I'm in second place an I'm thinking there's no way I'm gonna catch them. And I caught them."
 Hanson was content to finish in third as it earned him the Cup points title.
 INEX Legends was nearly a repeat of Friday. The only difference was the winner.
 Papke started from the pole and Wiest second. Wiest took the lead running a low line just off the inside rail and Papke settled up high. Papke just couldn't gain ground, but cautions kept tightening things up.
 "I thought I was going to lose it again with the cautions, like déjà vu from last night," Wiest said. "That bottom line was just awesome. Tonight, it worked out great for me."