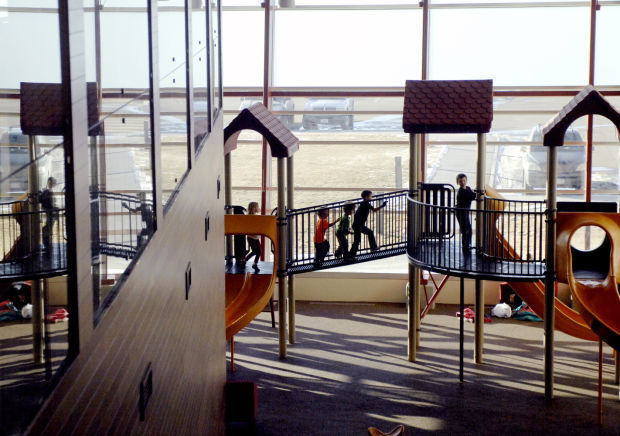 In less than a year, Williston's $76 million rec center has become the hub of the community's recreational and social life. It's where new residents hook up with each other to play racquetball and new moms bring strollers to the walking track for exercise and to relieve their isolation.
To put it in context, a number equivalent to half of North Dakota's population walked through the front doors of the Williston Area Recreation Center last year.
And if 340,000 users is not impressive, consider it opened in April.
Manager Darin Krueger said the response from day one "has been absolutely mind blowing."
Some days, the facility will see as many as 2,000 people. Other days, it's only moderately busy, with 800 people coming through. There are 7,000 paid members, a number that's held fairly constant.
The list of things to do for people of all ages goes on and on: tennis, indoor turf, batting cages, basketball courts, competition track, competition pool, instructional pool, water park, indoor playground, cardio workout, weight room and golf simulator.
There are birthday party rooms by the pool, an instructional kitchen for classes and three community meeting rooms.
Krueger said the first year was so huge that he and the Williston Park Board will use this year to take a deep breath and maybe relax a bit, though there's no indication that the slowdown in drilling activity is affecting numbers.
"In the last three months, we haven't seen much change. We're the (drilling) hub, but a slowdown would be OK. We've been going 200 mph for six years. We could use some time to catch up," Krueger said.
Even if 2015 is a chance to slow that frantic pace, that doesn't mean new ideas will come to a standstill.
The ARC will hire two new fitness trainers this year to take that aspect to a higher, more personal level.
The idea is the trainers can work with individuals, or perhaps small groups, to get them more heavily involved in personal fitness, including nutrition, exercise and instruction on how to best use the specialized training and weight equipment the facility offers.
"They'll be working on whatever they can come up with to get people involved. We really want to blow up with our fitness; that'll be a big push this year," Krueger said. "There's a need for us to do more, to take personal training to a whole new level."
If the ARC offers a huge variety of ways to get or stay healthy, it's partly because it's in pretty good health itself.
The facility is financed with a 20-year bond issuance with payback from a one-half cent sales tax. In just 27 months, the facility's paid down $21 million and may be able to retire the bond years ahead of its maturity date.
In the meantime -- even as the facility managers and board take a well-deserved pause -- there is already talk of further planning.
"We'll be looking at five- to 10-year plans, whether we need to add on, or build another facility," Krueger said.
The ARC isn't the only game in town, and the park board is examining its inventory of parks with the idea that no one in Williston should live more than 1 mile from one, and also whether to build a new outdoor swimming pool and add another golf course.
"We've always had great support from people in Williston. They all want an active life. With all the new people, we wondered if we'd get the same support. We have it," Krueger said.
"We've always had great support from people in Williston. They all want an active life. With all the new people, we wondered if we'd get the same support. We have it."

-- Manager Darin Krueger