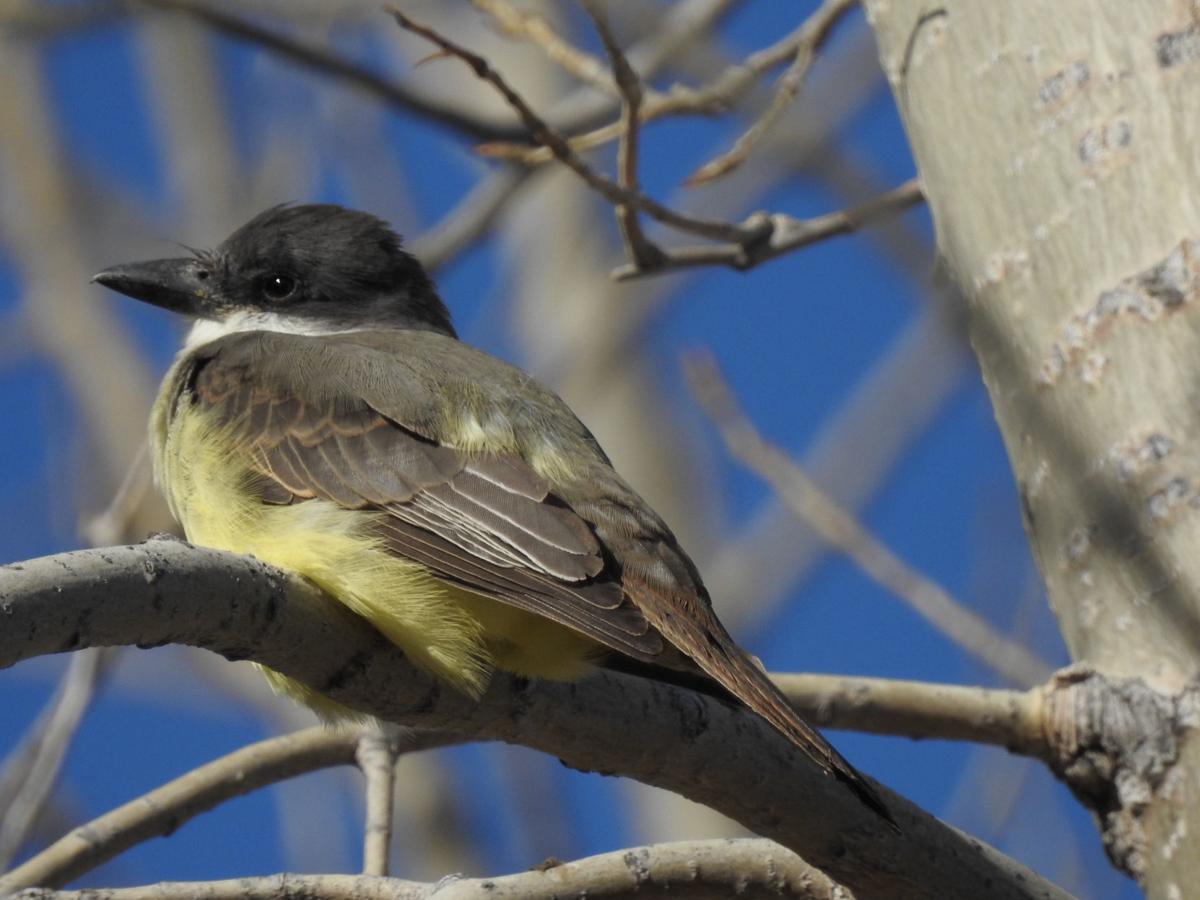 It's not very often that North Dakota garners national attention for a bird sighting, but it happened last week. I was quietly sitting at my desk when a text appeared: "What is this bird?" Upon viewing the photo, I immediately responded: "I don't know what it is, but I am on my way!"
Two local birders, Bill Peterson and Dale Heinert, were birding along the mighty Missouri River on Nature Conservancy property just north of Cross Ranch State Park. Peterson led the way through one of his favorite birding areas, when both spotted a bird with which they were quite unfamiliar. At first, with its back toward the observers, the bird appeared to be a robin, until it turned to show off the massive bill. Luckily, both were avid photographers and were well prepared to document what may be one of the most unexpected birds ever to be recorded in North Dakota.
By the time I arrived 45 minutes later, the gentlemen had correctly concluded the bird was a thick-billed kingbird. This kingbird, resembling the familiar western or eastern kingbird, is a conspicuous inhabitant of open woodland habitats within a narrow range of western Mexico. In June 1958, the first nesting pair in the United States was found in southeastern Arizona. Since that time, it has become fairly common but localized in southeast Arizona and a touch of New Mexico. How did this bird get here?
Birds have the arduous task of migrating out of harms way before the coming of winter. Unfortunately in rare cases, the compass fails and a bird will migrate hundreds of miles in the wrong direction, typically in October after most of the locals have departed. Must be a young male because they never ask for directions.
The bird was not to be seen that evening, but the next day a new group of birders had assembled. The display in my vehicle showed 18 degrees, and a heavy fog created an eerie landscape along the Missouri River on that chilly morning.
Six birders made their way to the location far off-trail where the photos took place. After a thorough search of the area, no kingbirds were found. A surprise flyby of two calling ravens broke the morning silence. Later a pair of birders searched farther north, and another worked his way north through Cross Ranch State Park from the Sanger boat ramp.
The group broke for lunch in Washburn before returning in the afternoon. The sun warmed the October air nicely, causing several birders to shed a layer or two of clothing before a return to the original location.
Imagine our surprise when one observer quietly and confidently said bird incoming. There was our majestic kingbird, sitting proudly on the tip of a Russian olive tree. After seven hours of searching, I had my doubts the bird was still around. The bird made several flights showing off its dark charcoal wings, back and tail, which contrasted with the bright white throat and yellow belly. It would rest a bit before doing the same circular motions in flight again, hawking insects.
After seven of us enjoyed the view and hard-earned moment, the kingbird took flight low below the riverbank and disappeared, forever, just as it had the day before. A sighting this far north is very rare. I am told of a record in Vancouver Island in 1974 and southern Ontario recently in 2012. Unfortunately, the bird has not been relocated since, or Cross Ranch would have enjoyed a flood of birders throughout the region. I am one of the fortunate few to have observed this species in North Dakota.
Be the first to know
Get local news delivered to your inbox!