Kris Walcker considers himself fortunate to have had a father who trusted him with the family fishing boat when he was growing up. JR Carter has fond childhood memories of fishing with his grandfather.
"Those were good times spent with family, even if we weren't catching fish," said Carter, 33, of Mandan. "I probably remember skipping rocks more than catching fish."
But fishing became ingrained in him, as it did in Walcker, 40, of Minot, who said he appreciated the faith his father had in him to properly and safely use the boat.
"That's where I kind of went in my own direction, to pursue (fishing) even farther, over and above what his level was, a weekend angler," he said.
Both Walcker and Carter grew up to become successful professional anglers on the premier Cabela's National Walleye Tour. They're competitors but also friends. For the past three years, they've teamed up for seminars to try to pass along their love of the sport to the next generation -- particularly to those kids who might not have a mentor like they did.
"I think, like with anything nowadays, the technology unfortunately makes mummies out of kids and gears them toward tablets and electronics when they should be enjoying the outdoors, seeing what there is to offer, realizing that there is more in life than staring at a phone," Carter said.
Walcker and Carter are bringing their Kids Fishing Clinic to the 50th 2020 Bismarck Tribune Sports Show at noon on Sunday, Feb. 16. It's their third year at the sport show at the Bismarck Event Center, working through the Future Angler Foundation -- a Wisconsin-based effort that involves dozens of volunteers and reached nearly 2,000 kids last year alone.
A group of anglers dedicated to growing the sport of fishing created the nonprofit foundation about six years ago to teach youth.
"This educational component is critical for the future of the sport," the foundation says on its website, adding that participation in fishing has been declining due to factors including activities such as video games that distract the younger generation.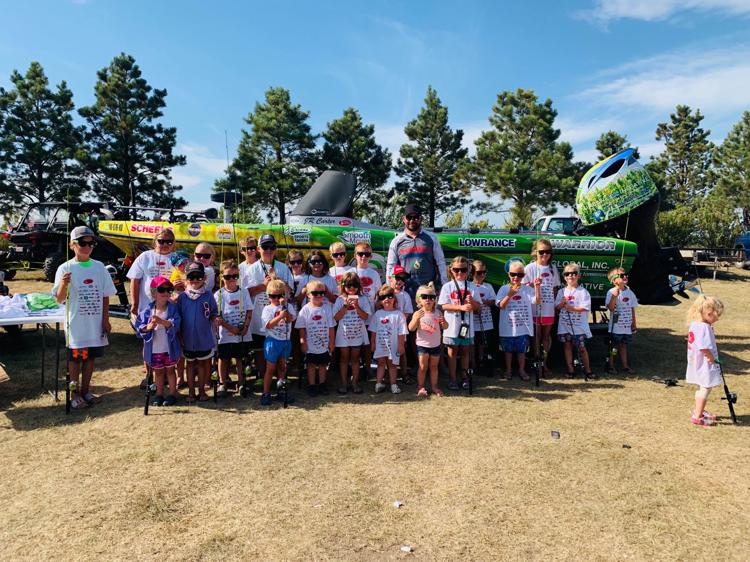 Fishing license sales have soared in North Dakota over the past decade as fishable waters have more than doubled, to nearly 450, thanks to an extended pattern of wet weather. Annual license sales rose from just over 180,000 in 2010 to more than 220,000 in 2014-15 -- a record -- and have remained relatively stable since, according to state Game and Fish Department data.
However, youth fishing is not on the upswing in the state, according to what state Fisheries Chief Greg Power calls "concerning metrics." Participation among people in the 16-29 age range has been declining in recent years.
You have free articles remaining.
"Some of this is simply the baby boomer demographic, but according to the North Dakota population data I've seen, we're growing the number of 16- to 29-year-olds, yet fewer and fewer are fishing," Power said. "These concerns are real and are being experienced nationwide."
Most states now have a full-time employee working solely on recruitment and retention of anglers and hunters, he said. Other efforts also have materialized to increase fishing participation, including the "60 in 60" program of the Recreational Boating and Fishing Foundation, which aims to increase participation from the current 49 million anglers to 60 million anglers in 60 months.
The Association of Fish and Wildlife Agencies has a task force on angler recruitment and retention. Hooking kids while they're young is key, according to a 2018 task force report -- almost 83% of adult anglers were introduced to fishing during childhood.
That's where anglers like Walcker and Carter come in, said Patrick Neu, executive director of the National Professional Anglers Association and president and co-founder of the Future Angler Foundation.
"(They) are volunteering their time to share their knowledge and passion for angling with others at this show and at other venues," he said. "What they are doing is helping us create new anglers and to re-engage anglers of all ages at these events."
The seminar
Walcker and Carter have been doing the youth seminars at fishing tournaments and at special events since 2016. It's their third appearance at the Tribune Sports Show.
"Being part of the professional fishing atmosphere, you need to give back," said Walcker, an electrician with Triangle Electric.
He and Carter over the course of about an hour teach kids about everything from water safety to aquatic nuisance species to identifying fish.
"The parents usually get just as much out of the seminars as the kids do," said Carter, a helicopter mechanic with Bismarck Air Medical. "There are a lot of people who have fished for a long time, and they don't know what every species of fish is."
Seeing a child's eyes light up when he or she can correctly identify a type of fish is the kind of thing Walcker finds rewarding.
"We have pictures of (fish); we kind of do it as a "raise your hand, we have a prize for you" kind of thing," he said. "That's what's enjoyable for me, them wanting to know what the fish are, us explaining the difference between a walleye and a sauger and a saugeye, the largemouth bass versus a smallmouth."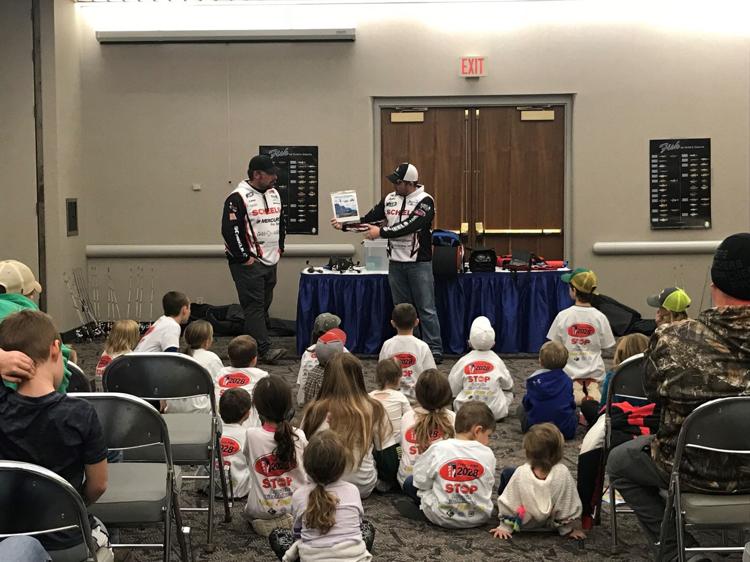 Walcker and Carter also have a casting contest at the end of their seminars and hand out donated door prizes such as T-shirts, tackle and even rods -- in some cases, the first rod a child has owned.
"We keep it pretty light and upbeat," Carter said. "You have their attention for about 35 minutes. We want to just kind of make it fun. … We just felt like there wasn't anybody doing it in our area, so we wanted to give those opportunities to the kids.
"I think you can measure success with the amount of smiles and laughs," he said. "Then you know that they truly enjoy it."