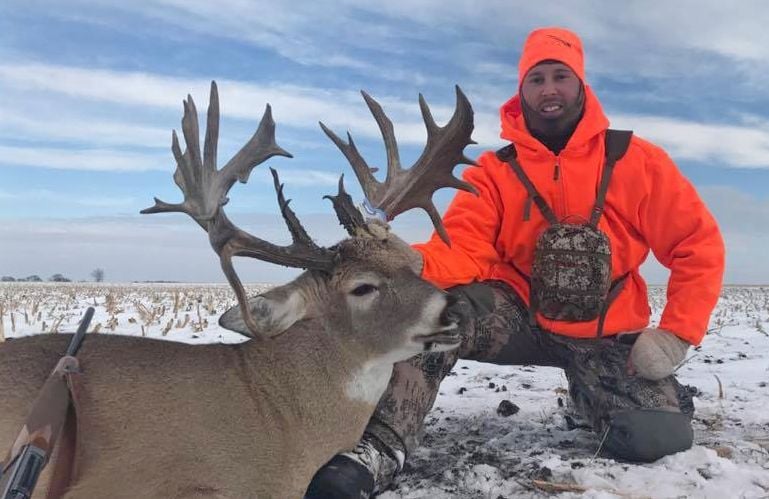 BOWBELLS -- It was the buck of a lifetime. No doubt about that.
Kyle Hass of Bowbells harvested a monster of a non-typical white-tailed deer during the season opener last Friday. His dad was there too, and his best friend. The quality company made an exciting hunt even more memorable.
As for the deer, about as non-typical as you can get, Hass said, "It was kind of a freak of nature to even have that thing around."
Non-typical white-tailed deer, those that have antlers that differ from the traditional matching sets on the left and right sides, are not completely unusual. There's a few taken every year in North Dakota. What makes the Hass buck stand out is its large size and the fact that very few people, if any, had previously seen the deer in the area only about 12 miles south of the Canadian border and 52 miles northwest of Minot.
"He was kind of a legend," said Hass. "Everybody talked about him but no one saw him on the hoof, just the sheds."
Hass had seen photographs of shed antlers from the past two years that matched the antlers on his deer. Last year a matching pair of sheds was found west of Kenmare, about 6 or 8 miles south of Bowbells. It was further proof that the unique deer was still in the area.
Ironically, Hass was targeting mule deer while bowhunting in the Bowbells area when he got his first look at the big non-typical.
"It was early last Thursday. I was putzing around and saw this deer. It was foggy but I could see a rack maybe 200 yards away. He was huge!" said Hass.
Hass watched the big deer bed down in a cattail slough and returned later that afternoon to attempt a stalk. A doe spooked about 30 yards from him. Then the buck jumped up but offered no shot for the bowhunter.
"He was about 50 yards out and took off over the hill. I never thought I'd see him again," remarked Hass.
But he would. The very next day. The opening day of the North Dakota deer gun season.
"We knew he stayed in the area. My dad saw him right at dark Thursday coming out of a coulee," said Hass.
The scouting paid off in a big way. When the deer season opened at noon Friday Hass found himself carefully walking sloughs in the area where the deer had last been seen. When working through a slough about a half-mile from that location the deer emerged from cover and Hass managed a perfect shot.
The buck has 30 points on its antlers. Early estimates of a score are in the 225 range. Of course, no official Boone and Crockett score can be made on the deer until a 60-day drying period expires but it is all but assured of a lofty place in the North Dakota record book, very probable in the top-5 non-typical white-tailed deer in state history.
Dan Ackerman is a wildlife biologist from Mandan.
"He was kind of a legend. Everybody talked about him but no one saw him on the hoof, just the sheds."

Kyle Hass, of a monster 30-point white-tailed deer he shot during the season opener last Friday. 
Be the first to know
Get local news delivered to your inbox!