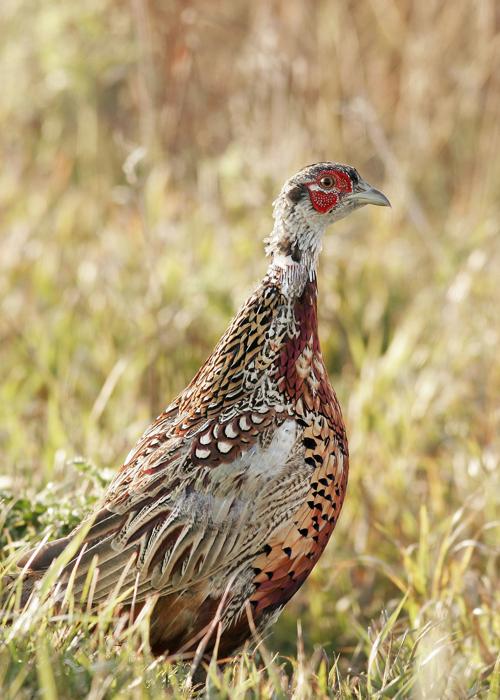 Severe drought in North Dakota in 2017 continues to impact pheasants, but a spring survey indicates the population of the popular upland game bird might be starting to rebound.
The state Game and Fish Department's annual spring crowing count survey indicated a 6% increase in roosters statewide from the 2018 count. Last year's spring survey, which followed a summer of devastating drought in western North Dakota, saw the largest percentage drop in three decades − a 30% decline.
"Reproduction was just very minimal in 2017. Last year was a little bit better, but it certainly wasn't great," state Wildlife Chief Jeb Williams said.
Spring crowing count surveys involve people driving specified 20-mile routes, stopping at predetermined intervals and counting the number of pheasants heard crowing during a two-minute period.
You have free articles remaining.
This year's survey indicated that pheasant populations are up in the southeast and the northwest but still down in the southwest, which is prime pheasant country in North Dakota and also a region hit hard by the drought two years ago.
"We are still seeing the effects of the drought of 2017 that resulted in low chick survival," said R.J. Gross, upland game management biologist with Game and Fish. "Typically, a spring pheasant population is composed primarily of yearling roosters with nearly as many 2-year-olds, and currently we have very few 2-year-old roosters."
Game and Fish will conduct pheasant brood surveys in July and August, giving hunters a better idea of what to expect for the fall hunt that's set to begin Oct. 12.
"Barring significant storms or prolonged cold temperatures in June and July, we could be set for a good hatch," Gross said.
The 2017 pheasant hunting season was one of the most dismal this century, with the number of hunters declining 24% and the total harvest of 309,000 birds being the smallest since 2001 and not close to the Game and Fish benchmark for a good season of 500,000 birds.
Statistics from last year's season aren't yet available, but Williams expects they will show an improvement from 2017. And while it's impractical to gauge how this year's season might shape up before the nesting season is over, the spring crowing count survey "definitely bodes well for possibly a better harvest," he said.