I have been birding the Bismarck-Mandan area a long time. I have seen some very unusual birds and observed some pleasant surprises reported to me by others. As with anything else in life, there is always something that eludes you. Something you want to accomplish, but for some reason it never works out or is a dream that has failed to materialize.  
For a birdwatcher, there is always a species or two that forever eludes them. A nemesis species if you will, that after 20 years has never been observed to add to their precious home county list, which can be downright frustrating. For me, after two decades, I was able to deal with one of these ghosts.
This past summer there was a report of least bittern at Long Lake National Wildlife Refuge southeast of Bismarck. A retired refuge employee has been birding the greater Bismarck area through the summer and was fortunate enough to see this little guy fly by his windshield only to disappear in the vast sea of dark green cattails.
Least bittern is a marsh lover, so the south end of the Long Lake refuge serves them quite well. Somewhat larger than the blackbirds it co-habits with, the tiny bittern is a tawny yellow color, streaked in a slightly darker brown underneath, black back and cap with bold white wing patches if you catch it in flight.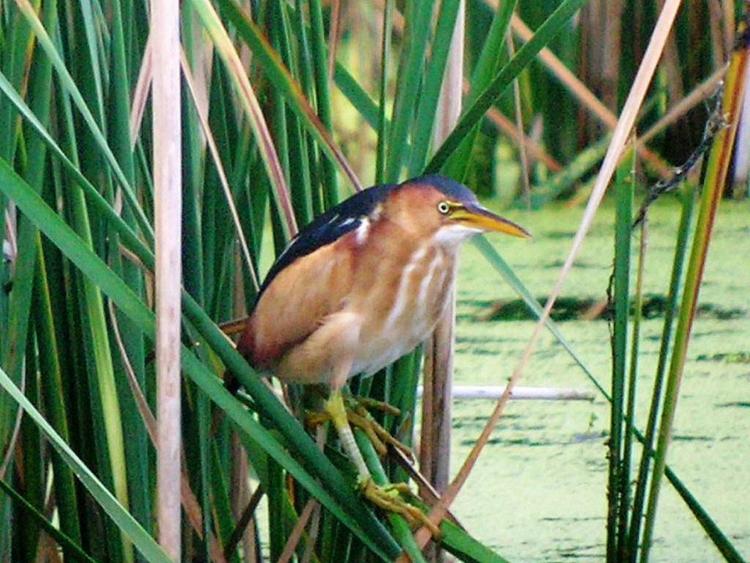 By nature the bird is quite elusive, preferring to hunt from deep within the cattails wherever it can find slight openings. With each foot firmly grasping cattail stalks, it will perform the splits as it hangs over the water's surface awaiting the next available prey to swim unsuspectingly by.   In a quick flash the yellow bill will plunge below the surface, grab the prey, and in one fluid motion the bird will throw its head back and swallow it whole.
You have free articles remaining.
The easiest way to find the bird is by hearing it. In a series of four soft low coo-coo-coo-coo sounds, the male is announcing its territory. I don't know how easy this can be for a bird smaller than a cat in the vast acres of marsh with only a handful of state sightings a year. 
I decided to follow up on the report at Long Lake National Wildlife Refuge, so I picked my mother up the following weekend and parked alongside the road where the ghost was observed and waited. Several other fun species were seen such as yellow-headed blackbirds, noisy marsh wrens full of chatter, quacking duck, and even an American bittern. This larger cousin flew by twice not knowing where it wanted to be.
Alas, after an hour or two it was not meant to be. The following weekend I took a friend through the local McKenzie Slough, a 2-square-mile marsh complex south of the little establishment by the same name. We were conversing on birds as they passed by as I navigated the main north-south road. 
All of a sudden, there it was before my eyes -- the very elusive least bittern! For only a few seconds the bird floated above the cattails to the right as I quickly noted the tawny coloration, pot-bellied look with a long light-colored bill and legs dragging behind it. 
I swerved to the side and we both got out, but the ghost had disappeared without a trace, and my companion missed it altogether. After two decades, there it was, a glimpse of my nemesis least bittern for Burleigh County, but only for a few seconds and gone. The image is burned in my memory forever, but the second thoughts will always linger. Could it be? Now I long for a closer, better look, but will it be another decade or two? Time will tell.