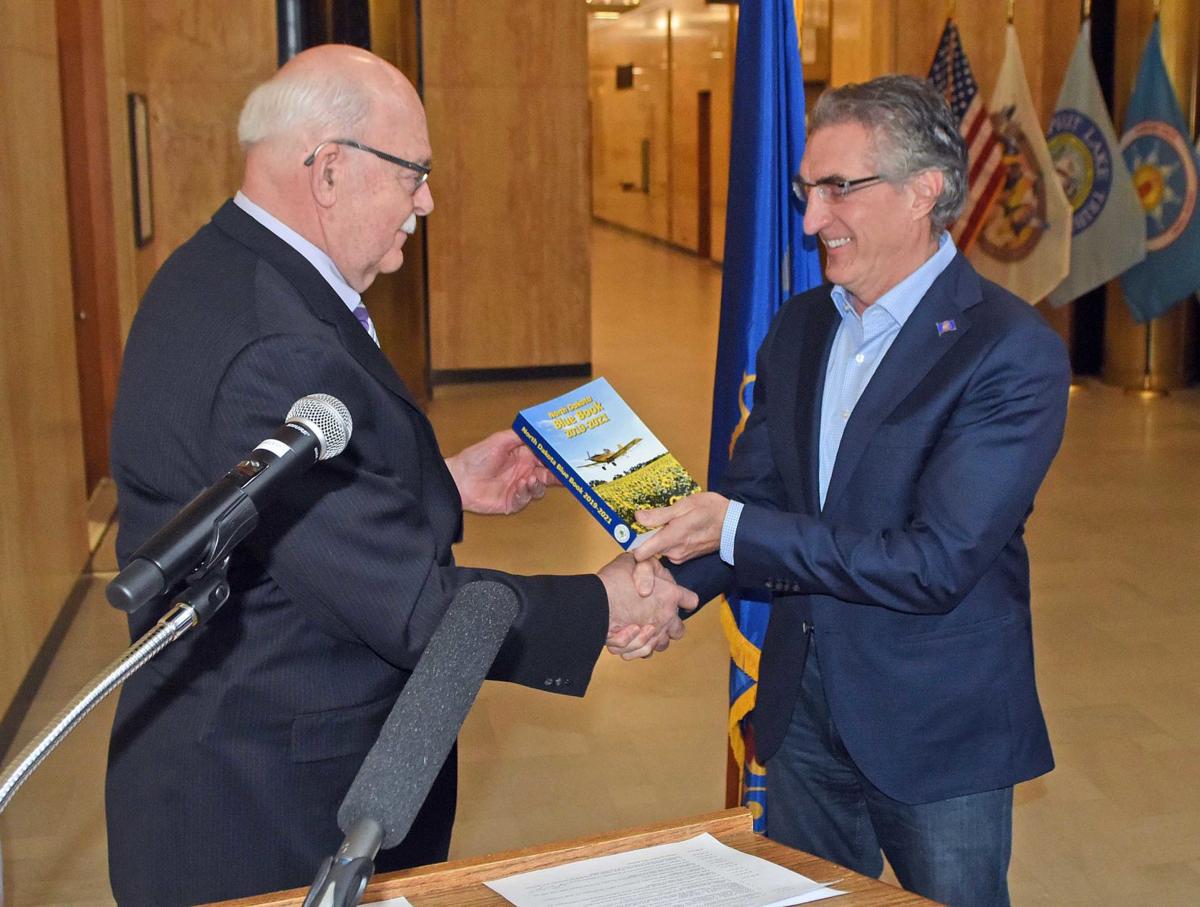 "It was an honest mistake honestly made. The money went to the right party for the right work that was contracted for legally. It went at the wrong time."
-- North Dakota Commerce Commissioner Michelle Kommer, responding to a criminal investigation into audit findings of potential state law violations by agency officials.
"We have a finding where we identified a potential misappropriation of law. The client agreed. Under (state law) I have an obligation to inform the attorney general and we did so."
-- State Auditor Josh Gallion, on why he notified Attorney General Wayne Stenehjem of audit findings of potential state law violations by Commerce Department officials.
"Whoever said your 60s are the golden age, I'd like to knock the snot out of that guy."
-- Doug Dworshak, on his life being turned upside down by crippling medical debt following heart problems. He and his wife, Carol, are now living in a recreational vehicle.
"I think there is a bit of a supply issue. It's understandable, we're going to have some growing pains. I get that. I'm not here bashing. I'm just saying, the reality of the situation is we are running out of product."
-- Chris Nolden, a medical marijuana card holder and patient, talking to a state legislative committee about a perceived shortage of the drug in the state. State officials dispute that.
"We were not going to commit to something that we were going to lose money on."
-- Bismarck State College President Larry Skogen, on the fact that BSC isn't losing money on an energy training partnership with Saudi Arabia despite lower-than-expected enrollment in a program seen as a potential big moneymaker for the school.
"I like the camaraderie, talking, hanging out with them."
-- Patti Guay, manager of New Salem's Arrowhead Inn, on the hunters who fill up the hotel during deer season.
You have free articles remaining.
"We're committed to making sure North Dakota's farmers and ranchers have access to every available resource to cope with these unprecedented and miserably wet fall harvest conditions."
-- Gov. Doug Burgum, on asking U.S. Agriculture Secretary Sonny Perdue to designate a disaster in North Dakota to pave the way for federal aid.
"To be a leader in energy, to being No. 1 in a bunch of agricultural products, we've really come a long ways in our 130 years."
-- Secretary of State Al Jaeger, upon unveiling the state's latest Blue Book, a compendium of North Dakota history, facts and statistics.
"Our goal is to take people from the rut that they might be in, into a productive citizen in the community."
-- Heaven's Helpers Soup Cafe Executive Director Mark Meier, on plans to hire a crisis coordinator with the help of grant money. The staff member will connect people to housing, identification and other agencies.
"That's just something people do anyway. So is that the intent of the Renaissance Zone Program? I don't think so."
-- Bismarck Mayor Steve Bakken, saying people shouldn't be seeking Renaissance Zone tax exemptions for maintaining their homes.
"It's crazy. I can't even say it. It's amazing."
-- The Rev. Austin Vetter, of Bismarck, on being named bishop for the Diocese of Helena in Montana.
"Absolutely, stable is good news. We're happy with it."
-- State Wildlife Chief Jeb Williams, talking about a fall survey that indicates the mule deer population in the Badlands is continuing to rebound from a string of three straight harsh winters ending in 2011.
"I always looked forward to the day that I would have a child of my own to wear the gown, just because it's such a good way to connect our family and connect our faith."
-- Jill Kringstad, of Bismarck, whose daughter, Ella Rae, will be the 65th baby to wear a family heirloom christening gown when she's baptized Sunday. Jill Kringstad was baby No. 31 to wear it.