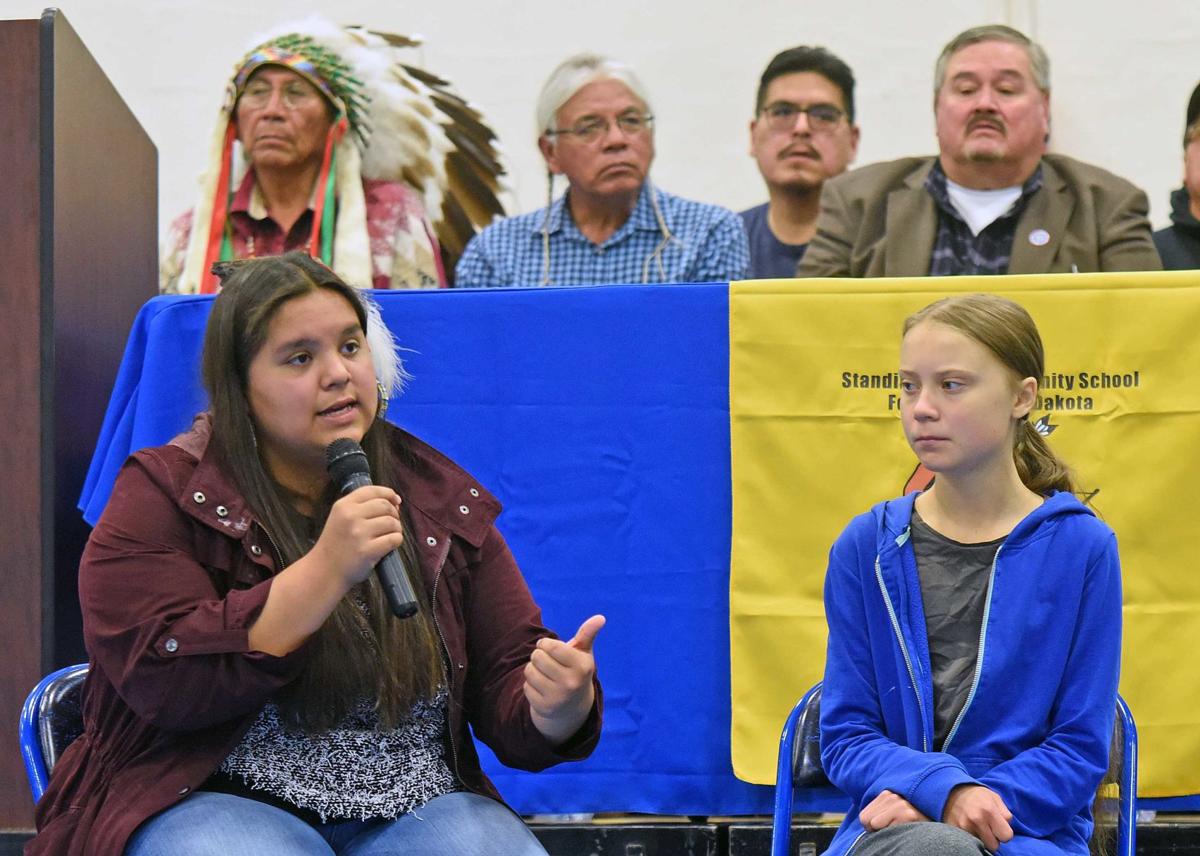 Do teenagers have enough knowledge to be advocates on a world stage? The Tribune editorial board believes they do and that they should be heard and treated with respect.
Greta Thunberg, the 16-year-old climate activist from Sweden, visited the Standing Rock Sioux Reservation last week. She was invited by another 16-year-old, Tokata Iron Eyes, of Standing Rock.
Thunberg has gained global prominence since starting a one-person "school strike" in front of the Swedish Parliament, demanding action on climate change. She spoke to the United Nations recently, urging world leaders to confront environmental issues. Actually, she demanded the world take action. Thunberg can be stern, angry and totally sure of herself.
Iron Eyes, who met Thunberg at a Washington, D.C., event, is the daughter of a well-known activist on the reservation. She has been vocal on environmental issues and is among youth active in the fight against the Dakota Access Pipeline.
The teens' views on environmental issues make them unpopular with many people. It's understandable that not everyone agrees with them. Climate change is a global issue, and protesters turned the Dakota Access Pipeline into a worldwide story.
Critics accuse Thunberg of not understanding the issues, being fed inaccurate information and being used by others. She's been harshly attacked on social media, even receiving threats. She's been told she's too young to participate.
The Tribune believes that's nonsense.
You have free articles remaining.
Yes, youth can be influenced by their parents and a lot of other sources. As they grow older, their views might change drastically. Adults also are known to change their opinions. We don't think age should prevent a youth from being given a voice. 
We need to encourage the young to use their powers of reasoning, to study current affairs and, if they want, become active in their community, state or nation.
After the Stoneman Douglas High School massacre in Parkland, Fla., on Feb. 14, 2018, many of the surviving students became involved in seeking solutions to gun violence. They formed Never Again MSD, lobbied the Florida Legislature and Congress, and organized the March for Our Lives on March 24, 2018. There were marches in North Dakota.
Members of Never Again MSD haven't gotten the results they want, but they haven't quit trying.
Youth aren't just involved in major national and world issues. Just read the Teen of the Week stories that appear every Wednesday in the Tribune. These are thoughtful teenagers playing a role in their schools, churches and communities. They understand the problems their friends and neighbors may be facing and want to be part of the solution.
We shouldn't disrespect youth who want to be involved in solving problems. We shouldn't deride their efforts. Instead, we should engage them in discussions, and listen to their concerns and arguments.
Some of the youth will be future leaders, while others will play key roles in society. We should welcome their desire to be involved.
When Thunberg and Iron Eyes appeared at Standing Rock, the students were eager to hear them. They could relate to these young activists who are passionate about creating a better world. We should do everything possible to enable the next generation to protect and improve this planet.