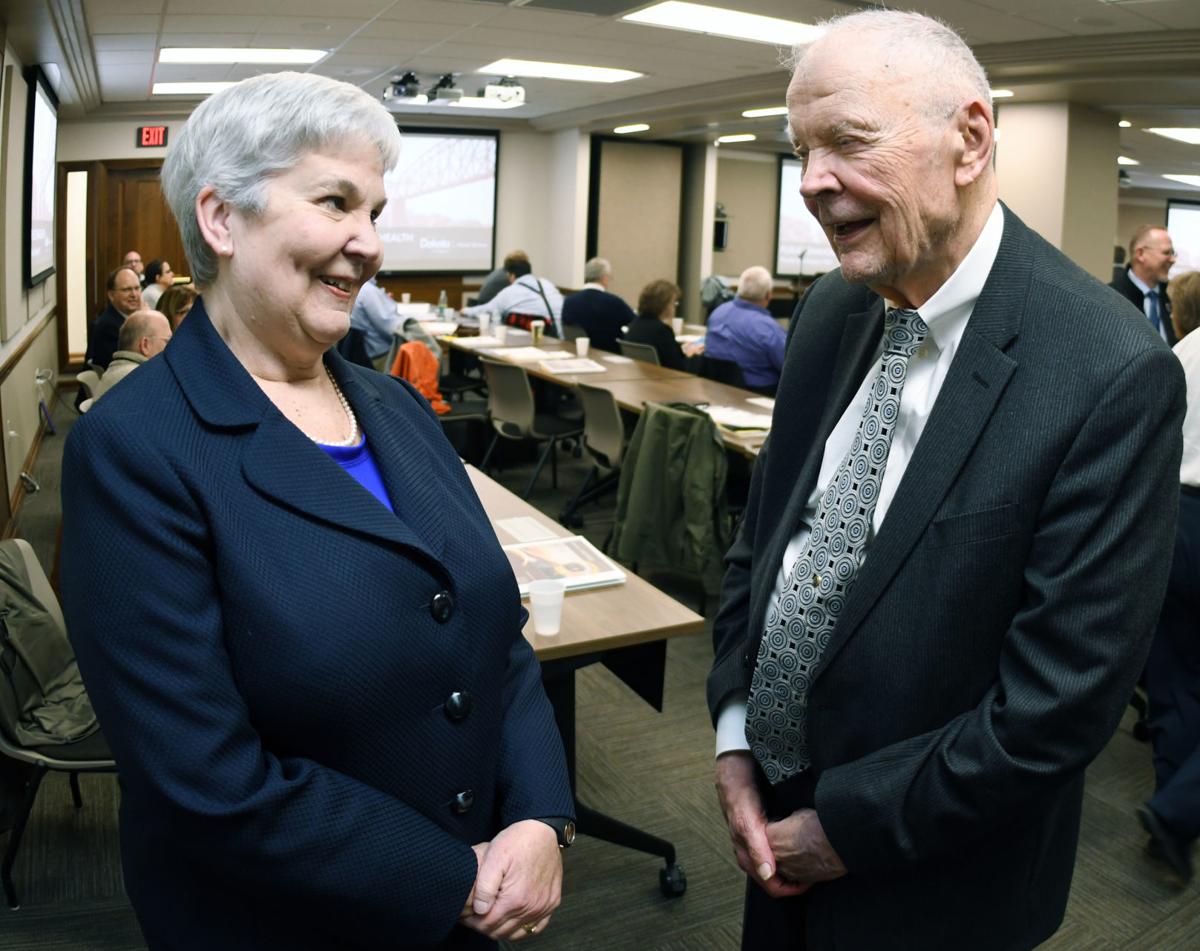 The Bismarck-Mandan area will lose a lot of bench strength next year. Two longtime judges in the South Central Judicial District plan to leave their positions.
The district comprises Burleigh, Emmons, Grant, McLean, Mercer, Morton, Oliver, Sheridan and Sioux counties.
Gail Hagerty, the presiding judge of the district, plans to resign in March 2020. She's not retiring, but taking her life down a different path in the ministry. Thomas Schneider has announced he won't seek another term in 2020.
It will be difficult to replace the experience of the two judges. Hagerty was elected a Burleigh County judge and took office in January 1987. After the Legislature changed the structure of the court system, she became a district judge in January 1995.
Schneider also was a county judge from 1986 to 1994 and then became a district judge.
The South Central Judicial District has been the busiest in the state for some time and has had a shortage of judges for years. The Legislature this year approved a new judgeship and court reporter for the district. Gov. Doug Burgum appointed South Central District Magistrate Pamela Nesvig to the judgeship in August.
You have free articles remaining.
Hagerty, Schneider and the other judges in the district have handled heavy caseloads. With new judges coming into the district, it no doubt will require a period of adjustment. You don't lose about 67 years of combined experience without noticing it. The Tribune has no doubt there will be able replacements, but there will be a learning curve.
The judges in the district will elect a new presiding judge.
Hagerty plans to continue serving her community. She's been involved for five years with an educational program for emerging ministers through Iowa-based Wartburg Theological Seminary. She serves as a pastoral minister at Grace Lutheran Church in Driscoll. She and her husband, Dale Sandstrom, a retired Supreme Court justice, plan to stay in Bismarck. She's not sure what direction the ministry will take her.
Hagerty's family has deep roots in journalism. Her late father, Jack, was editor of the Grand Forks Herald, and her mother, Marilyn, has been a longtime columnist for the Herald. Her brother, James, has been a reporter for the Wall Street Journal.
Hagerty will remain involved in the law through her work with the Uniform Law Commission, a national nonprofit that strives for uniformity of state statutory laws.
Schneider received his law degree from the University of North Dakota. Before being elected a county judge, he served as a judicial referee, a Mandan Municipal Court judge and practiced as a private attorney.
Both Hagerty and Schneider have served the district and the state well. Being a judge often can be a thankless job, with people questioning decisions. Both are fair judges who consider the people before them. They should be commended for their service.