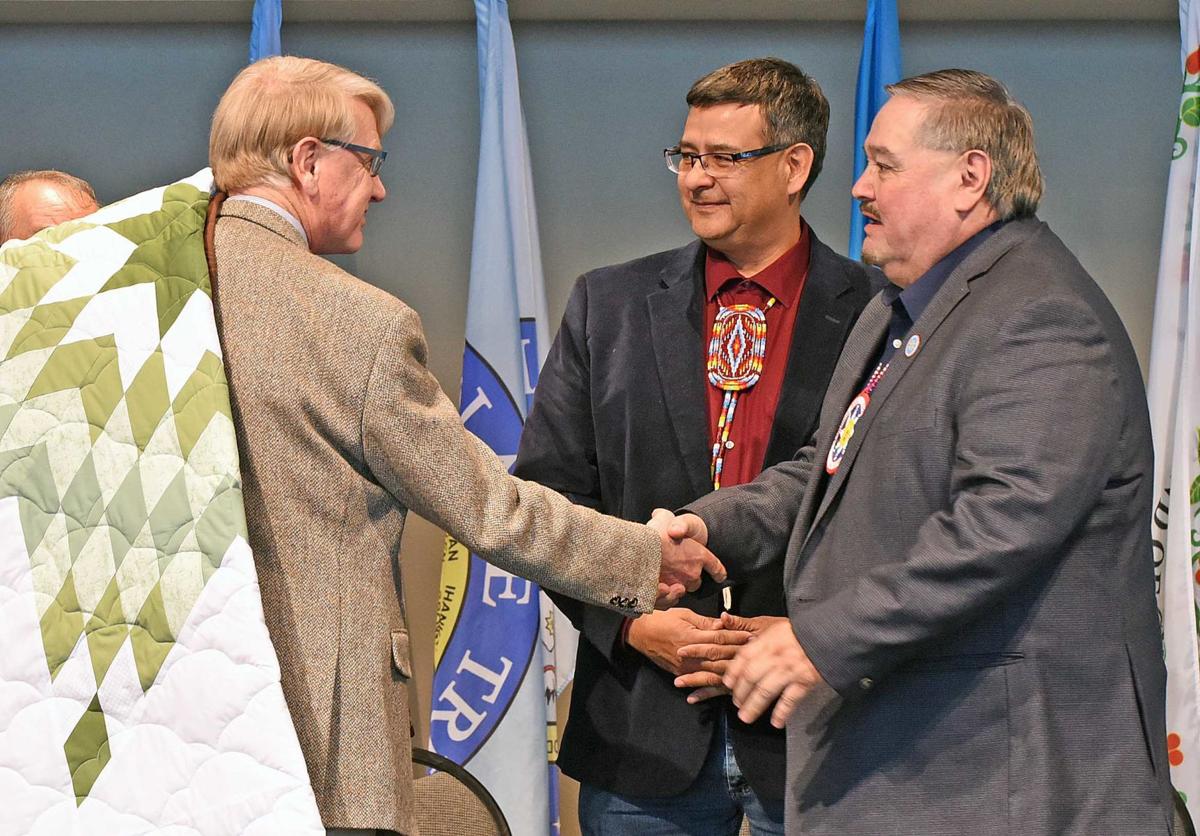 This is Up and Down, where we give a brief thumbs up or thumbs down on the issues from the past week.
Up
The North Dakota Indian Affairs Commission had a strong turnout for the Strengthening Government to Government Partnerships and Relationships Conference last week. The conference, previously held in January 2018 and December 2018, has become a valuable opportunity to bring together tribal, state and federal leaders to discuss common goals. About 300 people registered for this year's conference, hosted by Bismarck State College. The conference addressed many important topics, ranging from best practices in energy development to tourism and economic development and the importance of participating in the 2020 Census.
Down
It's disappointing that a North Dakota lawmaker is accused of sharing anti-Islam posts on social media, not to mention his implausible excuse. Rep. Jim Kasper, R-Fargo, speculated that he must have been hacked by "political opponents" without offering any evidence. Yet he also told Forum News Service that he's not very tech savvy. A Forum reporter found similar posts on his page from 2016. It's good that Kasper apologized and removed the offensive posts, but hard to believe he was the victim of hacking.
You have free articles remaining.
Up
The Bismarck School Board has given approval for the district to purchase a Cessna 150 airplane for the student aviation program at the Career Academy. Owning a plane rather than renting one will save money for the district and for families of students in the program. Bismarck will be the first school district in the state to own an airplane. The program will help address a nationwide pilot shortage as well as give students more hands-on learning opportunities.
Down
An independent audit of the North Dakota auditor's office found some bookkeeping errors, the office announced last week. Three errors required financial statement adjustments for fiscal years 2018 and 2019, with one adjustment of more than $19,000. The office has drawn criticism for publicizing audit findings with little advance notice to lawmakers. It was good to see the office published a press release about the findings, similar to how other audits have been handled.
Up
A group of friends from Fairview, Mont., tried to save a moose stranded on the frozen Missouri River along the North Dakota-Montana border. The friends spotted the moose from a helicopter and later attempted a rescue mission, trying to help him stand and keep him warm. Unfortunately, Montana Fish, Wildlife & Parks had to euthanize the animal when it was unable to stand after three days. Although the story had a sad ending, the efforts they took to save the moose were admirable.